So, are you ready to meet Miss Modern?
Earlier today, the official website for the Haikara-san ga Tooru (Here Comes Miss Modern) anime films updated with a new visual. The image features Benio and Shinobu against the backdrop of Taishō-era Japan.
The site also confirmed that actress Saori Hayami will perform theme song Yume no Hate made (Until the End of the Dream)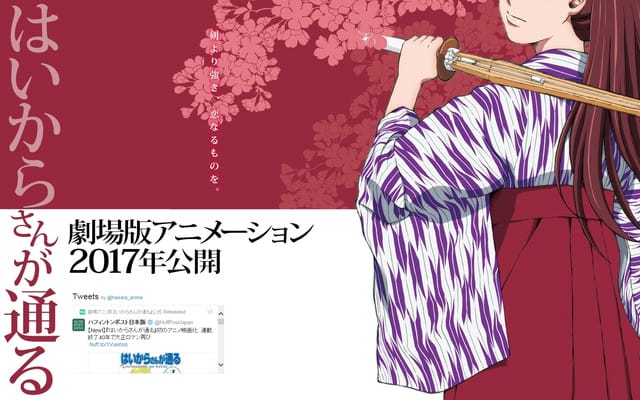 The Haikara-san ga Tooru films are based on Waki Yamato's classic manga series of the same name. Kazuhiro Furuhashi (Mobile Suit Gundam UC, Rurouni Kenshin) is directing the film and writing the screenplay at Nippon Animation. Terumi Nishii (JoJo's Bizarre Adventure: Diamond Is Unbreakable, Penguindrum) is producing character designs for the project.
Other confirmed crew members include:
Music: Michiru Oshima
Art Director: Kentaro Akiyama
Sound Director: Kazuhiro Wakabayashi
Director of Photography: Takeo Ogiwara (Graphinica)
Color design: Kunio Tsujita
The confirmed voice cast includes:
Shinobu Ijūin: Mamoru Miyano
Benio Hanamura: Saori Hayami
The first Haikara-san ga Tooru, titled Gekijōban Haikara-san ga Tōru Zenpen – Benio, Hana no 17-sai (Here Comes Miss Modern The Movie – Benio, Radiant 17 Years Old), will hit Japanese theaters on November 11. The second film, subtitled Tokyo Dai Roman (Big Romance in Tokyo), will open in 2018.
Source: Movie Natalie