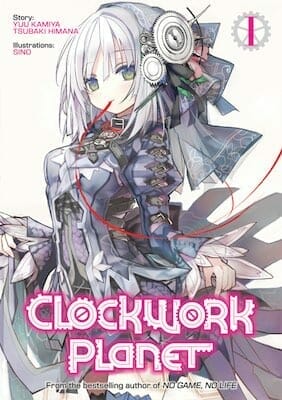 It's time to take a trip to a planet of clockwork… no, it's not that Salvador Dali painting.
Earlier today, J-Novel Club announced that they acquired the worldwide English digital rights to Yuu Kamiya (No Game, No Life) and Tsubaki Himana's Clockwork Planet light novels. The first volume is currently available on their platform for subscribers, along with a free 40-page preview for all readers.
The first Clockwork Planet eBook will go on sale in August.
Clockwork Planet is the first title that J-Novel Club has licensed from publisher Kodansha Ltd. The title, which made its début on April 2, 2013, currently spans four books. The most recent volume hit stores on December 29, 2015. Artist Shino provided the illustrations for all of the books.
J-Novel Club describes the series as:
–I know this is sudden, but the world had already collapsed long ago. Earth had died, but the entire planet was reconstructed and reproduced using clockwork – "The Clockwork Planet."

One day, a black box suddenly crashed into the house of Naoto Miura, a high school failure, from above. Inside was– an automata girl.

"For me to be forced to sleep for as long as two hundred years from just one little fault, has the intelligence of humanity still yet to exceed even that of a flea?"

A gearhead fantasy meshed together by Yuu Kamiya and Tsubaki Himana!
Kamiya and Himana joined forces with illustrator Kuro to produce a manga adaptation of the series. The title debuted in Kodansha's Monthly Shōnen Sirius in September 2013, and currently spans five volumes. Kodansha Comics USA currently releases the work in North America.
An anime adaptation of Clockwork Planet kicked off on April 6. Tsuyoshi Nagasawa (MM!, Nyaruko: Crawling with Love!) is directing the show at Xebec, with Shuichi Shimamura (Honey and Clover, Saber Marionette J) providing character designs. Kenji Sugihara (Shiki, Oreca Battle) is in charge of series composition.
Funimation and Crunchyroll distribute the series on their digital platforms, with Funimation streaming the dubbed version.
Source: J-Novel Club (Press Release)