As the old saying goes: if you aim for the queen, you'd best not miss.
Earlier today, Sentai Filmworks unveiled the fifth member of their GATE dub cast. Molly Searcy will play Rory Mercury in the adaptation.
Sentai released a 101-second dub teaser to promote the news, which offers a preview of Karbowski's performance.
Earlier this week, Sentai unveiled the following cast members:
Yoji Itami: David Wald
Princess Piña Co Lada: Jessica Boone
Tuka Luna Marceau: Juliet Simmons
LeLei La Lalena: Brittney Karbowski
Sentai Filmworks will release GATE on DVD and Blu-Ray on July 11. In addition to the standard releases, Sentai will ship a limited premium-edition set. The $199.98 release will include a flag, patch, artbook, art cards, and a weapon replica.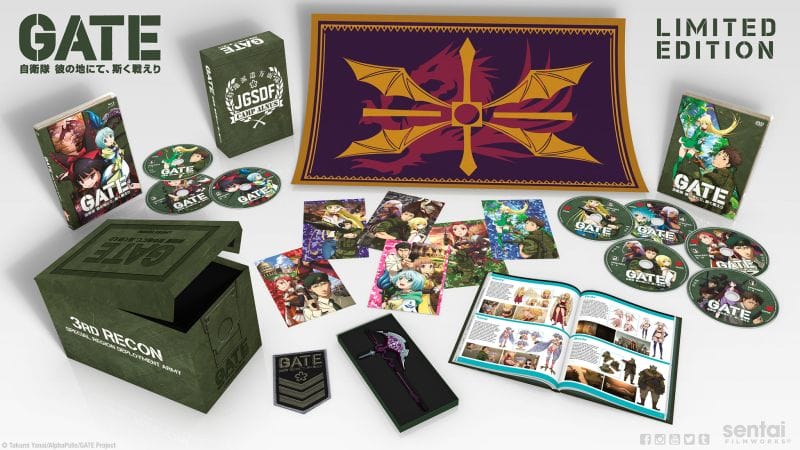 GATE originally aired in the Summer 2015 broadcast season, with a second cour hitting Japanese TV in January 2016. Takahiko Kyōgoku is returning to helmed the series at A-1 Pictures. Jun Nakai (The Sacred Blacksmith, Silver Spoon) provided character designs for the project, while Tatsuhiko Urahata handled series composition.
Sentai describes GATE as:
When a mysterious gate suddenly appears in Tokyo's Ginza district and begins spewing armed warriors and flying monsters, the world is thrown into turmoil. Although the deadly attack is thrown back by Japan's Self Defense Force, there's now a new and entirely unknown land on the other side of the portal, and Japan is effectively at war with a nation on the other side. Determined to secure peace, the JSDF must send an armed force into the Gate, but ogres, dragons and a ruthless Empire populated by elves, humans, and half-animal warriors aren't the only dangers they'll face. With the resources of two worlds at stake, the balance of power on both sides of the Gate is destabilizing, and betrayal can come at any time, from any quarter. There, trapped right in the middle of the ensuing firestorm, stands officer Yoji Itami and the JSDF's Third Reconnaissance Team as they plunge into the GATE.
Sentai released dub teasers to confirm the previous roles. You can check them out below:
Source: YouTube (Sentai Filmworks)