Hey everyone, and welcome to an all-new AniWeekly! This week, thousands of gamers have gathered in Los Angeles to celebrate all things vidya with the Electronics Entertainment Expo (E3, for short). All the major players, from big boys like Nintendo and Sony, to smaller outfits like NIS America, have come together to show the world their very best stuff.
It's already shaping up to be a huge week. The XBox One X (yes, that's the real name) is raw horsepower to the console wars, and Wolfenstein making its long-awaited return. Sony's slated to show their best this evening, and Nintendo kicks off a three-day extravaganza tomorrow.
That said, while all eyes are in LA this week, there's still a lot to love on the anime front.
In the News
The premiere's the thing. Over the past week, news broke that Anime Expo will host several world premieres at this year's event. Specifically, the con woll show off the following:
So, yeah… if you're heading to Anime Expo, be sure to check out a few titles, and gloat about them endlessly on Twitter! (Please don't gloat)
3, 2, 1, let's jam. For better or worse, a live-action Cowboy Bebop TV series is in the works. Chris Yost (Thor: Ragnarok, Max Steel) is writing the adaptation, which is being produced by Tomorrow Studios.
Now Anime Strike won't be lonely. TV network TOKU set up an Amazon streaming channel. The channel, which costs $3.99 per month, streams several live-action and anime titles as part of its lineup. TOKU don't have their linear feed running yet, but it's in the works.
Tremble in fear, criminals. Studio Trigger announced that a new season of Inferno Cop is in production. The project was unveiled at this year's AnimeNEXT.
The Grand Order has been assembled. Now, it's time to move out. Aniplex unveiled their full dub cast for Fate/Grand Order – First Order –. The lineup is packed with prominent talent, including Tony Oliver, Kari Wahlgren, and Xander Mobus. Aniplex will host a première event for the dub at (you guessed it) Anime Expo.
Shine on, you Crazy Diamond. A new trailer for the live-action JoJo's Bizarre Adventure: Diamond Is Unbreakable flick dropped last week. Normally, we try not to cover simple trailer updates, but this one's a bit special, as it offers a first look at the Stands.
Back on the road, after so many years. The first cast and crew members for the new Kino's Journey anime were officially unveiled. Tomohisa Taniguchi was tapped to direct the project at Lerche, with Overlord's Yukie Sugawara handling series composition. Aoi Yuuki will play the titular Kino in the show.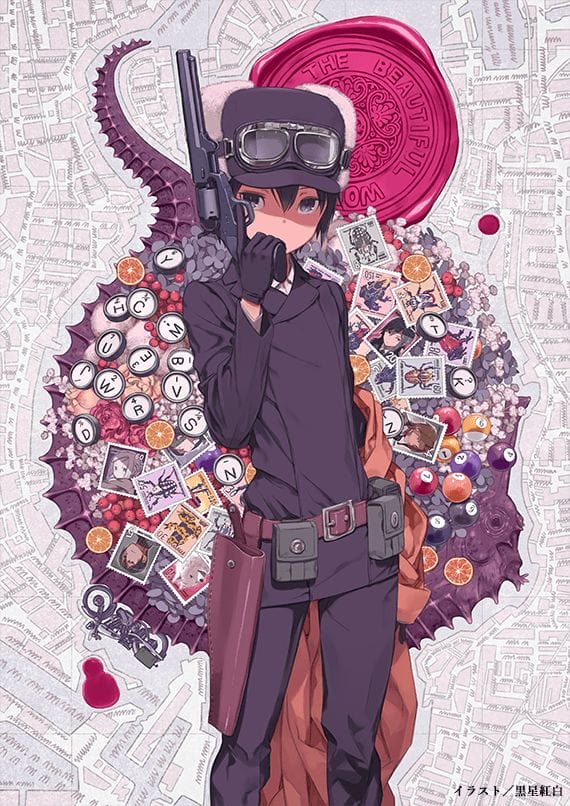 Our fun is non-stop! Get hype, Plasmagica fans, because a new Show By Rock!! project is in the works! Sadly, details are a bit scarce at the moment.
From the AniBlogging Community
Color theory: learn it, live it, love it. Atelier Emily takes a look at the Monogatari series, specifically the Shinobu Mail substory. In a fantastic essay, Emily breaks down the franchise's use of color to associate specific characters, situations, and even narrative placement within the franchise.
Weekly Fun Stuff!
Normally, I like to cloes with something anime-related. Since we're in E3 week, though, I feel this is appropriate. In 2003, Rayman creator Michel Ancel set out to make his magnum opus. Set in a world drenched in social commentary and intrigue, Beyond Good and Evil stepped up to really elevate elements of the gaming medium.
Sadly, the game wasn't a commercial success despite its cult status, and quickly ended up in bargain bins across the world. In 2008, Ubisoft teased a sequel to the project, though fans were greeted with radio silence ever since.
Earlier today, Michel Ancel took the stage at Ubisoft's E3 press conference, to show that his baby wasn't just alive, but it was thriving. A new trailer for Beyond Good and Evil 2 was unveiled, and a teary-eyed Ancel discussed his experiences during the past eight years of development.
Congrats, Mr. Ancel. I hope this is every bit as amazing as Jade's adventure that captivated us over a decade ago.