Finally, the gates opened up to reveal a whole new cast.
Earlier today, Sentai Filmworks revealed the full English dub cast for GATE. The series will star the following:
Yoji Itami: David Wald
LeLei La Lalena: Brittney Karbowski
Rory Mercury: Molly Searcy
Tuka Luna Marceau: Juliet Simmons
Yao Ha Dushi: Rachel Landon
Kurata: Tyler Galindo
Kuribayashi: Stephanie Wittels
Tomita: Ty Mahany
Kuwabara: Josh Morrison
Mari: Allison Sumrall
Hazama: John Gremillion
Sugawara: Jay Hickman
Yanagida: Chris Patton
Higaki: Adam Noble
Furuta: Adam Gibbs
Kano: Steven Finley
Yoga: Chris Gibson
Shirayuri: Carolyn Medrano
Piña Co Lada: Jessica Boone
Emperor Molto: Jason Douglas
Prince Zorzal: Kregg Dailey
Lord Duran: Marty Fleck
Boses: Patricia Duran
Thule: Maggie Flecknoe
Kato: John Swasey
Marcus: Andrew Love
Panache: Kira Vincent-Davis
Hamilton: Shanae'a Moore
Grey: Rob Mungle
Arpeggio: Emily Neves
Mimoza: Marcy Bannor
Shandy: Shelby Blocker
Risa: Chelsea McCurdy
Sherry: Luci Christian
Helm: Blake Shepard
Kalasta: Gareth West
Ruflus: Clint Bickham
Additional Voices: Carl Masterson
Additional Voices: James Belcher
Additional Voices: David Matranga
Additional Voices: Mike Yager
Additional Voices: Andrew Love
Additional Voices: Jay Hickman
Additional Voices: Luis Galindo
Additional Voices: John Swasey
Additional Voices: Chris Hutchison
Additional Voices: Mark Mendelsohn
Additional Voices: Courtney Lomelo
Additional Voices: Cindy Lou Parker
Additional Voices: Vicky Baroush
Additional Voices: Corey Hartzog
Additional Voices: Jack Ivy
Additional Voices: Mark X. Laskowski
Additional Voices: Kyle Colby Jones
Additional Voices: Scott Gibbs
Additional Voices: Joanne Bonasso
Additional Voices: Natalie Rial
Additional Voices: Karlii Hoch
Additional Voices: Christopher Ayres
Additional Voices: Mike Yager
Additional Voices: Mike Vance
Additional Voices: Shelley Calene-Black
Additional Voices: Katelyn Barr
Additional Voices: Justin Doran
Additional Voices: Carli Mosier
Additional Voices: Benjamin McLaughlin
Additional Voices: Kara Greenberg
Additional Voices: Jovan Jackson
Kyle Colby Jones is directing the adaptation, and co-writing the scripts with George Manley and Marta Bechtol.
Sentai Filmworks will release GATE on DVD and Blu-Ray on July 11. In addition to the standard releases, Sentai will ship a limited premium-edition set. The $199.98 release will include a flag, patch, artbook, art cards, and a weapon replica.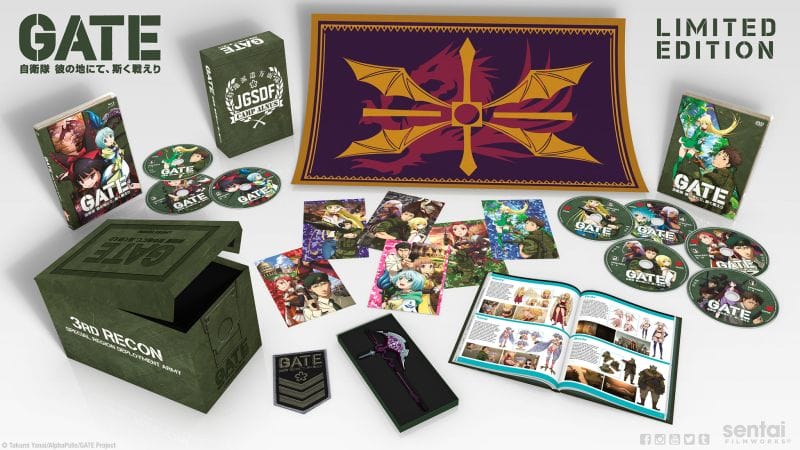 GATE originally aired in the Summer 2015 broadcast season, with a second cour hitting Japanese TV in January 2016. Takahiko Kyōgoku is returning to helmed the series at A-1 Pictures. Jun Nakai (The Sacred Blacksmith, Silver Spoon) provided character designs for the project, while Tatsuhiko Urahata handled series composition.
Sentai describes GATE as:
When a mysterious gate suddenly appears in Tokyo's Ginza district and begins spewing armed warriors and flying monsters, the world is thrown into turmoil. Although the deadly attack is thrown back by Japan's Self Defense Force, there's now a new and entirely unknown land on the other side of the portal, and Japan is effectively at war with a nation on the other side. Determined to secure peace, the JSDF must send an armed force into the Gate, but ogres, dragons and a ruthless Empire populated by elves, humans, and half-animal warriors aren't the only dangers they'll face. With the resources of two worlds at stake, the balance of power on both sides of the Gate is destabilizing, and betrayal can come at any time, from any quarter. There, trapped right in the middle of the ensuing firestorm, stands officer Yoji Itami and the JSDF's Third Reconnaissance Team as they plunge into the GATE.
Sentai released dub teasers to announced roles in the lead-up to the full reveal. You can check them out below:
Source: Sentai Filmworks