Get your poses ready, folks, because it's Jojo time!
Yesterday, the official Jojo's Bizarre Adventure anime series' Twitter account published several new visuals for upcoming OVA Kishibe Rohan wa Ugokanai (Thus Spoke Rohan Kishibe). A key visual and two character designs were officially unveiled, which you can check out below.
Key Visual
The image features Rohan Kishibe standing in the center of a traditional Japanese-styled room. The sliding door behind him is open, revealing a spiraling surreal landscape.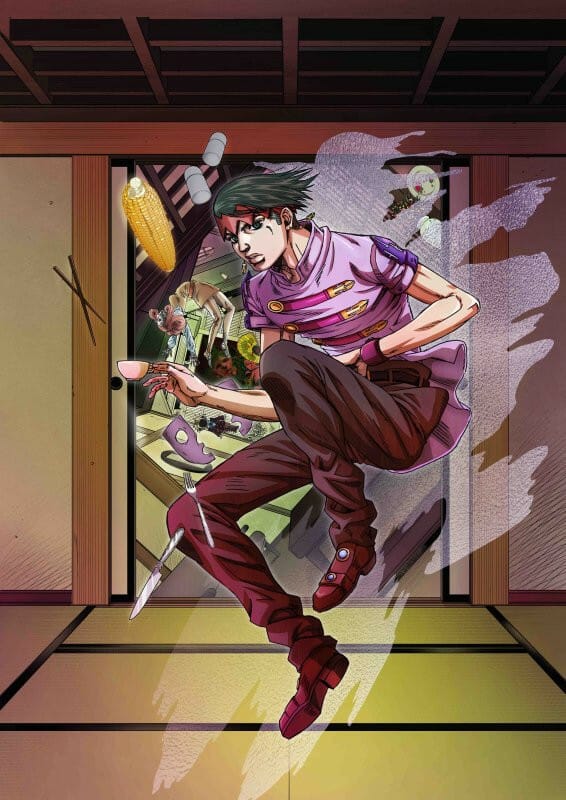 Character Visuals
The new character sheets depict lead characters Rohan Kishibe, Kyōka Izumi, and Ikkyū
Kishibe Rohan wa Ugokanai will adapt one-shot manga Thus Spoke Rohan Kishibe – Episode 5: Millionaire Village.. The title is being offered as a bonus to customers who purchase all 13 DVD or Blu-Ray volumes of the JoJo's Bizarre Adventure: Diamond Is Unbreakable anime series. The show's final volume will hit retailers on June 28.
The Kishibe Rohan wa Ugokanai OVA will be helmed by Toshiyuki Kato (JoJo's Bizarre Adventure: Diamond Is Unbreakable, Full Moon o Sagashite) at David Production, with Yasufumi Soejima serving as assistant director. Shun'ichi Hashimoto will provide character designs for the project, with Kenta Mimuro designing the Stands.
The confirmed voice cast includes:
Rohan Kishibe: Takahiro Sakurai
Kyōka Izumi: Mai Nakahara
Ikkyū: Kaori Mizuhashi
Source: Twitter (anime_jojo)