You read that right, folks. Ohtori Academy is going to look better than ever.
Earlier today, Right Stuf announced that they acquired Junjo Romantica 3. Right Stuf will ship the title on subtitled Blu-Ray in 2018, under the company's Nozomi Entertainment label.
In addition to the title reveal Right Stuf went over the details on their upcoming Blu-Ray releases for Revolutionary Girl Utena, The Irresponsible Captain Tylor, and Mobile Suit Gundam Wing.
Junjo Romantica 3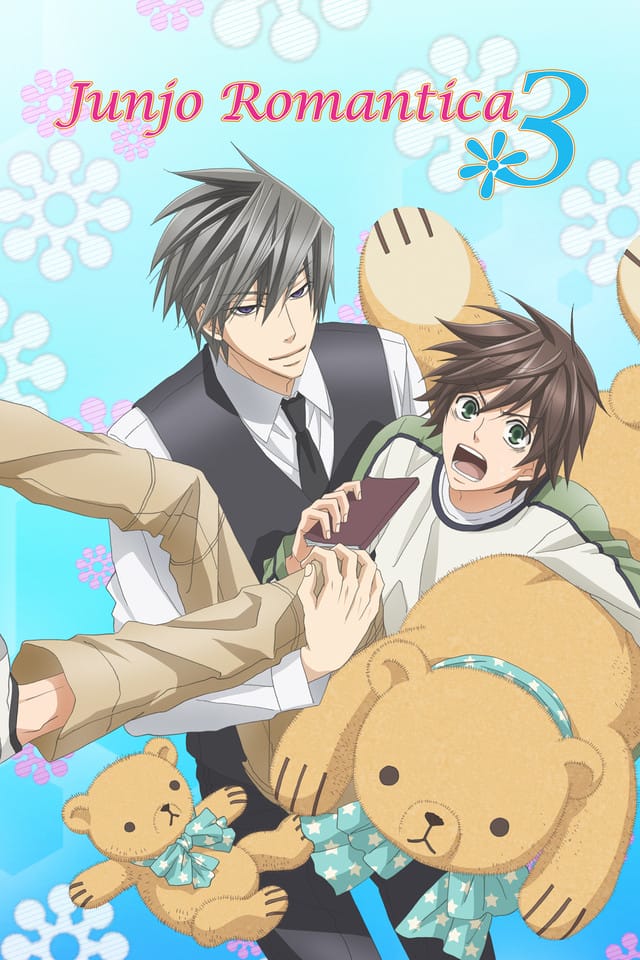 Junjo Romantica 3 is the third installment of the Junjo Romantica anime franchise. Chiaki Kon (When They Cry – Higurashi, Golden Time) returned to the director's chair the title at Studio Deen, with Yoko Kikuchi (El Cazador de la Bruja, Kuroko's Basketball) providing character designs.
The series streamed on Crunchyroll, who describes it as:
Junjo Romantica 3 follows the ongoing story of three couples:

The Romantica relationship between college student Misaki Takahashi and his tutor, Akihiko Usami.
The stormy Egoist couple—Professor Hiroki Kamijou, a tsundere, doted on by Nowaki Kusama.
The dramatic Terrorist couple—divorced literature professor Yo Miyagi, and his younger lover, Shinobu Tatasuki.

It's complicated.
But so worth it.
Revolutionary Girl Utena
Right Stuf will release Revolutionary Girl Utena under their Nozomi Entertainment label. The company will release the title in three colletions starting in October, as well as an Ultra Edition that hits retailers on December 5.
The Ultra Edition is a limited collection, which is being released to commemmorate the show's 20th anniversary. The set will include the entire series, along with the following extras:
Replica Rose Crest Ring
Replica Black Rose Crest ring
250+ page art book (featuring episode commentaries by Director Ikuhara)
Staff Interviews
Behind the Scenes Stories
Liner Notes
Art Galleries
Revolutionary Girl Utena is a 1997 series that (loosely) adapts Chiho Saito's manga of the same name. Kunihiko Ikuhara (Sailor Moon, Yurikuma Arashi) directed the series at J.C. Staff, with Shinya Hasegawa (Golden Time, Golden Time) providing character designs. Yoji Enokido (Sailor Moon SuperS, Bungo Stray Dogs) was in charge of series composition.
Nozomi Entertainment describes Revolutionary Girl Utena as:
"Never lose that strength or nobility, even when you grow up." When Utena was just a child and in the depths of sorrow, she found salvation in those words. They were the words of a prince, who wrapped her in his rose-scented embrace and bestowed upon her both a ring and the promise that it would lead her to him again. She never forgot the encounter. In fact, she was so impressed that she aspired to be like the prince and also help those in need. Now a spirited teenager, Utena attends the prestigious Ohtori Academy. However, her strong sense of chivalry soon places her at odds with the school's student council and thrusts her into a series of mysterious and dangerous duels against its members.
The 39-episode series originally aired in 1997. Right Stuf released the series in three DVD sets in North America in 2011. Central Park Media released the series on VHS and DVD between 1998-2004.
Nozomi previously released Revolutionary Girl Utena as a series of limited edition DVD boxes, which featured remastered audio and video. The retailer rescued the license, which was previously held by Central Park Media, in 2010.
The Irresponsible Captain Tylor
The Irresponsible Captain Tylor is based on Hitoshi Yoshioka's novel series of the same name. Kōichi Mashimo (Madlax, Noir) directed the project at Tatsunoko Production, and took charge of series composition. Masaaki Kawanami provided character designs for the project.
Nozomi describes the series as:
Justy Ueki Tylor had his life all planned out: join the military, get a cushy desk job, and then retire with a big fat pension check. The perfect plan…until he wandered into a hostage situation and somehow managed to save an Admiral! Now Tylor, a man who wouldn't know what discipline was if it bit him in the backside, has been made Captain of the space cruiser Soyokaze! The crew of this run-down ship is the craziest rag-tag team of misfits you're ever likely to see, and they're not too fond of their complacent new leader. But they had better learn to work together, because they're about to go head to head with the mighty Raalgon Empire! For better or for worse, the Earth's fate has been placed in the hands of a man who's either a total idiot, or an absolute genius…
Mobile Suit Gundam Wing
Right Stuf and Sunrise will release Gundam Wing across three Blu-Ray sets starting this fall. The release will include both the OVA and movie versions of Mobile Suit Gundam Wing: Endless Waltz. Right Stuf is planning a Collector's Edition, though details have yet to be announced outside of a projected Holiday 2017 release period.
Mobile Suit Gundam Wing is an entry in the long-running Gundam franchise. The 1995 series was helmed by Masashi Ikeda (Inuyasha, Cluster Edge) and Shinji Takamatsu (After War Gundam X, Gintama) at Sunrise, with Shukou Murase (Street Fighter II: The Animated Movie, Argento Soma) providing character designs. Katsuyuki Sumisawa (Inuyasha, Yakitate!! Japan) took charge of series composition on the project.
Right Stuf describes Gundam Wing as:
Mankind has moved into space. Thousands of people live on giant orbiting space colonies called "Sides." However, the Earth Government, which rules the colonies, is unjust and cruel. A group of revolutionaries build five robotic weapons called Gundams and plan to send them to Earth to begin their fight for independence. Piloted by five young men, these Gundams carry the colonists' hopes and dreams of freedom with them as they descend to Earth to begin Operation Meteor!
Source: Right Stuf (Industry Panel)