Viz came up with a few fiery announcements today.
Earlier today, Viz Media announced that they licensed five new titles. The following will be released under Viz's book imprints:
Fire Punch by Tatsuki Fujimoto
Kenka Bancho Otome: Girl Beats Boys (Kenka Banchō Otome: Koi no Battle Royale) by Chie Shimada
Sisyphean by Dempow Torishina (Novel)
Neko Atsume Kitty Collector: Where am I Meow
Neko Atsume Kitty Collector Haiku: Seasons of the Kitty
In addition, Viz announced that they will release a special hardcover "Fullmetal Edition" of Hiromu Arakawa's Fullmetal Alchemist manga.
Fire Punch
Viz will release the first volume of Fire Punch in January 2018.
Fire Punch began publication on Shueisha's Shonen Jump+ website in April 2016. The series currently spans five compiled volumes, with the most recent hitting stores on June 2.
Viz describes the title as:
In the not-too- distant past, the Ice Witch blanketed the world in snow, starvation and madness, leading the inhabitants to seek their salvation in fire. With that, an unusual destiny unfolds for two young orphans, Agni and Luna, blessed with the ability to regenerate. But will this ability prove to be more of a curse than a blessing?
Kenka Bancho Otome: Girl Beats Boys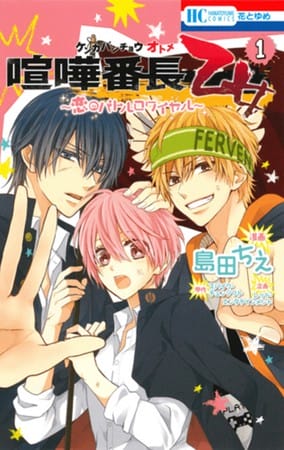 Kenka Bancho Otome: Girl Beats Boys is based on Spike Chunsoft's Kenka Bancho Otome video game of the same name. Chie Shimada wrote and provided art for the title, which debuted in Hana to Yume in July 2015 as a one-shot. The title appeared as a full series on July 25, 2015, and ran through February 1 of this year.
An anime adaptation of Kenka Bancho Otome: Girl Beats Boys aired during the Spring 2017 broadcast season.
Sisyphean
Viz will ship Sisyphean in January 2018 under their "Haikasoru" imprint.
Sisyphean is Dempow Torishina's début work. The book, which hit stores in 2011, won the Sogen SF Short Story award.
Viz describes Sisyphean as:
In this award-winning novel by Dempow Torishina, even after the world and humanity itself have been rendered nearly unrecognizable by genetic engineering, a day in the office can feel…Sisyphean. The company stands atop a tiny deck supported by huge iron columns a hundred meters high. The boss there is its president – a large creature of unstable, shifting form once called "human." The world of his dedicated worker contains only the deck and the sea of mud surrounding it, and the worker's daily routine is anything but peaceful. A mosaic novel of extreme science and high weirdness, Sisyphean will change the way you see existence itself. Sisyphean was a winner of the prestigious Japan SF Award and also nominated for a Seiun Award.
Fullmetal Alchemist
Fullmetal Alchemist will start shipping to stores in May 2018. The release will be a rull revisit of the title, with new translation and lettering. Viz plans to add all of the original color pages, new character sketches, and new color art. The books will be printed on "archival quality" paper.
Source: Viz Media (Industry Panel)