From reincarnation antics to vampire riots, Sekai Project has visual novel fans covered.
Sekai Project is at Anime Expo this year, and they've been eager to share their newest licenses with the world. In fact, the publisher took to their Facebook page today to announce several of their latest projects.
Sekai Project added the following to their lineup:
Dracu-Riot! (18+)
Koi ga Saku Koro Sakura Doki
Nanairo Reincarnation (18+)
Senren Banka
Detais on the projects are still undisclosed as of press time.
Dracu-Riot!
Dracu-Riot! is an adults-only visual novel from Yuzu Soft. The title originally hit Japanese PCs on March 30, 2012.
Visual Novel database VNDB describes the title as:
The story begins with Mutsura Yuuto accompanying his friend on a holiday to Aqua Eden, an artificial island city where gambling and the sex industry are legal.

However, his holiday plans are laid to waste after he gets involved in a kidnapping; to make matters worse, he ends up getting turned into a vampire.

As a vampire, he can no longer leave Aqua Eden; so with nowhere else to go, he decides to enroll in a special school for vampires on the island — and thus, his new night life begins!
Koi ga Saku Koro Sakura Doki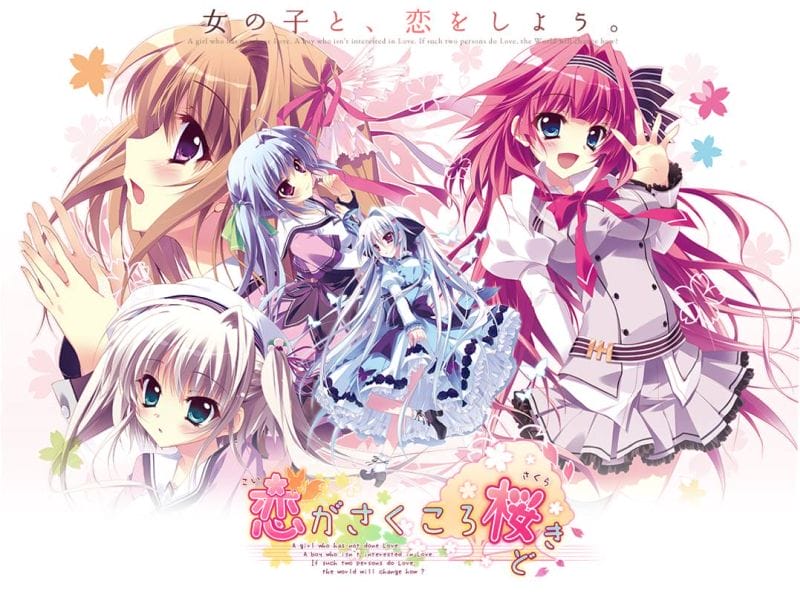 Koi ga Saku Koro Sakura Doki is an adults-only visual novel from studio Palette. The title originally hit Japanese retailers on March 28, 2014.
Visual Novel database VNDB describes the title as:
Spring is the flowering season, the season of the cherry blossoms. It is the time for first meetings and partings, when the buds start sprouting.

Yuma is a second-year student at Mihaya Academy who listens to love problems from girls at the school and gives them thoughtful advice. This has made him quite popular and loved, resulting in a 21,000 yen (taxes included) 'love bounty' placed on him. The girls came to him with problems ranging from jealousy to infidelity. Having heard about so many troubles related to love, Yuma lost any desire he had for it.

One day, a mysterious girl appeared before him. She had never been in love, but she believed that it was a wonderful thing. She asked him if he would like to be in love, and that as a love fairy, she will help his love come true.

A girl who cannot fall in love. A boy who has no interest in love. If they end up falling in love with each other, how will the world change?
Nanairo Reincarnation
Nanairo Reincarnation is an adults-only visual novel from Silky's Plus Wasabi and Silky's Plus Alpha. The title first debuted at retail on August 15, 2014.
Visual Novel database VNDB describes the title as:
This is the debut title for SILKY'S PLUS WASABI. Makoto was in his third year at university when his grandfather passed away and transferred his property entirely to him. He was ready to start living alone, but when he moved in, he was greeted by the zashikiwarashi Iyo and the oni Kikyou. They were only visible to him since he had inherited a special power which allowed him to see spirits. He had also inherited the 'duty' of the Kagami family, which had been passed on from generation to generation. With the support of the oni, he must use his power to appease the wandering souls in the town and help them rest at peace.

The story is written by Kazuki Fumi, who won the scenario award in the 2013 Moe Game Awards for GunKnight Girl. The artists from that game, Sumeragi Kohaku, is also on board for this title.
Senren Banka
Senren Banka is an adults-only visual novel from Yuzusoft. The title made its retail debut on July 1, 2016.
Visual Novel database VNDB describes the title as:
The village of Hoori lies deep in the middle of the mountains, inaccessible by rail. Since there isn't much interaction with its surroundings, the town seems like it is stuck in the past. However, it is because of this exact olden feel and subsequent development that it has turned into a nice hot-springs town for tourists.

One of the popular sightseeing spots is the legendary katana Murasamemaru, embedded in stone. No one has been able to pull it out… until Masaomi somehow broke it in half. He has to take responsibility for his actions: "Marriage" with 'shrine maiden princess' Yoshino!? He was perplexed at the unexpected turn of events, but this is only just the beginning. What lies ahead for him is a much more peculiar and mysterious life, including his new fiancée, a mysterious girl who only he could touch, and the secret behind the curse that remains on the town.

What will become of Masaomi's love amidst his rapidly changing life? The answer lies within the Murasamemaru in his hands.
Sources: Facebook (Sekai Project) [1] [2] [3] [4] (Thanks to L.B. Bryant for the tip!)