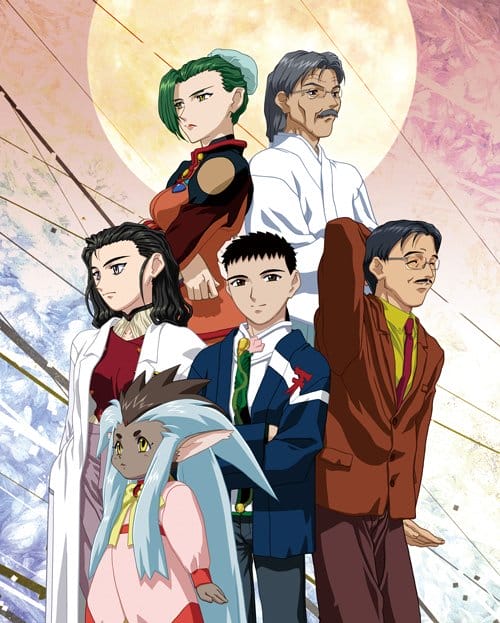 A few new faces are heading toward the Masaki household.
Earlier today, the official Tenchi Muyo! Ryo-Ohki 4th (Tenchi Muyo! Ryo-Ohki Dai Yon-ki) Twitter account updated with seven new cast reveals. The following will join the show's staff:
Kenshi Misaki (Child): Yukiko Morishita
Seina Yamada: Shigeru Mogi
Amane Kaunaq: Mariko Suzuki
Gyokuren: Nao Takamori
Misaki Masaki Jurai: Yoshiko Sakakibara
Mitoto Kuramitsu: Michie Tomizawa
Kazuki Yotsuga: Takehiro Murozono
Michie Tomizawa's replacing the late Yuko Mizutani, who played the character in Tenchi Muyo! GXP. The remaining new players are reprising their roles from previous entries in the franchise.
Visuals for each of the characters were also unveiled which you can check out below.
The account also updated with visuals for Yūzaki Hirata, Amame Yotsuga, and older versions of Ryo-Ohki and Washu.
Tenchi Muyo! Ryo-Ohki 4th's first volume will hit Japanese retailers on November 30. Ending theme song Shake the DiCE by Serena Kozuki was released in a single on June 28.
Tenchi Muyo! Ryo Ohki 4th is the fourth entry into the Tenchi Muyo! OVA franchise. The title, which was first unveiled in October 2015, is the first mainline entry into the Tenchi Muyo! Ryo-Ohki series since 2005.
Series creator Masaki Kajishima is credited as chief director on the project. Hidetoshi Takahashi will fill the role of director at AIC, while Takeshi Oda (Yurumates3Dei) provides character designs. Hideki Shirane is filling the dual role of supervisor and script writer on the project.
Other staff members include:
Original Character Design: Masaki Kajishima
Art Director: Tsutomu Ikeda (Studio Tulip)
Music: Crunch All Stars + Ryo Sakai
Animation Production: AIC × C2C
The confirmed voice cast on the project includes:
Tenchi Masaki: Masami Kikuchi
Ryoko: Ai Orikasa
Ayeka Masaki Jurai: Haruhi Nanao
Sasami Masaki Jurai: Chisa Yokoyama
Mihoshi Kuramitsui: Michie Tomizawa
Washu Hakubi: Yuko Kobayashi
Ryo-Ohki: Etsuko Kozakura
Noike Kamiki Jurai: Naomi Shindo
Katsuhito Masaki: Ken Uo
Nobuyuki Masaki: Katsuyuki Konishi
Rea Masaki: Natsuki Rio
Mizuho Masaki: Yuko Nagashima
The voices for Mihoshi and Nobuyuki Masaki are newcomers to the series. Yuko Mizutani, Mihoshi's actress, passed away in May. Takeshi Aono, who played Nobuyuki, passed away in 2012.
Several character visuals, and a pair of promo videos (one of which has two versions) were released to promote the series. You can check these out below:
Promo Videos
Character Visuals
Source: Mantan Web