Remember: you don't need to give a reason when you're recommending Slayers.
Earlier today, Crunchyroll announced that they will stream four titles on their digital platform. The company added the following:
Code Geass: Lelouch of the Rebellion
Code Geass: Lelouch of the Rebellion R
The Slayers Revolution
The Slayers Evolution-R
All four titles went live today. Code Geass is available to users in the United States and Canada, while The Slayers is streaming in the following regions:
United States
Canada
United Kingdom
Ireland
Australia
South Africa
Code Geass
Code Geass: Lelouch of the Rebellion is an original series from Sunrise and manga supergroup CLAMP. The show originally began airing in the fall 2006 broadcast season, and spanned 26 episodes. Several spinoffs and OVAs, as well as sequel series Code Geass: Lelouch of the Rebellion R2 have been produced since the show's run.
Goro Taniguchi (Gun x Sword, Planetes) directed the series, while Takahiro Kimura (Dirty Pair Flash, SD Gundam Force) provided character designs. The team of Ichiro Okouchi (Azumanga Daioh, Guilty Crown) and Hiroyuki Yoshino (Accel World, Macross Frontier) took charge of series composition, with Yoshino serving as assistant to Okouchi.
Bandai Entertainment originally released Code Geass in North America. Funimation Entertainment acquired the series in 2013.
Crunchyroll describes Code Geass as:
The year is 2017 of the Imperial calendar and parts of the world are uner the control of the Holy Britannian Empire. Lelouch Lamperouge, an exiled Britannian prince, encounters a strange girl known as C.C., who gifts him with a great and terrible power. The Geass. With this powerful ability, Lelouch can get anyone to do as he wills. But the power of Geass: is it a blessing…or a curse?
The Slayers Revolution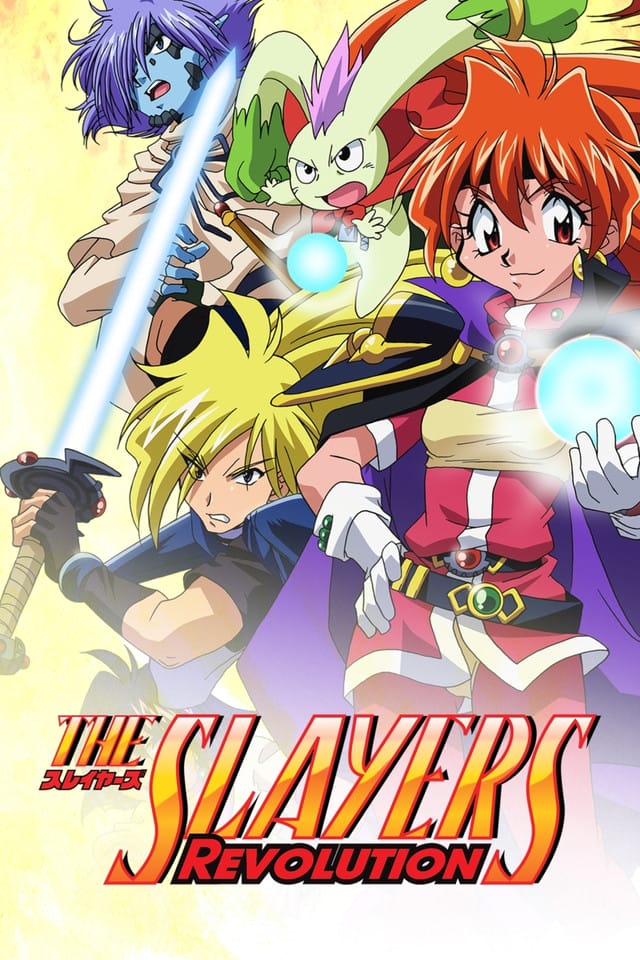 The Slayers Revolution is the fourth TV series in the Slayers franchise. The series, which is based on Hajime Kanzaka and illustrator Rui Araizumi's light novels of the same name, originally aired in Summer 2008.
Takashi Watanabe (The Slayers, Boogiepop Phantom) directed the project at J.C. Staff, with Naomi Miyata (The Slayers franchise, Lost Universe ) providing character designs. Jiro Takayama was in charge of series composition for the project.
Sequel series The Slayers Evolution-R aired during the Winter 2009 broadcast season. The core staff from Revolution reunited to work on the project.
Funimation currently holds the domestic rights to The Slayers Revolution and Evolution-R. Crunchyroll describes the series as:
The original cast of The Slayers is reunited for the first time in over a decade in The Slayers Revolution! Lina's gang goes head-to-head with Pokota, a little furball with a big destructive streak! But there's more to Pokota than anyone knows, and if Lina can get to the bottom of his habit of blowing stuff up, she could end up with an awesome new ally!
Source: Crunchyroll