Greetings, true believers! Before you ask, Stan Lee will indeed play himself.
Earlier today, Funimation unveiled their English dub cast for The Reflection. The series will star the following:
X-On: Vic Mignogna
Eleanor Everts: Aviva Pressman
Steel Ruler: Yasmina Shaw
Lisa Livingston: Talya Sindel
Flaming Fury: Laila Berzins
I-Guy: James Kirby
Vy Le: Saki Miata
Deborah: Jill Cott
Stan Lee / Mr. Mystic: Stan Lee
Additional Voices: Kyle Chapple
Additional Voices: Michelle Faraone
Additional Voices: Aron Fromm
Additional Voices: Matthew David McCallum
Additional Voices: Jesse Merlin
Additional Voices: Michael Orenstein
Additional Voices: Isaac Simons
Additional Voices: Matthew Murray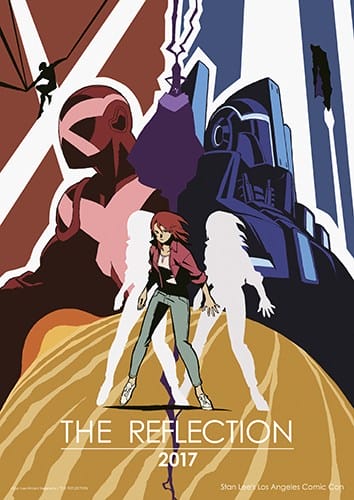 The team of Matthew Murray, Aron Fromm, and Isaac Simons is directing the adaptation, which features scripts by Murray. A première date hasn't been announced as of press time, but Funimation notes that the dub will launch this summer.
the Reflection premiered earlier today. Crunchyroll currently streams the show as part of their Summer 2017 simulcast lineup.
The Reflection is a collaborative project between Stan Lee (X-Men, Spider-Man, The Incredible Hulk), Hiroshi Nagahama (Mushi-shi, Detroit Metal City), Studio DEEN, and Pow! Entertainment. The project was first unveiled in 2015.
Koichiro Sohtome is directing the project at Studio DEEN, with Yoshihiko Umakoshi (Berserk, Mushi-shi) providing character designs. Yasuyuki Suzuki (Naruto Shippūden, Yu-Gi-Oh! 5D's) is writing the show's scripts, while Trevor Horn produces the music.
Funimation describes The Reflection as:
It happened suddenly—a worldwide phenomenon that took numerous lives and forever changed those that survived. The Reflection reformed the world and gifted many with power. Some use it for good, others for evil. But why did this happen and what does it mean for the future of the world? The shocking answer awaits you!
Source: Funimation Blog