Soon, we'll learn exactly what melody the Kitauji High School band wants to deliver.
Earlier today, the official Sound! Euphonium anime website updated with a new promotional and video for upcoming film Sound! Euphonium: Todoketai Melody.
Promo Video
The minute-long trailer focuses primarily on Asuka, the charming lead of Kitauji High School's bass section. Minako Kotobuki, who plays the character, provides narration.
Key Visual
The new visual features a scene, shown in two angles. The two shows feature Kumiko watching, as Asuka plays her euphonium.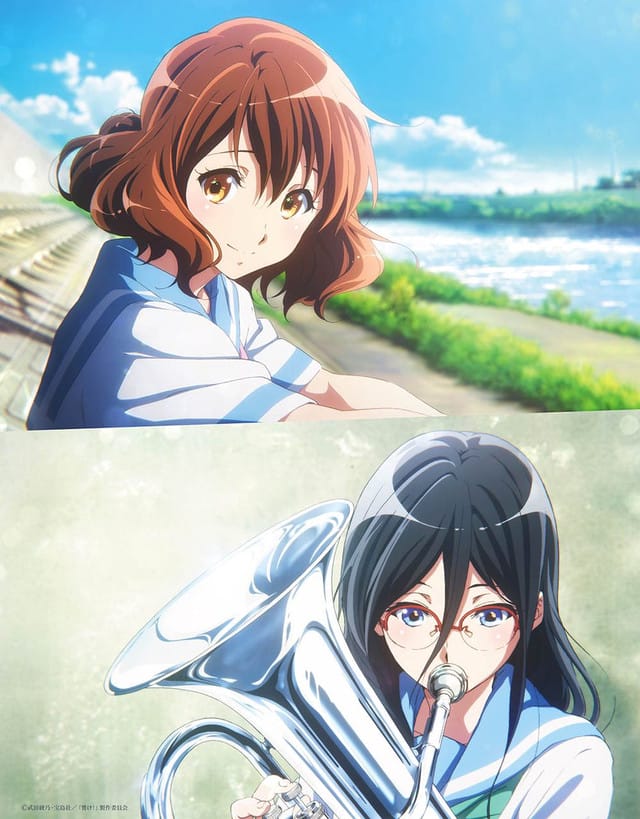 Sound! Euphonium: Todoketai Melody hits Japanese theaters on September 30. A new wave of advance tickets will go on sale on August 5. Folks who buy their passes early will receive a bonus gift. Customers who purchase a pair of tickets will receive a clear file, while single-ticket purchases will get a reversible B2-size poster.
Series director Tatsuya Ishihara (The Melancholy of Haruhi Suzumiya, Clannad After Story) is serving as Chief Director on the project, while Taichi Ogawa directs at Kyoto Animation.
Sound! Euphonium made its anime debut in during the spring 2015 broadcast season. The series was helmed by Tatsuya Ishihara (Clannad After Story, Love, Chunibyo & Other Delusions) at Kyoto Animation. Shoko Ikeda (The Melancholy of Haruhi Suzumiya) provided character designs, while Jukki Hanada (Nichijou – My Ordinary Life, Love Live! School Idol Project) took charge of series composition.
Sound! Euphonium's second season aired in the Fall 2016 broadcast season.
PonyCan USA currently holds the rights to Sound! Euphonium in North America. The company released Sound! Euphonium on Blu-Ray across three four-episode volumes. In addition to the physical release, Crunchyroll is streaming the series in its entirety on their digital platform.
Source: MoCa News