Apparently, the forecast is cloudy with a chance of laughter.
Yesterday, the official Laughing Under The Clouds -Gaiden- (Donten ni Warau -Gaiden-) anime film trilogy's Twitter account updated with a new key visual. The image features the major cast members, splayed out before a traditional-styled cloud illustration.
The first Laughing Under the Clouds -Gaiden- film, subtitled "Ketsubetsu, Yamainu no Chikai," will hit Japanese theaters on December 2. A special-edition Blu-Ray of the film will be offered at the screening, along with limited-edition merchandise.
Fans will be able to purchase tickets at Animate stores across Japan starting August 12. Folks who pre-buy their seats will receive a clear file with a new illustration of lead character Tenka Kumou.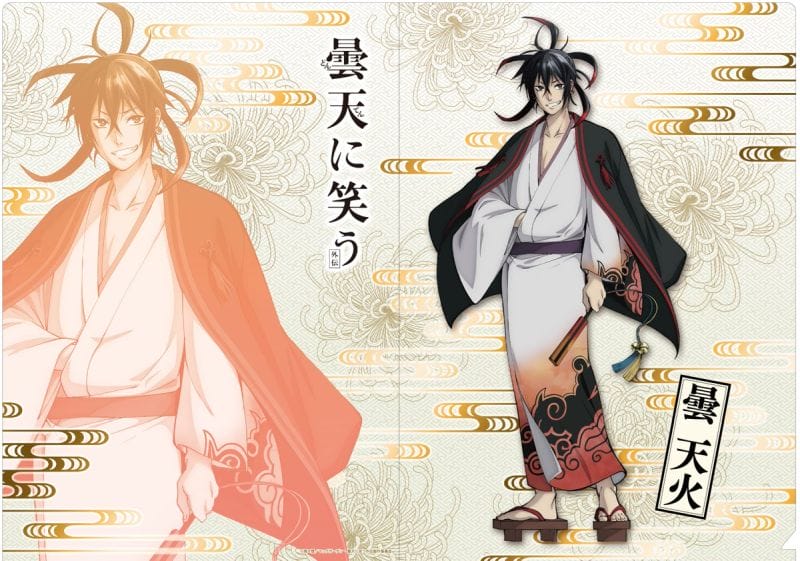 Tetsuya Wakano was tapped to direct the film at Wit Studio. The confirmed voice cast includes:
Chūtarō Kumo: Tsubasa Yonaga
Tenka Kumo: Yūichi Nakamura
Soramaru Kumo: Yuuki Kaji
Rakuchō Takeda: Hiro Shimono
Seiichirō Takamine: Hiroki Yasumoto
Chenran Shi: Hiroshi Iwasaki
Hirari: Kenichi Suzumura
Abe no Sōsei: Kousuke Toriumi
Nishiki: Mamiko Noto
Botan: Rina Satou
Kiiko Sasaki: Sayaka Ohara
Zenzō Inukai: Takahiro Fujiwara
Shirasu Kenjō: Takahiro Sakurai
Mutsuki Ashiya: Yuuki Fujiwara
The original Laughing Under the Clouds manga received an anime adaptation, which aired in the Fall 2014 broadcast season. Hiroshi Haraguchi (Eureka Seven – good night, sleep tight, young lovers) directed the project at Doga Kobo, with Takao Maki providing character designs. Yuuya Takahashi (Luck & Logic) took charge of series composition on the project.
Funimation currently holds the rights to the Laughing Under the Clouds anime. They describe the series as:
When swords were outlawed in the Meiji era, the mighty samurais began to disappear. Those who rejected the ban rebelled, causing unrest throughout the countryside. To combat this criminal activity, an inescapable lake prison was constructed. Three young men, born of the Kumo line, were given the duty of delivering criminals to their place of confinement—but could there be more to their mission?
A teaser trailer for the first film was released in June to promote the feature. You can check it out below:
Source: Twitter (donten_anime)