Fear not, candy fans, for the queen of dagashi is ready to make her triumphant return!
The latest issue of Shueisha's Weekly Shonen Jump magazine (Issues 37 & 38 – double-issue) revealed that a second season of Dagashi Kashi is in the works. The series will hit Japanese TV network TBS in 2018.
Furthermore, the publication confirmed that Ayana Taketatsu will reprise her role as the eccentric Hotaru Shidare.
The series will receive a new crew and studio, though. Satoshi Kuwabara (Yu-Gi-Oh! Zexal, Dr. Pinoko no Mori no Bōken) will direct the new season at Tezuka Productions, with Nana Miura (Young Black Jack) providing character designs. Mayumi Morita is in charge of series composition for the project.
A visual for the new series was also published in the publication, which you can check out below: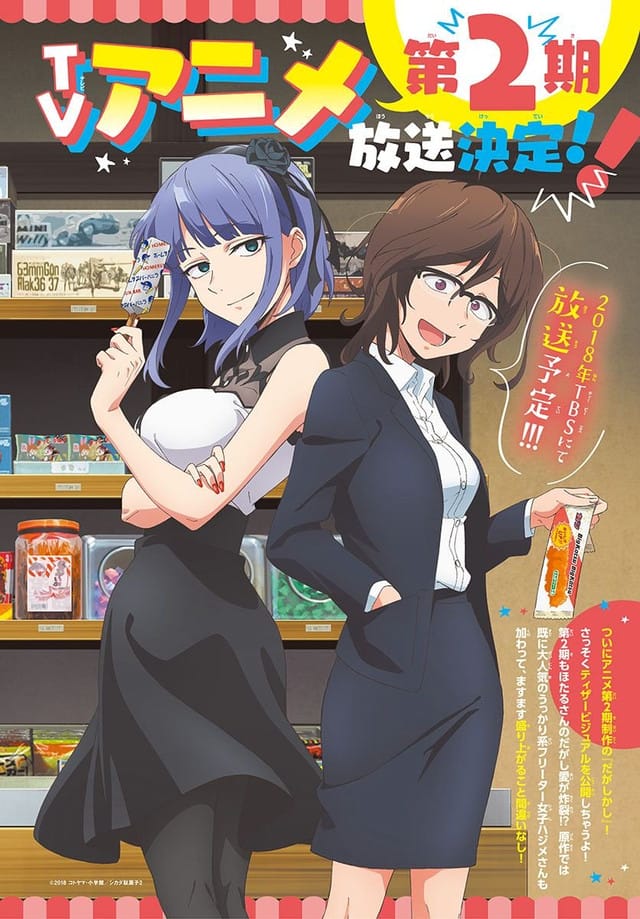 The first season of Dagashi Kashi aired in the Winter 2016 broadcast season.
The series is based on Kotoyama's manga of the same name. Shigehito Takayanagi (The World God Only Knows) directed the title at studio feel. Takayanagi also oversaw the show's scripts with Yasuko Kamo (Galaxy Angel A). Character designs will be handled by Kanetoshi Kamimoto (Burst Angel).
Funimation currently holds the domestic rights to Dagashi Kashi's first season, which they describe as:
Kokonotsu "Coconuts" Shikada dreams of becoming a famous manga artist. The only problem—he's terrible. His real talent is selling the complex and delicious snacks in his father's "dagashi" shop. He never thought much about the family business until the trendy, eccentric Hotaru showed up. As a lover of "dagashi," she can't let his talent go to waste and decides she won't stop 'til she's sold him on sweets.
Source: Yaraon!