Welcome to the world of the '90s! Today!
Earlier today, Sentai Filmworks unveiled their English dub cast for Chihayafuru. The series will star the following:
Chihaya: Luci Christian
Taichi: Adam Gibbs
Arata: Blake Shepard
Miyauchi: Vicki Barosh
O.Igarashi: Javier Lopez
Chitose: Carli Mosier
Michiru: Melissa Molano
Mari: Katelyn Barr
Chieko: Rachel Landon
Reiko: Allison Sumrall
Dr. Harada: James Belcher
Hiro: Kyle Jones
Yasuda: Andrew Love
Yuu: Natalie Rial
Wataya: Jay Hickman
Kanade: Juliet Simmons
Desktomu: Bryson Baugus
Porky: Greg Ayres
Kitano: Steve Finley
Rika: Tiffany Terrell
Sudo: Mike Yager
Sano: Stephanie Wittels
Amakasu: Brittney Karbowski
Mochida: Jack Ivy
Takuma: Scott Gibbs
Hiroshi: Benjamin McLaughlin
Ryugasaki: Johnny De La Cerda
Kenji: Chris Gibson
Shibata: Ned Gayle
Shinobu: Kira Vincent-Davis
Kuriyama: Ty Mahany
Sakura: Hllary Haag
Snowmaru: David Wald
Tsubaki: Stephanie Wittels
Ririka: Emily Neves
Murao: Adam Noble
Mochida: Jack Ivy
Yumi: Courtney Lomelo
Kyoko: Kaoru Bertrand
Daisuke: Rachel Landon
Watanabe: John Gremillion
Takemura: Scott Gibbs
Fukasaku: Kyle Jones
Yuta: Johnny De La Cerda
Kenta: Scott Gibbs
Ise: Jack Ivy
Young Chihaya: Luci Christian
Young Arata: Shannon Emerick
Young Taichi: Chelsea McCurdy
Young Porky: Greg Ayres
Young Hiroshi: Benjamin McLaughlin
Young Shinobu: Kira Vincent-Davis
Taichi's Girlfriend: Shanae'a Moore
E-Chan: Rachel Landon
Ririka's Mom: Stephanie Wittels
Anchor: David Wald
Anchor: John Gremillion
Shannon Reed is directing the adaptation, while Joey Goubeaud and Brittany Deans serve as Assistant Directors. The team of Javier Lopez, Kyle Colby Jones, and Joel McCray is writing the scripts.
Sentai also released a short dub teaser to promote the series. You can check it out below:
Sentai will release Chihayafuru on DVD and Blu-Ray on September 12. The series will be offered in both a standard and a Premium Collector's edition, which includes art cards, a companion booklet, and a pair of karuta cards.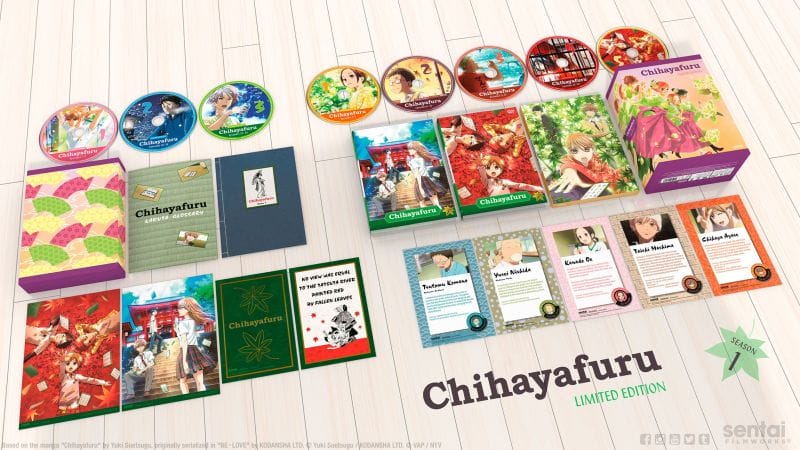 Chihayafuru is based on Yuki Suetsugu's manga of the same name. The 50-episode series aired from the Fall 2011 broadcast season through Summer 2013. Morio Asaka (My Love Story!!) directed the title at Madhouse, with Kunihiko Hamada (My Love Story!!, Nana) providing character designs. Naoya Takayama (Supernatural: The Anime Series) was in charge of series composition on the project.
Sentai describes the series as:
Chihaya Ayase is a beautiful and headstrong young woman with a passion for karuta, a card game inspired by classical Japanese poetry. As a child, Chihaya was introduced to the game by a quiet, gifted transfer student named Arata, and she was instantly drawn to it. Now in high school and reunited with her childhood friend Taichi, Chihaya dreams of finding Arata and the three resuming their love of karuta, only to discover that Arata has quit the game due to personal reasons. Determined not to let Arata's passion go to waste, Chihaya and Taichi form the Mizusawa High School Karuta Club, where they learn that in karuta – as in life – working toward your dreams is the key to winning, even when what you want seems just out of reach.
In North America, the Chihayafuru anime is currently streaming in its entirety on Crunchyroll.
In addition to the anime, Suetsugu's Chihayafuru manga also inspired a pair of live-action films, which hit theaters earlier this year. A third film is currently in production.
Source: Sentai Filmworks