Happy Sunday everyone, and welcome to an all-new week of Media Create sales! This time around, we're looking forward to the past, as RPG classic Dragon Quest makes its triumphant return to the market. With over two million sales across the PS4 and 3DS, we're in for a real treat as we tear into these facts and figures!
Note: Due to Otakon 2017, we  will not have a Media Create post next week. Apologies for the inconvenience.
Nintendo
This week was a strong week for the Big N. Titles on Nintendo hardware claimed ten spots on the big board, with six 3DS games and four Switch titles making the cut.
This week was a truly momentous one for RPG fans. Dragon Quest XI: Echoes of an Elusive Age (3DS) finally made its big debut. This is the first mainline single-player Dragon Quest game since 2009, and the market was starving for the experience. The 3DS SKU for the game sold 1,148,888 units this period to take the first place crown. Combined with the PS4 edition's sales, Dragon Quest XI managed to move 2,099,203 copies for the period. This is freakin' fantastic, no matter how you slice it.
Yes, this is lower than Dragon Quest IX's week-one sales of 2,318,932. That said, though, we're looking at a different overall macroeconomic climate entirely. As I've noted in the past, numerous consumption taxes have been enacted since Dragon Quest IX's release, which have had a general slowing effect on the market as a whole. Many industry watchers have baked this into their expectations, and things look to be in-line with initial ~2.1M expectations. Good work, Square Enix. Here's hoping the upcoming Switch version enjoys similiar success.
Just behind the epic adventures, it looks like squids and kids are still lining up to storm the Splattlefield. Splatoon 2 (Switch) dipped down to third place this period, with 105,326 (753,411 LTD) copies reaching customers. The 84% week-2 drop is on the higher side of the general curve, which is a bit concerning at first blush. That said, we're looking at an unusual week-2, where one of those fabled "games of the generation" officially dropped. I'm willing to let conventional logic slide a bit this time.
The game still cleared the 750K milestone with the quickness, and continues to be on-pace to smash a million by the end of the year, if not the end of summer. Still, I'm curious to see how the curve continues as we look into next week. Moreover, the game currently enjoys a 58.57% attach rate, meaning that we're looking at one copy going out for roughly every two Switch consoles. (And in this week's case specifically, more than one copy per Switch sold this period). While I'm expecting legs due to the previous game's performance, I am ready for a week-3 surprise in the opposite direction, as well.
A bit further back, it looks like 3DS found something that reminds them of a puzzle! Layton's Mystery Journey: Katrielle and the Millionaire's Conspiracy (3DS) dipped to fourth place this period, pushing 24,491 units to new customers (95,358 LTD). We're looking at Layton breaking 100K next sales period. (That's good!) Unfortunately, the title also continues to under-perform in comparison to previous entry Professor Layton and the Legacy of Civilization A. (That's bad!) But the game is still available on smartphones, which has a potential audience of billions. (That's good!) However, we don't know exact sales numbers for the Smartphone edition, and the game is priced at less than half of its 3DS counterpart (…). That's bad. Joking aside, we're currently stuck with a big question mark on this title – it still hasn't caught up with launch numbers for Legacy of Civilization A (130,686), but there's no way of telling if the iOS version's managed to make up the lost revenue until Level 5 confirms details. So for now, we'll just say "it's doing as well as we can hope."
Amid the epics, mysteries, and heated ink wars, there exist a few folks who just want to race around a track and throw turtle shells at each other. Mario Kart 8 Deluxe (Switch) climbed to fifth this time around, with 13,841 copies reaching customers (601,869 LTD). The title currently enjoys a 46.79% attach rate, which indicates some slippage overall. Still, Mario Kart is one of those evergreen titles, and its legs should sustain the title's top-20 run into September at its current pace.
Just outside of the spotlight of the top-5, Captain Olimar remains stalwart. Most of all, though, he says "HEY!" 3DS game Hey! Pikmin dipped down to the #6 space this period, with 11,900 units sold (99,394 LTD). The title is painfully close to that sweet 100K mark, and should pass it by next sales period. Given the surprising legs it's showing, I'm revising estimation up to 150K at this point – there's a very real possibility that it can reach the milestone, as it's still on-track to crack 125K by the end of August.
Meanwhile, the adorably weird world of San-X's Sumikko Gurashi continues to flourish. Sumikko Gurashi: Koko, Dokonan Desu? (3DS) moved down to 8th place this period, with 8,028 units sold (28,910 LTD). And, much like last week, the title is roughly on-par with last year's entry. In fact, it's about 1,000 units up year-over-year, so this is encouraging for fans of the franchise.
At the back of the top-10, folks are still getting their fight on with the stretchy fisticuffs of ARMS (Switch). The punchy pummeler moved 5,959 units (183,945 LTD) to hang onto 10th place. While the game does continue to show appreciable legs, I do wonder if it can keep sales rolling in the shadow of Splatoon 2 and the upcoming Pokken Tournament. Here's hoping that the big N can keep the excitement rolling with their monthly content updates and upcoming tournament entries (It's a player at EVO Japan 2018, for example).
Sadly, Link's journey looks to be coming to a standstill. The Legend of Zelda: Breath of the Wild (Switch) descended to 11th this period, with 5,803 units sold (548,819 LTD). The title does seem to be holding generally flat week-over-week at this point, which is a sign of short-term stabilization. If this is the case, then we should ideally expect to see generally flat performance over the next few weeks, with a similar 3-5% week-over-week decline. As of now, the title sits at a 42.67% attach rate, meaning that slightly fewer than two Switch consoles have sold for every copy of Breath of the Wild. Moreover, we should see this latest Hyrule outing crack 550K next time around.
On that note of settling in, Pokémon Sun & Moon (3DS) has completely flatlined again. Like, literally. The title saw 5,283 sales this period (3,300,384 LTD) which is a 0% change week-over-week. While this sounds ominous, it's a pretty good place to be, as declines have stopped and we're generally able to anticipate about 5,200 sales per week – give or take. The title cracked that 3.3 Million sales mark this time around, which is nothing short of fantastic. I'm still expecting relatively consistent sales up to the release of Ultra Sun and Ultra Moon this fall.
Finally, I have to admit – Tom Nook runs a Hell of a racket. Animal Crossing: New Leaf's "Welcome amiibo" SKU (3DS) moved another 3,607 copies (208,705 LTD) to take 17th place. And, much like Pokémon, this game's sales have flatlined in a good place – we're seeing a 10-15% variance week-over-week, but things generally remain pretty steady.
On the Hardware Front
This week, we saw the 3DS family take the hardware sales crown, with a staggering 142,600 units (23,097,151 LTD) reaching customers. Of those units, 110,963 were 2DSXL handhelds. And yes, this massive gain is being attributed almost entirely to Dragon Quest.
The Switch was no slouch, though. Nintendo's hybrid console managed to cling to third this period, with another banner week. The system managed to shift another 89,314 units (1,286,300 LTD) and remains in sell-out status. I do wonder if we'll hit another period, though, where we'll see sales drop off – as far as we know, Nintendo's still struggling to claw inventory away from Apple and other players.
The Wii U, on the other hand, continues to exist to basically humiliate the XBox One. The retired console shifted 142 units this period (3,327,435 LTD).
Sony
It was a strong week in PlayStation country, with Sony's consoles claiming ten spaces on the big board.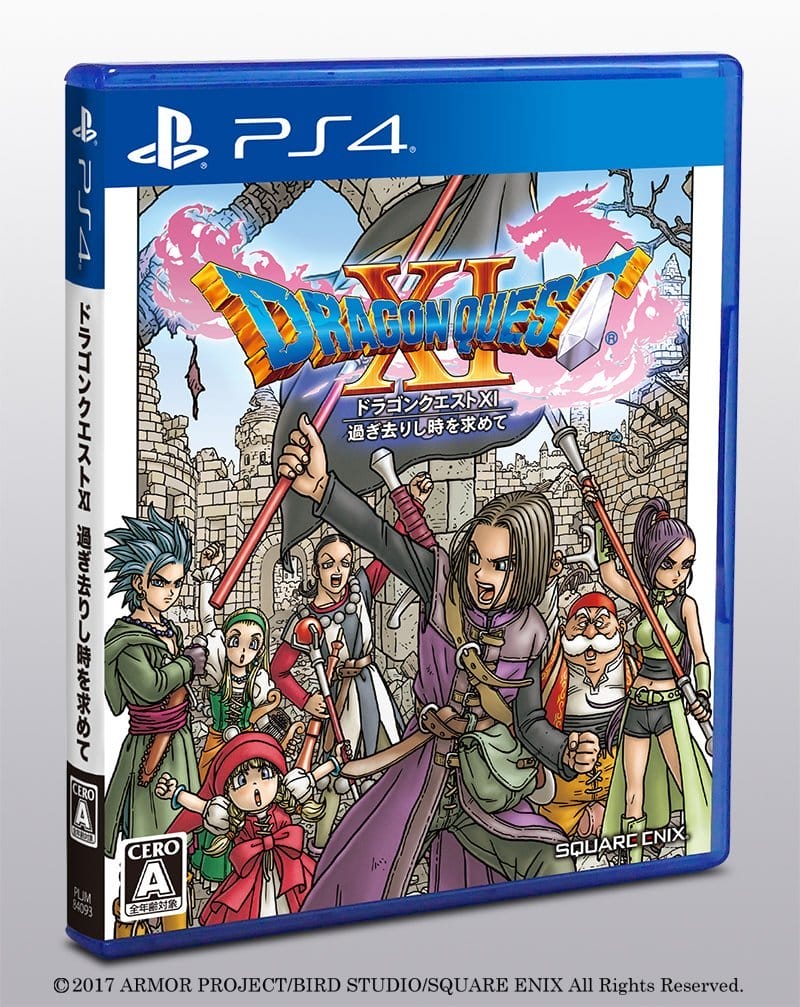 At the front of the pack (natch) was Dragon Quest XI: Echoes of an Elusive Age (PS4). The PS4 SKU for this once-in-a-generation RPG experience managed to move 950,315 units. Combined with the 3DS SKU's 1,148,888 sales, Dragon Quest XI managed to move 2,099,203 copies for the period. Again: this is fantastic, no matter how you slice it.
More interesting is the split between console and handheld. The title is on track to crush a million, and has sold roughly 80% of its handheld equivalent's week-1 numbers. This is a truly heartening thing to see, especially in the wake of Final Fantasy XV's general stumbling in the market. That said, I'm curious as to whether this will defy the general "RPG Sales Curve". If not, then I see the title vanishing from the charts by October. If so, then we could be in for something truly special as we get closer to the holiday season.
Speaking of Final Fantasy, Final Fantasy XII: The Zodiac Age (PS4) managed to move another 8,158 units (127,971 LTD) to capture the #7 space. The title did break the 125K milestone, which is great for a remaster of a decade-old game. Whether it can crack 200K, though, remains to be seen in the general trajectory. As of now, the title continues to hold its "JRPG sales curve" momentum, so I expect to see a generally speedy downward momentum in the coming weeks.
For those looking for the softer side of life, look no further than the world of badass rumbles. Wait, what? Kenka Bancho Otome: Kanzenmuketsu no My Honey (Vita), the latest entry in the Kenka Bancho Otome franchise, punched its way to 9th place in its debut, with 6,931 copies reaching customers. This is actually down from last year's Kenka Bancho Otome, which opened with 8,534 sales, which is a bit troubling. While I'll be watching to see if the situation improves, a 19% decline for week-1 isn't a fortuitous situation for Spike Chunsoft.
For those looking for a lesson in the Ninja arts, Naruto has you covered (believe it!). Naruto Shippuden: Ultimate Ninja Storm Legacy (PS4), a collection that includes all three Ultimate Ninja Storm games, opened with 5,626 units sold.
In the under-charts, the mighty Gundam continues to forge onward. Gundam Versus (PS4) managed to move another 5,294 copies this period (149,137 LTD) to blast up 13th place. The title is on-pace to break 150K by next week, but that sales curve continues to be incredibly steep. This one will likely exit the charts by the end of the month at its current pace.
Not far behind, folks are returning to the trenches of today's battlefield. Call of Duty: Modern Warfare Remastered (PS4) debuted at 15th place, with 4,879 units sold. Honestly, I'm not sure how to really peg this one. We're looking at the standalone SKU of a year-old remaster that was bundled with the Infinite Warfare LE. While the numbers seem low, this is old news by this point, and likely already in the hands of the niche that desires the game.
And then there's Minecraft (Vita). Mojang's blocky builder continues to hold its own on the charts, with 3,867 sales (1,184,150 LTD) and a 16th place finish. At its current pace, I wouldn't be surprised to see Minecraft crack 1.2 million by the end of September. Honestly, I'm not sure what I can say at this point, outside of "good job, Microsoft."
The PlayStation family's offerings this period were rounded out with a trio of Vita visual novels, all of which sold within expectations. Wagamama High Spec (#18, 3,062), The Fruit of Grisaia: Side Episode (#19, 3052), and Hiiro no Kakera: Omoi Iro no Kioku (#20, 2,914) claimed the final three spaces on the big board.
On the Hardware Front
This was a banner week for the PlayStation 4, which saw a more than 200% increase week-over-week. The PS4 moved 93,356 units this period (5,095,722 LTD) to take second place. Of those, 10,988 were PS4 Pro consoles (328,285 LTD).
The Vita managed to hold on to fourth place this time around, with 4,967 units sold (5,673,792 LTD). As expected, sales were generally flat week-over-week, and remain fairly consistent overall. At this point, I don't see the handheld's performance changing much until the game supply dries up entirely, or Sony discontinues sales of the Vita hardware.
The PS3, meanwhile, continues on its own winding path, with another 121 units reaching customers.
Microsoft
In the United States highway system, Interstate 94 is a major east-west highway that connects the Great Lakes to the northern Great Plains. The 1,585-mile roadway, which crosses seven states, has been in active use since 1956.
In the world of Japanese console sales, 94 XBox Ones sold likely has a few Microsoft employees dreaming of escaping to the open road.