The master of Japanese horror will get a chance to return to the spotlight in the anime world next winter.
Yesterday, an official website for the upcoming Junji Ito Collection anime opened its doors. The site features a concept visual, as well as the first major staff reveals.
Shinobu Tagashira (Diabolik Lovers) is pulling double duty on the project as director and character designer at Studio Deen. Tagashira also drew the new visual, which features scenes from 02::22 (Ushimitsudoki).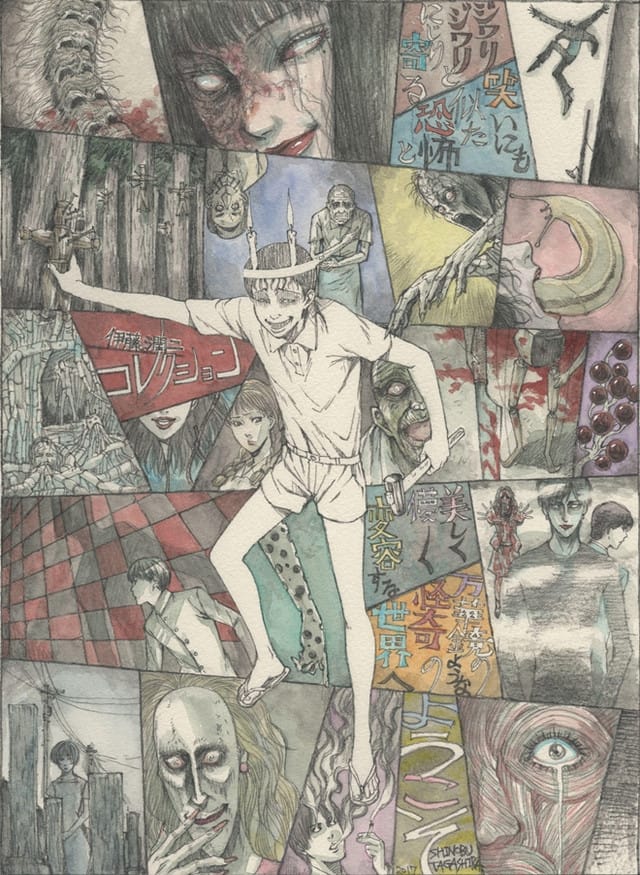 Tagashira and Junji Ito both offered comment on the adaptation, which you can check out below:
Shinobu Tagashira
My dream has become my goal, which became a miracle. Now, I'm able to produce anime adaptations of the manga titles I've adored since my teenage years with my own two hands. I've already imagined the various ways in which should animate them. I'm a truly happy person, now that I can see that this is really happening. I want to express my sincere thanks to everyone who supported me. I'm looking forward to working with the rest of the staff. Also, I'd like to ask for continued support from fans of the original manga who are looking forward to the show. I'll do my best to capture the passion and spirit that Ito-sensei imbued into the manga, and to create a good horror story.
Junji Ito
It's almost like a dream to see my horror manga adapted to an anime TV series. When I was a child, I dreamed of anime versions of prominent manga by people like Kazuo Umezu, Shinichi Koga, and Hideshi Hino, and even made a flipbook of my own based on highlights of Hino-sensei's work. I feel that director Tagashira has that same type of energy that I had in my childhood in launching this project. I've already seen her concept visual, and her love for the manga was certainly conveyed. I can't wait to see the finished anime. Please look forward to it! Finally, I'd like to express my deepest gratitude to director Shinobu Tagashira, who brought this wonderful project to life, and to the various members of the production committee who worked very hard!
Junji Ito's been active in the manga industry since 1987. The artist, whose works include Tomie, Uzumaki, and Gyo, has become an icon in the world of Japanese horror, as well as the greater body horror genre. Several of his works have received live-action adaptations, or one-off anime projects.
Ito was also originally attached to Konami and Hideo Kojima's now-defunct Silent Hills video game project.
Source: Crunchyroll