Anime fans have had an answer to Lithium for years. Now, Right Stuf wants to show it off in a whole new light.
I kid, I kid. I loved Aria.
Earlier today, Right Stuf launched a Kickstarter to produce an English dub for Aria the Animation. The Kickstarter aims to raise $110,000 by September 11 for the release, which has an estimated ship date of February 2018.
As of press time, Right Stuf has raised $11,468 across 105 backers, with an average contribution of $109.21 per backer.
At the company's Otakon panel, Right Stuf CEO Shawne Kleckner revealed that Michele Knotz was tapped as part of the dub cast. Kleckner also revealed that the Kickstarter approach was two-fold: Right Stuf wanted to gauge interest in a dub, and offer some general insight into the dubbing process for those who choose to back the project.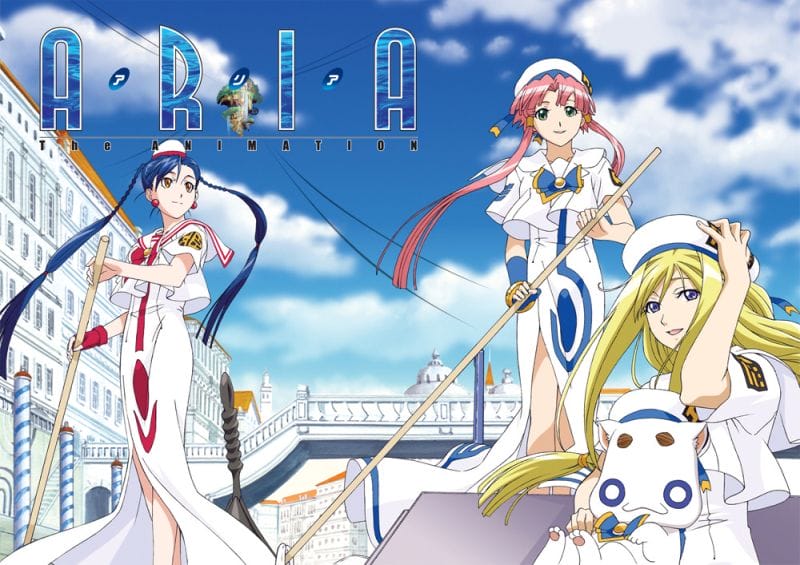 On Twitter, Pied Piper, Inc. confirmed that they are assisting with the adaptation.
Aria the Animation adapts Kozue Amano's Aria manga. The 2005 series was helmed by Junichi Sato (Kaleido Star, Slayers Premium), who also handled series composition for the project at Hal Film Maker. Makoto Koga (Bludgeoning Angel Dokuro-chan, Macross 7 the Movie: The Galaxy's Calling Me!) provided character designs for the series.
Right Stuf describes Aria the Animation as:
In the early 24th century, Mars has been terraformed by mankind into a sparkling planet covered in water. Akari Mizunashi, at the age of 15, has left everything behind to travel to that reborn world, now known as Aqua. More than anything, Akari wants to be an "undine" – a female gondolier who navigates the canals of the Aquan city of Neo-Venezia. As she begins her training with the prestigious Aria Company, will she be up to the challenges that await her on the path to achieve her dream?
Nozomi Entertainment started streaming the first episode of Aria the Animation on their YouTube channel earlier today. You can check it out below:
Sources: Right Stuf (Industry Panel), Kickstarter