We're getting another quick glimpse into a truly unique café this week.
Earlier today, the official Blend S anime website updated with a new key visual, as well as four cast members and a première date. We break the details down below:
Key Visual
The new visual features leading lady Azumi Waki holding a platter, upon which rests the secondary cast members (plus a strawberry shortcake!).
Casting
The new cast members include:
Miu Amano: Atsumi Tanezaki
Hideri Kanzaki: Sora Tokui
Dino: Tomoaki Maeno
Kōyō Akizuki: Tatsuhisa Suzuki
Visuals for the new players were also unveiled, which you can check out below:
Broadcast
The site also confirmed that Blend S will hit Japanese TV on October 7. The series will debut on Tokyo MX, Tochigi TV, Gunma TV, and BS11 on October 7 at 24:30 (10/8/2017 at 12:30AM). Kansai TV, TV Aichi, and AT-X will carry the series at a later date.
Crunchyroll will stream the show as it airs this fall.
Blend S will be directed by Ryouji Masuyama (Gurren Lagann Parallel Works) at A-1 Pictures, with Yousuke Okuda (Is the order a rabbit?) providing character designs. Go Zappa (Shin Koihime Musō, Chronicles of the Going Home Club) is in charge of series composition for the project.
The confirmed voice cast includes:
Maika Sakuranomiya: Azumi Waki
Kaho Hinata: Akari Kitō
Mafuyu Hoshikawa: Anzu Haruno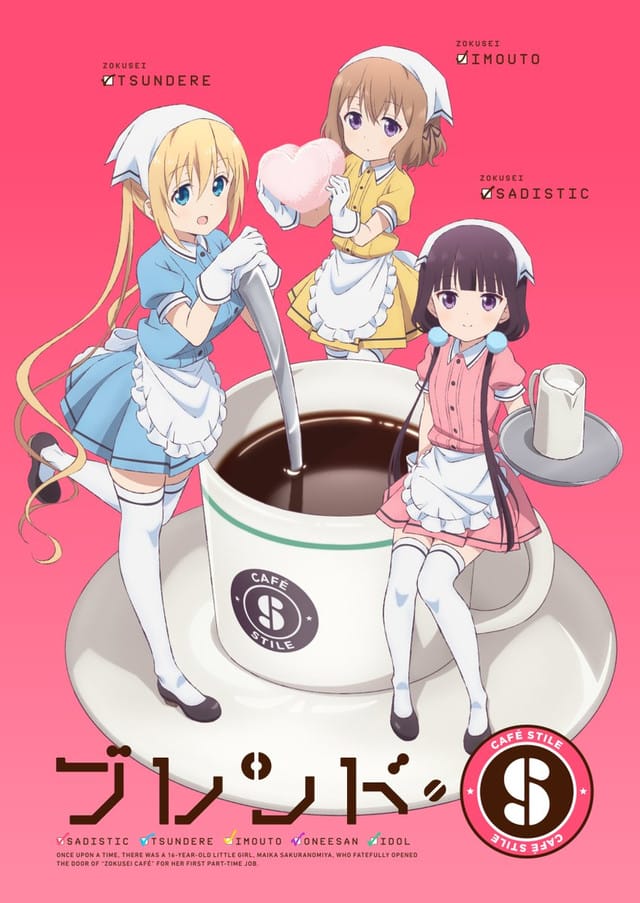 The Blend S anime will adapt Miyuki Nakayama's manga of the same name. The title is a four-panel comedy that debuted in the October 2013 issue of Manga Time Kirara Carat. To date, three collected volumes of the title have been produced, with the most recent hitting stores on January 27.
The series focuses on a girl named Maika, who takes a job at a local café. This establishment's a bit different than most, though, as each of the waitresses is given a unique trait, like "tsundere" or "little sister", in order to appeal to specific customers. Maika's role is to be the extreme sadist ("Do S"), meaning she needs to adopt a dominant, aggressive, and somewhat cruel persona while on the clock.
A teaser trailer, plus several character visuals were unveiled for Blend S. You can check these out below:
Promo Video
Character Visuals
Source: MoCa news