"Memories are always beautiful, but with just them, your stomach will feel empty." It's a familiar refrain for a wandering samurai.
The latest issue of Viz Media's Weekly Shonen Jump magazine revealed that the publication will run the upcoming Rurouni Kenshin: Hokkaido Arc (Rurouni Kenshin, Meiji Kenkaku Romantan: Hokkaido-hen). The series will kick off in the magazine next week.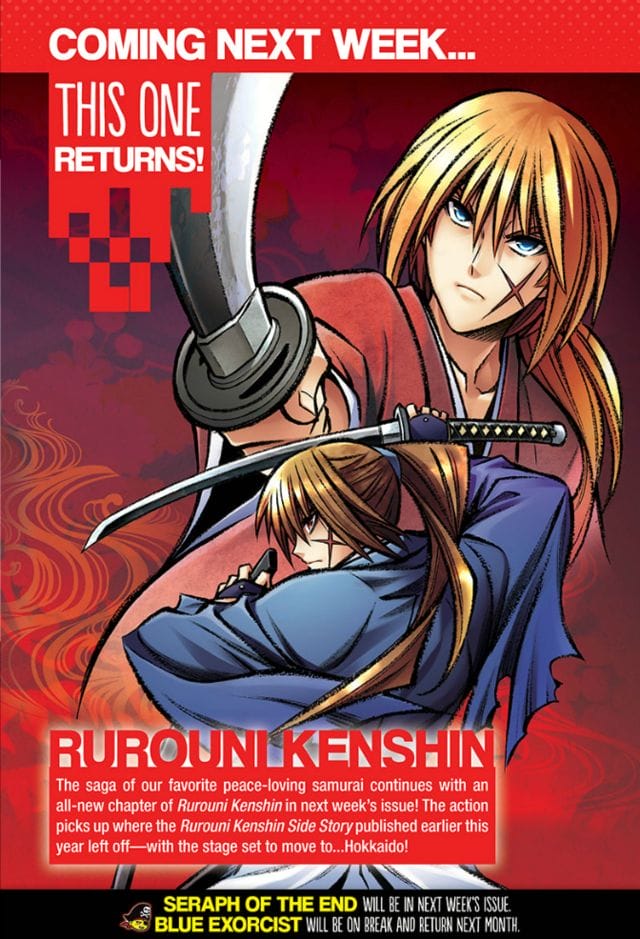 Series creator Nobuhiro Watsuki and his wife Kaoru Kurosaki published a prologue for the series in Jump SQ. magazine last year. The prologue, titled Rurouni Kenshin Hokkaido-hen Jomaku: Ashitarō Zenka Ari (Rurouni Kenshin Hokkaido Arc Prologue: The Criminal Ashitaro) ran in the November and December issues of the magazine, and focused on a new character named Ashitaro. Viz Media ran the short series in Weekly Shonen Jump in December.
The upcoming Hokkaido Arc will return the focus to Kenshin. Five major plot arcs are planned for the title, which was delayed from its planned "Summer 2017" launch.
Like The Criminal Ashitaro, Kaoru Kurosaki will serve as a collaborator on the plot for the upcoming title.
Rurouni Kenshin kicked off in the pages of Weekly Shonen Jump in April 1994. The series ran through November 1999, and ultimately spanned 28 collected volumes. Several anime adaptations were produced, including 1996 TV series, the Samurai X OVA series, and the 2011 OVA Rurouni Kenshin: New Kyoto Arc. A live-action film trilogy was released in 2012, as well as a 2016 stage production by the Takarazuke Revue.
Source: Twitter (ShonenJump)