It's time for another reminder that Ed and Al are preparing for an adventure in the live-action world.
Earlier today, the official Fullmetal Alchemist live-action movie's website updated with a new poster visual. The image shows off the entire main cast from the feature, posing against a cloudy grey sky.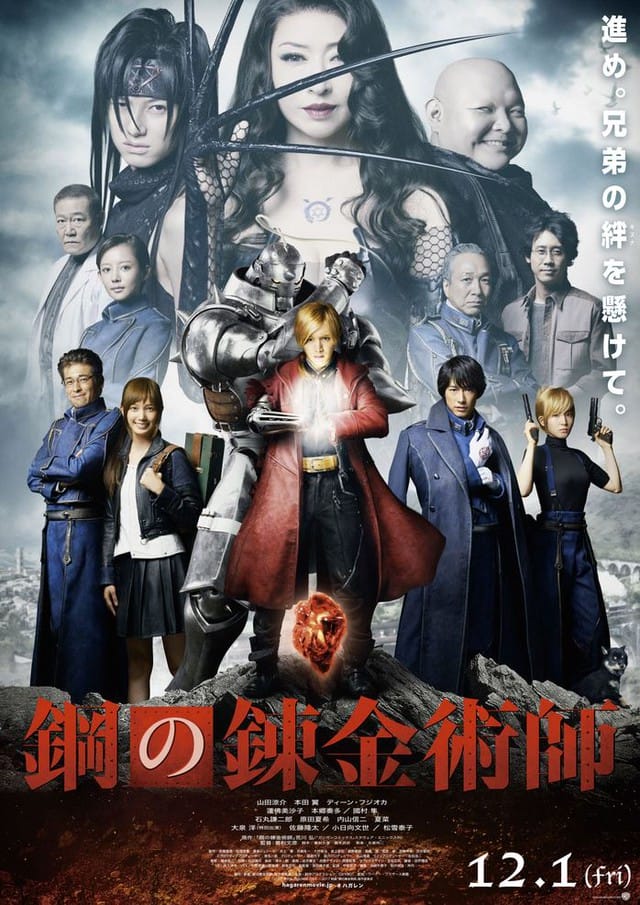 Three other posters were unveiled in July, which you can check out below:
The live-action Fullmetal Alchemist film hits Japanese theaters on December 1. Fans who attend the screening will receive a "special-edition comic" by original author Hiromu Arakawa. The comic will be the first new Fullmetal Alchemist material that she's written in seven years.
Fumihiko Sori (Ping Pong) was tapped to direct the feature. He commented on the adaptation process, stating that he wants "to create a style which follows the original manga as much as possible. The cast is fully Japanese, but the cultural background is European. That said, it's a style that doesn't espouse a specific race or country." He continued on this train of thought, stating that "There will never be a scene in which a character states something that will define them as Japanese."
The confirmed cast includes:
Edward Elric: Ryosuke Yamada
Winry Rockbell: Tsubasa Honda
Roy Mustang: Dean Fujioka
General Hakuro: Fumiyo Kohinata
Maes Hughes: Ryuta Sato
Riza Hawkeye: Misako Renbutsu
Maria Ross: Natsuna
Gracia Hughes: Natsuki Harada
Shou Tucker: Yo Oizumi
Doctor Marco: Jun Kunimura
Lust: Yasuko Matsuyuki
Envy: Kanata Hongou
Gluttony: Shinji Uchiyama
Father Cornello: Kenjiro Ishimaru
Source: Comic Natalie