Happy Sunday everyone, and welcome to an all-new week of Media Create sales! We're quickly sprinting toward Tokyo Game Show, which kicks off on September 21 and is sure to be packed with digital delights for gamers of all stripes. Before we get caught up on the future, though, it's time to take a look at the present. This week saw the launch of the newest entry in the long-running Everybody's Golf franchise (Hot Shots Golf in the west, previously), as well as the latest entry in the Nights of Azure series.
So, without further ado, let's head into the charts!
Nintendo
Titles on the Big N's hardware managed to claim eleven spots this week, with six Switch games and five 3DS titles making the cut.
At the front of the pack is the ink-redible shooter that continues to bring all the squid kids to the yard. Splatoon 2 (Switch) held on to second place this time around, with 52,320 units sold (1,056,500 LTD). The title enjoys a 66.95% attach rate, meaning that roughly 2/3 of all Switch console owners have also bought the game. On the surface, this is impressive. On a more detailed level, this is freaking impressive.
At this point, Splatoon has pulled far away from the "typical sales cycle." We're still not seeing a firm baseline form, as sales seem to be highly dependent on hardware supply. However, sales have remained consistently above 30K since launch, and have tended to correct closer to 50K after corrections. We'll likely see this cross 1.25 million by the end of October at its current pace, which is nothing short of fabulous. I'm genuinely excited to see where the final totals rest for Splatoon 2 when it finally exits the top-20.
For those looking for something a bit more RPG (OK, a lot more RPG), Atlus has you covered. Etrian Mystery Dungeon 2 (3DS) launched at third place with 29,887 copies reaching customers. Though a third place launch is good, the raw numbers are a bit concerning. This is a pretty big drop from the launch numbers of 2015's Etrian Mystery Dungeon (65,226), and Famitsu is pegging sell-through at a piddling 40-60%. Whether this is a case of franchise fatigue (there have been six Etrian games released on the 3DS since 2013 – Seven if you count Persona Q using the same format), or some other factor has yet to be seen. That said, I expect some very real pains in the short-term… especially if we're staring down a 75-85% decline in week-2.
I should note that I've seen a few folks proclaiming that this was due to the general migration of 3DS owners to the Switch – I'm not quite ready to use that conclusion yet, as the numbers just don't smell right.
Not far behind, the hunt rages on. Monster Hunter Double Cross (Switch) dipped down to fourth place this period, with 27,120 units sold (111,396 LTD). The title has broken the 100K mark after a disappointing first week, which is great to see. More interesting, though, is the overall hold at this point. We saw a 68% drop in the title's second week, which is far below the norm for a typical week-2 performance. While it is a bit early, I'm hopeful that this is a signal for some semblance of legs in the short-term. I am currently estimating a 200 – 250K lifetime at this point, depending on market conditions and the general bleed of customers as we get closer to the release of Monster Hunter World (PS4/PC).
For those in need of an epic quest, Dragon Quest XI: Echoes of an Elusive Age (3DS) continues to impress. The classically-flavored RPG pushed 22,846 copies this time around (1,693,913 LTD) to take the #5 space. Combined with the 1,328,455 sales of the PS4 version, we're looking at total lifetime sales of 3,022,368. I'm not really sure what I can say at this point – the sales are impressive, to say lightly. Looking strictly at 3DS sales, we're quickly losing on 1.75 million, and still on track for the two-million milestone by year's end. The legs are strong, and week-over-week, we should see things evening out to a baseline of about 10K in the medium-term. Honestly, while not expecting it yet, I wouldn't be shocked if we see multi-platform sales top the four million mark for Dragon Quest XI. Kudos, Square Enix. you did well.
On the note of doing well, the Luigi Death Stare continues to fuel the sales of Mario Kart 8 Deluxe (Switch). The latest entry in the long-running kart racer series shifted another 12,474 copies (672,688 LTD) to skid into eighth place. We should see this cross the 675K mark next sales period, and a general 750K before it exits the big board. I'm still hopeful that we'll see Mario Kart hit million mark at some point, but this will be dependent on holiday sales, bundling, and a number of other variables across the software landscape.
Unfortunately, it looks like the world of snacks isn't quite attracting people. The Snack World: TreJarers (3DS) dipped down to ninth place this period, with 10,098 units sold (148,070 LTD). From the looks of htings, the game is following a typical RPG progression pattern, which is probably the last thing the folks behind Yo-Kai Watch are hoping for at this point. We'll definitely see the title crack 150K next week, and possibly 200K before it exits the charts. Still, I don't expect much higher than that, given the current sales curve. This is a rare miss from the house that Layton and Jibanyan built.
Not far behind, legendary detective Jake Hunter (or Jinguji Saburo – whichever you prefer) is back on the case. Jake Hunter Detective Story: Ghost of the Dusk (3DS) had 6,132 fans digging up clues in its debut week. While this seems low, and it kind of is, it's about average for the franchise. The previous entry, 2012's Round of Revenge, sold in the mid-5000s, so this is slightly up – still not the greatest, but it's an improvement overall.
Meanwhile, the stretchy combat of ARMS continues to bring some fans to the yard. The quirky fighter clung to the charts like Kid Cobra on a snakeboard this period, with 5,183 copies reaching customers (214,400 LTD). The title is well on its way toward the quarter million mark, with potential for some bumps at January's EVO Japan event. Though sales have slowed, this should be seen as an encouraging opening for another new IP from the big N.
Speaking of encouragement, the latest Hyrule adventure continues to delight with each passing week. The Legend of Zelda: Breath of the Wild (Switch) pushed another 4,904 units this period (576,067). Though the title did plunge to 15th this period, the title continues to surge ahead. The Switch SKU already beat Twilight Princess Wii's sales of 554,109, and multiplatform sales of Breath of the Wild (709,091) have eclipsed Wii + GCN sales for Twilight Princess (642,607). We should see this crack 750K multiplatform, and 600K for the Switch SKU alone isn't out of the question. All I can say is "shine on, you crazy diamonds at Nintendo."
Sadly, those true blue nights are filled with sadness. Nights of Azure 2: Bride of the New Moon (Switch) managed to move just 4,463 units in its debut week, which was enough to land at the #16 space. The overall attach rate is about 0.28%, which is pretty awful. But – there's always a but – the overall attach rate is in line with the PS4 and Vita versions. The PS4 SKU, which opened with 18,207 units sold, enjoyed a 0.35% attach rate. The Vita version – which opened with 7,168 units sold – had an attach rate of 0.13%. So, this tells us that, overall, a similar niche audience is buying across the platforms, which is mostly constrained by the number of units in the wild. We should see numbers of niche titles tick up with Switch sales, ultimately coming to rest somewhere between the PS4 and Vita versions.
Finally, for those looking for the simple life, Tom Nook's idyllic town continues to provide appeal. Animal Crossing: New Leaf's "Welcome amiibo" SKU (3DS) sold another 4,008 copies this time around (232,410 LTD) to take 17th place. We should see this cross the quarter million before it exits the hcarts again, if sales remain consistent week-over-week.
On the Hardware Front
The Switch took first place again this period, with 50,074 consoles reaching customers (1,578,036 LTD). Despite a few tight weeks, it looks like supplies are starting to stabilize in Japan, with 50-70K being the general baseline since July. Here's hoping that they can get more into the channels once the busy holiday season kicks off.
The 3DS took a very close third this period, with 26,268 handhelds sold (23,289,844 LTD). Of those, 11,515 were 2DS-XL units.
The Wii U, meanwhile, continues to have its consistent drop in the bucket. The quirky console shifted 116 units this time around (3,328,109 LTD).
Sony
This period, titles in the PlayStation family managed to claim nine spots on the big board, with seven PS4 games and two Vita titles making the cut.
At the top of the heap, though, folks are teed off. Literally. Everybody's Golf hit a hole in one in its debut, landing at first place with 100,719 sales. The title is on-par with the last console iteration in the franchise, Hot Shots Golf: World Invitational (PS3), which shifted 100,862 in its debut week. Overall, that's a good sign, as it shows a consistent market, and we can generally expect similar performance in the short-term. I'm curious to see whether it grows legs, though, and whether it can sustain a meaningful volume through the holidays. This will be one to watch, for sure.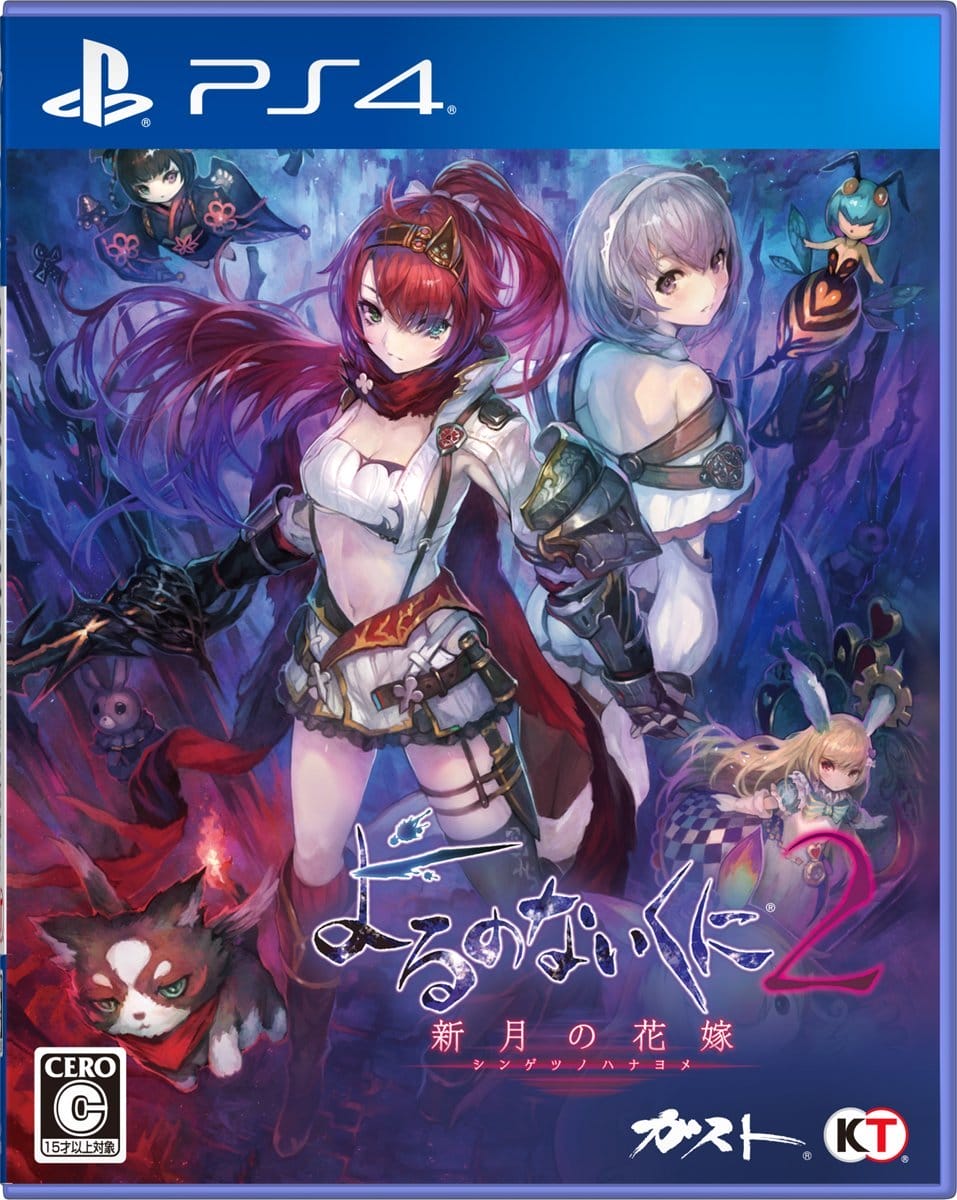 For those who aren't looking for the thrill of the green found a new RPG adventure in Nights of Azure 2: Bride of the New Moon. The PS4 version of the game slayed sixth place, with 18,207 units sold. The Vita version moved just under half of its big brother's totals, with 7,168 copies reaching customers and an 11th place finish. Now, that said, this is a fairly interesting performance overall. While both outpaced the Switch version by far, they're still far from "good" on the sales spectrum. Performance across the board is way down, as the first Nights of Azure game cleared 30K on both the PS4 and Vita back in 2015. This is a title that's utterly collapsed, which is horribly fascinating in itself. It shows that whatever excitement was found for the first game is fleeting, and that Gust's latest entry entered a market that was pretty much done overall. Seriously – the combined sales of the three SKUs (29,838) is less than a single SKU for the previous game (barring PS3, which did a piddling 10K). Expect this one to have a sharp sales curve, followed by an ejection from the charts.
Meanwhile, the ten-ton juggernaut continues to hold its own in the top-10. Dragon Quest XI: Echoes of an Elusive Age (PS4) managed to claim seventh place this period, with 14,053 units sold (1,328,455 LTD). Combined with the 3DS version's 1,693,913 units in customers' hands, we're looking at a combined 3,022,368 sales. I'm not really sure what more I could say at this point that hasn't been touched upon in the previous segment. The title's selling strongly, and we're on track for an easy 3.25 million units sold in the near future. Both SKUs are showing strong legs, and I see both being mainstays as we enter that crowded fall shopping season. Honestly, four million across both platforms seems realistic.
Of course, some folks just want to shoot some zombies on a boat, and that's awesome. Resident Evil: Revelations (PS4) moved 9,260 units to lurch into 10th place. Honestly, I'm not sure where to place this one, as it's a port that's been on damn near everything. So, I will say it's doing what's generally expected, even if Capcom shipped something like 2.5 times more to retailers.
The spooks and shrieks continue as we enter the under-charts. Yomawari: Midnight Shadows (Vita) dipped to 14th place tihs period, with 4,943 units sold (13,009 LTD). The PS4 version wasn't too far behind, with 3,647 copies reaching customers (11,902 LTD). Combined, the two SKUs sold through 24,911 copies. While this is still incredibly low overall, I'm encouraged to see the generally shallow drop week-over-week. While I don't expect it to stay in the charts too long, we might just see the combined console sales break 40K by the time it's out, with 50K a distant possibility.
For those looking for an adventure in a more social landscape, Dragon Quest has you covered. The Dragon Quest X: All in One Package, which includes the game and all expansions, moved another 3,829 copies (22,184 LTD) to take 18th place.
At the back of the pack, there's the idol of Gameindustri, Nep Nep. Megadimension Neptunia VIIR plummed to 20th place, with 3,346 units sold (19,122 LTD).
On the Hardware Front
The PS4 took a hard-fought second place this period, with 26,384 units sold (5,276,853 LTD). Of those, 4,965 were PS4 Pro consoles. the Vita took fourth place, with 3,975 units sold (5,696,448 LTD).
The PS3, meanwhile, continues its meandering journey. The aged console moved another 85 units this time around (10,468,947 LTD).
Microsoft
In the rule of finance, the Rule of 78s is a term used in calculating loan interest. The name comes from the magic number of adding the total number of months in a given year (1 + 2 + 3 + … + 12 = 78), and seeks to maximize interest taken in. In the case that a buyer pays a loan off early, the loan holder wins, because those early payments attribute "too much" to interest and too little to the loan principal.
In the world of Japanese console sales, I can imagine that more than a few folks at Microsoft are looking for a way to cash out early with 78 sales this week.