Happy Sunday everyone, and welcome to an all-new AniWeekly! This week was an exciting one, as one of the biggest "hot-button" issues in anime fandom is finally coming to an end. Yes, I'm talking about the Macross thing. Long story short: A recent court (arbitration) ruling found that Harmony Gold's license for Macross will officially expire in March 2021.
So, yes, that is the sound of a ton of anime fans dancing in the streets. For now. It's a long road to 2021, and we've heard the Macross licensing situation is notoriously dodgy. So, what comes of this case will be interesting, to say the least.
That said, a lot's happened over the past few days, so let's dive into all the news that's fit to read!
In the News
Butlers in a mysterious space-time. Silver Link is producing an original anime project, titled Butlers: Chitose Momotose Monogatari (Butlers: A Millennium Century Story). The series revolves around a pair of very pretty men named Koma Jinguji and Tsubasa Hayakawa, who come together to fight supernaturally charged battles across space and time. Total slice of life, yeah?
https://www.youtube.com/watch?v=i3Te98mA_UE
No bones about it, this is totally a thing. Manga series Gaikotsu Shotenin Honda-san, which revolves around a skeleton who works in a bookstore, will get an anime adaptation.
The rebellion shall begin once again. A new visual and trailer for the upcoming Code Geass: Lelouch of the Rebellion Episode I movie hit the web last week. It's a first look at the shiny new animation that's being produced for the three films.
So, what is a Doraglier? Director Hiroyuki Furukawa, who's currently hard at work on My First Girlfriend is a Gal, announced that he opened a new anime studio. The organization, which is called Magia Doraglier, expects to begin actual production work next year.
Do anime directors dream of electric shorts? Cowboy Bebop director Shinichiro Watanabe is producing an anime short film based on Blade Runner. The feature, titled Blade Runner Black Out 2022, will tie in to Denis Villeneuve's upcoming Blade Runner 2049 movie.
Do you remember love? As we were saying earlier, Harmony Gold's hold on the Macross license has a definitive end date. In a recent court case, it was ruled that Harmony Gold's license for Macross has a firm expiration date of March 14, 2021. After this, the rights revert to Tatsunoko. Yes, you can do that happy dance now.
Under the dog? Onward to Kickstarter! Earlier today, the Under the Dog Kickstarter page updated with an announcement that the project will undergo a second round of crowd funding. The campaign hopes to fund a live-action short, along with a special theatrical edition and a new theme song.
You are already in English. Progress Technologies launched a Kickstarter campaign to fund a bilingual eBook version of the Fist of the North Star manga. The campaign seeks $27,260 to publish the entire series in English and Japanese eBook format, which uses the company's proprietary "eOneBook" readers. The project's already been funded, and stands with $152,295.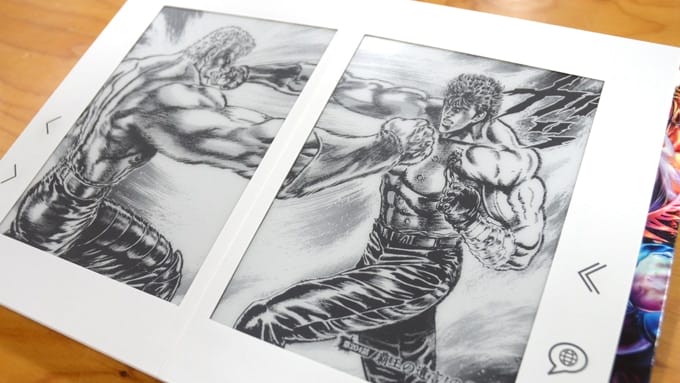 Presented without comment. Anime Strike announced that they added the The Garden of Sinners movies to their digital lineup. All eight films, plus The Garden of Sinners/recalled out summer and The Garden of Sinners/recalled out summer: Extra Chorus are available in subtitled format.
My Sparks Fan Convention SNAFU! The "Sierra Nevada Anime Fans Unite!" Convention (SNAFU Con) anime convention will be held from October 5 – 8, 2017. The event will be held at Sparks, Nevada's Nugget Casino Resort Convention Center. What's interesting here, is that they're also hosting a free "Day 0" event on October 5, which won't require a badge.
THEY'RE BREAKIN THE LAW! BREAKIN THE WORLD! Masao Ohtake's Hinamatsuri manga will receive an anime TV series. The title is set for a spring 2018 première, though details on the staff and cast have yet to be unveiled.
A truly unique blend awaits at the Café Dulce. Aniplex of America are partnering with Little Tokyo's Café Dulce to host a special Blend-S event. The café will host "branded exclusive giveaways" through October.
Not to be confused with Dragon Age: Inquisition. A new manga magazine, titled Bessatsu Dragon Age, will hit Japanese newsstands on September 25. Eleven titles are planned for launch, including Kenji Saito and illustrator Shoji Sato's Mahō Shōjo Flaming ☆ Star (Magical Girl Flaming Star).
The Aria Company sails with a full boat. Right Stuf's Kickstarter to produce an English dub for Aria the Animation closed, with $595,676 in total funds. Since the campaign broke $360K in funding, the publisher will produce an English dub for the entire Aria anime franchise. Yes, this includes Aria the Avvenire and the picture dramas.
Take your marks, Iwatobi Swim Club fans! A new trailer for upcoming movie Free! Take Your Marks hit the web, ahead of the film's October premiere.
Did someone say "Simulpub"? Yen Press announced that they licensed the Goblin Slayer — Goblin Slayer Side Story: Year One manga. Even better, Yen will publish chapters as they run in Japan!
From the AniBlogging Community
The man, the legend, the creator of Garzey's Wing. sdshamshel from Ogiue Manix takes a close look at the storytelling style of legendary anime director Yoshiyuki Tomino. In the article, they discuss how Tomino's unique style of storytelling works wonders for long-form shows like Mobile Suit Gundam and Aura Battler Dunbine, while serving as a recipe for disaster on short-form titles like Garzey's Wing. (Though that doesn't explain Brain Powerd…)
The fandom difference. Manga Therapy takes a look at a recent interview between Otaku Journalist Lauren Orsini and The Ancient Magus Bride author Kore Yamazaki. In particular, they take a close look at an exchange, in which Yamazaki discusses the difference between Japanese and western fan reactions. It's a fascinating piece that dives into the deeper elements of the western fan psyche.
Talking from this corner of the world. The folks at Reverse Thieves had a chance to talk with director Hidenori Matsubara, who helmed In This Corner of the World. While an engrossing conversation, there are spoilers for the film, so reader beware!
Weekly Fun Stuff!
It's pretty well known that I'm a sucker for the offbeat. And, well, animating the opening sequence for Miss Kobayashi's Dragon Maid entirely in art from MS Paint? That's pretty damn quirky! YouTuber sleepstr's latest project is a surprisingly faithful adaptation of the popular slice-of-life comedy's intro, matching the cuts almost perfectly. Naturally, there are a few random bits to keep folks on their toes, from cameos of characters like the Titans or Saitama, to a surprise dab. Still, it's a fun watch, especially for folks who found themselves tuning in every week to get their fill of Tohru and Kobayashi's everyday life.
For reference, you can check the original opening out below.
https://www.youtube.com/watch?v=gpj4fhQs86Y