Happy Monday everyone, and welcome to another week of Media Create sales analysis! This was a pretty big week across the board, with Destiny 2 dropping on the PS4, Dragon Ball: Xenoverse 2 hitting the Switch, and the XBox One getting… I dunno. A piece of string or something.
Joking aside (I am joking, I promise!), this was a pretty packed week across the board. So, without further ado, let's look at the numbers!
Nintendo
Games on Nintendo's hardware managed to take ten spots on the big board, with six Switch games and four 3DS titles making the cut.
At the front of the pack is everyone's favorite squids, kids, and squid kids as they rush toward the next Turf War. Splatoon 2 (Switch) clung to second place like a suction bomb this week, with 44,981 copies reaching customers (1,101,481 LTD). The title has officially crossed 1.1 million this period, and is selling nearly 1:1 with new switch hardware. As it is, the game stands with an outstanding 67.85% attach rate, meaning that nearly two out of every three consoles in the wild has a physical copy of the game. At this point, we're seeing few signs of stopping, which is just breathtaking to report each week. I'm going to maintain my "1.25 million by end of October" estimate, with an asterisk – it depends highly on the hardware supply. I'm still excited to see where this finally winds up at the end of its top-20 tenure.
For those seeking a more brutal battle that takes things over 9,000, well… we'll have to wait a few episodes for it to stop charging. Joking aside, Dragon Ball: Xenoverse 2 (Switch) hit the scene with a force of a kamehameha, crushing third place with 24,045 units sold. Before you begin, yes, the total is low for week-1, but (there's always a but), the game is effectivley sold out across Japan. Bandai Namco sent out a low initial shipment, which was quickly devoured by the market. Expect a sharp week-2 drop, due to supply constraints. That said, I am curious to see how the longer-term results shake out, once more supply enters the channel.
An elusive age continues beckon a bit further into the top-10. Dragon Quest XI: Echoes of an Elusive Age (3DS) held on to fifth place this period, with 15,993 units sold (1,709,906 LTD). Combined with the PS4 version's 1,337,602 sales, we're looking at a combined total of 3,047,508 units sold to date. Backing up to the 3DS version, we're still on track to crack 1.75 million sales by mid-October and two million by end-of-year, considering that sales remain consistent.
It looks like Switch owners are still finding some love in the double cross. Monser Hunter Double Cross (Switch) grabbed its greatsword and ventured to the #6 place with 12,811 sales (124,207 LTD). While the game is on track for 125K next time around, and a quarter-million lifetime is still possible, the collapse is a bit faster than I was expecting. This week saw a 53% drop from the last period, so we haven't quite hit the baseline just yet. I'm still ancitipating customer bleed with the upcoming release of Monster Hunter World, but we'll cross that bridge when we get to it.
Not far behind, red shells and bullet bills pepper the landscape. Mario Kart 8 (Switch) climbed up to the 7th place, with 10,526 units sold (683,214 LTD). The title is still on track to reach 750K by November, with a million milestone possible by early 2019. As of now, though, the title remains healthy, with a 42.08% attach rate, and a steady set of legs have formed over the past five months.
The world of snacks continued to attract a few newcomers this time around. Level 5's The Snack World: TreJarers (3DS) held its 9th place position this period, selling 7,079 copies (155,149 LTD). The title did cross 150K, but its 30% decline week-over-week indicates that the title is still on that standard RPG sales progression. I'm still saying that 200K is possible, but it likely won't go much higher. All I can say is "ouch."
Speaking of sales disappointments, Etrian Mystery Dungeon 2 (3DS) saw its second week at market. The title pushed another 5,709 copies (35,596 LTD) to take the #12 spot. The 81% decline is well within the usual RPG sales pattern, which isn't bad on its face. What is troubling, though, is the fact that it's looking increasingly less likely that we'll see this one crack the week-1 sales of 2015's Etrian Mystery Dungeon (65,226).
On the flip side, it looks like folks are still finding some excitement in Hyrule six months later. The Legend of Zelda: Breath of the Wild climbed up to 13th this period, with 4,485 copies reaching customers (580,552 LTD). The title is on track to clear 600K bfore the end of October, if sales remain consistent. At this point, it's hard to overstate the success of the title, which is coming off of several mainline entries (plus more than a few spinoffs) that have just failed to ignite the passions of the market. To see it ready to crack 600K in Japan alone, with a 35.76% attach rate is nothing short of fantastic. I'm curious to see whether the upcoming DLC will help to spur sales further.
Sadly, it looks like the legs on ARMS (Switch) seem to be falling out. Nintendo's new flagship fighter dipped to the #16 space this period, with 3,711 units reaching buyers (218,111 LTD). Still, the title's had a Mechanica-grade tenacity as it's held on, and the title is still well on its way toward the quarter-million point. I expect sales to pick up for EVO Japan in January. That said, nearly 220K in Japan for a new niche property is nothing to be ashamed of. Nintendo had a great launch; now we'll need to see how they run with it.
Finally, it seems like folks are taking a trip to the country for a taste of the simple life. Animal Crossing: New Leaf's "Welcome amiibo" SKU (3DS) kept its house in order at 17th, with 3,704 units sold (236,114 LTD). I'm still expecting a 250K finish before it exits the charts, so long as sales remain consistent through November.
On the Hardware Front
The Switch held on to its top-seller status this period, with 45,439 units sold (1,623,475 LTD). The 3DS took a distant third, moving 21,134 handhelds. Of those, 9,403 were 2DS-XL units.
The Wii U, meanwhile, seems to continue existing to make the XBox One look bad. The quirky console shifted 90 units this time around, which was enough to take second-to-last place.

Sony
Titles on the PlayStation family of consoles managed to claim ten spaces on the big board, with eight PS4 games and two Vita titles making the cut.
At the top of the charts, folks are exploring alien worlds in Destiny 2 (PS4). The epic online shooter sold through 50,263 units to take first place. While taking the crown for the week is encouraging, the sales are certainly far down from 2014's Destiny. The original Destiny sold through 91,277 units alone in its début week, and 140,780 across both the PS4 and PS3 combined. With this in mind, to see the PS4 version pulling numbers that we saw on just the PS3 SKU in 2014 is incredibly troubling.
Not too far back, we see that the links still have some allure for PS4 owners. Everybody's Golf (PS4) managed to move another 22,488 copies this time around (123,207 LTD) to land on 4th place. The 78% week-2 drop is well within norms, and sales remain fairly consistent with the PS3's Hot Shots Golf: World Invitational. I'm still going to take a "wait and see" attitude at this point, to see if this one grows legs. What I'm seeing now, though, is incredibly encouraging.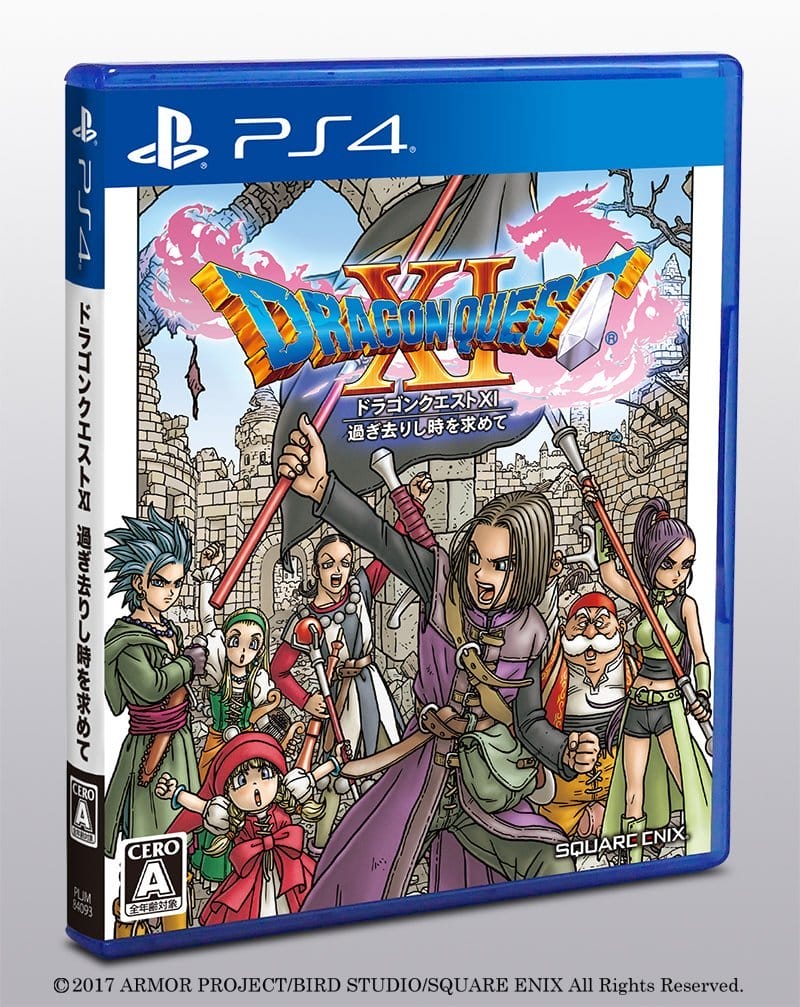 Sadly, the lure and wonder of the Elusive Age seems to be fading. Dragon Quest XI: Echoes of an Elusive Age (PS4) dipped down to the #8 spot, pushing 9,147 copies for the period (1,337,602 LTD). Combined with the 3DS version's 1,709,906 sales, we're looking at a combined total of 3,047,508 units sold to date. At this point, I think I've said whatever can be said. Though sales are fading, the lifetime sales are still quite strong. Furthermore, we're still on track for an easy 3.25 million units sold in the near future. Both SKUs are showing legs, and I see both standing as possible mainstays as we enter that crowded fall shopping season.
That said, another wonderful world (TM) seems to be finding ardent fans on handhelds and consoles alike. KonoSuba: Kono Yokubukai Game ni Shinpan o! (PS4), which is based on the the popular KonoSuba anime and manga franchise, took 10th place this period with 7,044 units sold. The Vita version was close behind, claiming 11th with 7,000 sales. Combined, we're looking at 14,044 copies reaching customers. For a visual novel, though, this is good. 7,000 is about average for the genre on each platform, so the title is selling well within expectations. I do foresee a quick drop-off, though, per the front-loaded norms for visual novel sales.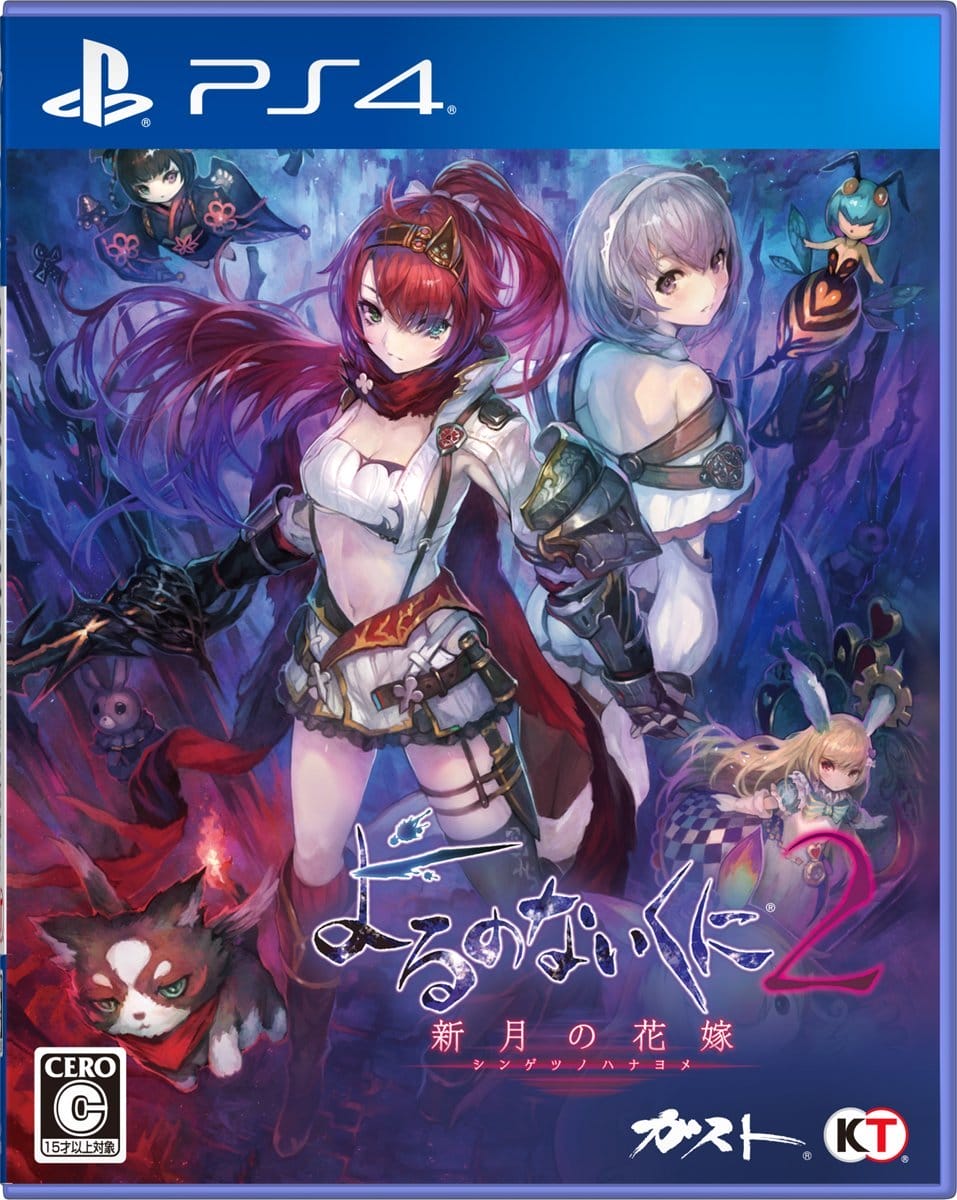 The brilliant blue continues to call out for new explorers. Niche RPG Nights of Azure 2: Bride of the New Moon (PS4) managed to move another 4,155 copies this period (22,362 LTD) to take 14th place. The 77% drop for week-2 is square in the middle of the typical JRPG sales curve, so I expect this one to have maybe one more strong week before it exits entirely.
For those seeking something a bit more spoopy, Capcom has you covered. Resident Evil: Revelations (PS4) dipped to the #15 space, with 3,837 copies reaching customers (13,097 LTD). And, really, I'm still not sure about how to comment on this one. It's a port that's been on damn near everything, so a 59% drop week-over-week could be a good sign on the whole.
The spooky adventures of Yomawari: Midnight Shadows (PS4) continue to haunt to the under-charts. Nippon Ichi's newest horror title moved 3,003 (16,011 LTD) in its second sales period. Combined with the last charted sales of the Vita version (11,902), we're looking at 27,913 units sold. I'll be revising my prediction down on this one, and hoping that we see combined sales reach 30,000 by the time the PS4 SKU drops out of the charts.
Meanwhile, Minecraft (Vita) continues to find ways to amaze. Mojang's blocky building adventure took 19th place with 2,938 units sold (1,204,956 LTD). The fact that this crossed 1.2 million is nothing short of amazing. Though it took two and a half years to reach this point, Minecraft stands at a 21.14% attach rate, and remains the highest-selling Vita game for Japan, period. That's no small feat. So, kudos Mojang, you did well.
Finally, Agent 47 seems to be ready for one last mission. Hitman: The Complete First Season (PS4) slinked to the #20 space, with 2,900 units sold (32,702 LTD).
On the Hardware Front
The PS4 took second place this period, with 29,482 units sold (5,306,335 LTD). Of those, 10,999 were PS4 Pro consoles. The Vita, meanwhile, took a distant fourth place, with 3,913 handhelds reaching buyers (5,700,361 LTD).
The PS3 just continues that slow and steady march at fifth place. The well-traveled console moved 115 units this time around (10,469,062 LTD).

Microsoft
In the world of science, a mule (the offspring of a donkey and a horse) has 63 chromosomes. Throughout history, mules have been relied upon to transport cargo across great distances, and through even the most treacherous of regions due to their sure footing and gentle nature.
In the world of Japanese console sales, though, 63 XBox One units sold means that some poor Microsoft employee likely feels like a pack mule as he hoists this hurting brand.