It looks like the hype train's running at full speed for this new entry into the Fate universe.
Earlier today, the official Fate/Apocrypha anime website updated with a new promotional video and key visual. We break the details down below:
Promo Video
The minute-long trailer offers a look at the new cour in action, with character dialogue framing the core plot elements.
Key Visual
The new visual features Ruler in the center, holding her blade above her head. Above her is a shot of Sieg, while beneath is Shirou Kotamine.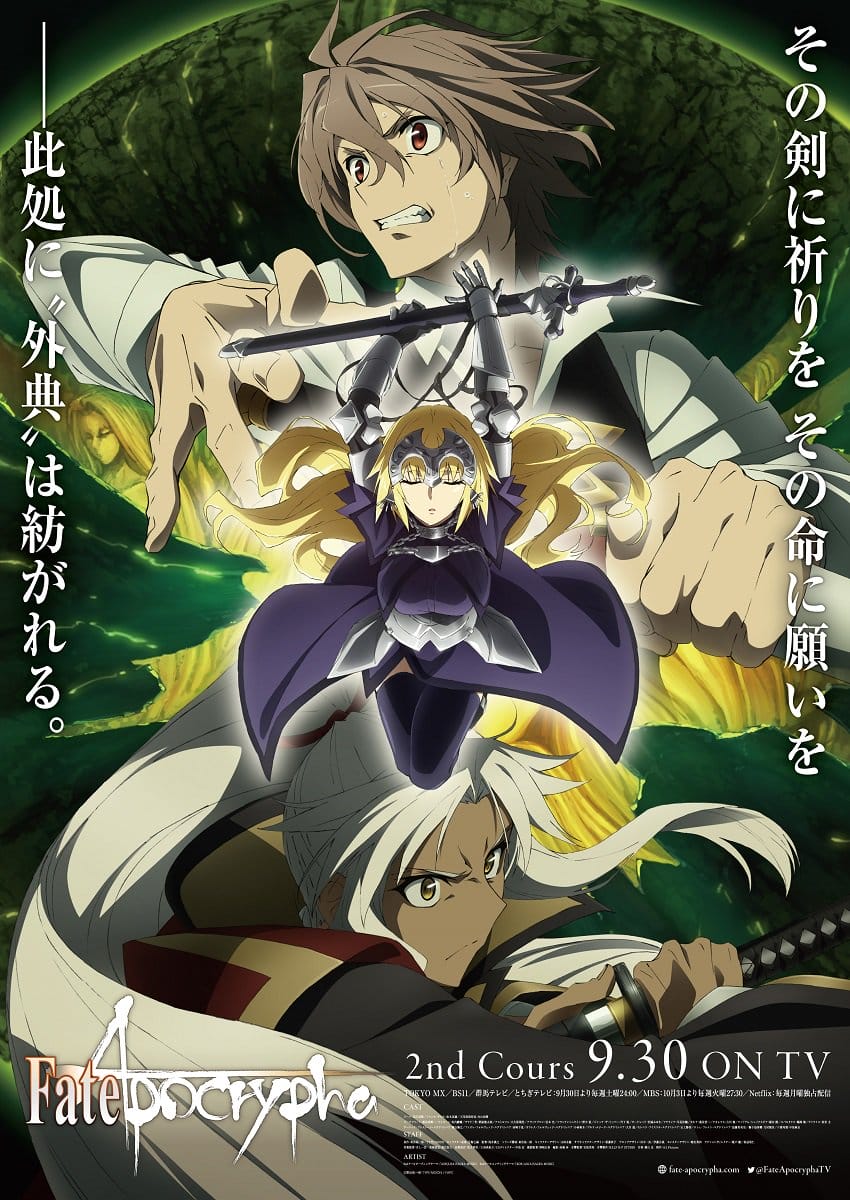 Fate/Apocrypha will return to Japanese TV on September 30. The following networks will carry the series:
Tokyo MX: 9/30 at 24:00 (10/1/2017 at midnight)
BS11: 9/30 at 24:00 (10/1/2017 at midnight)
Gunma TV: 9/30 at 24:00 (10/1/2017 at midnight)
Togi TV: 9/30 at 24:00 (10/1/2017 at midnight)
MBS: 10/3/2017 at 27: 30 (10/4/2017 at 3:30AM)
Netflix Japan: 10/2
The series will hit Netflix outside of Japan starting November 7.
Yoshiyuki Asai is directing the Fate/Apocrypha anime at A-1 Pictures, with Yūkei Yamada providing character designs. Series author Yuichiro Higashide is in charge of series composition, while Masaru Yokoyama (Arakawa Under the Bridge, Mobile Suit Gundam: Iron-Blooded Orphans) composes the music.
Yuichiro Higashide and Type-Moon kicked off the Fate/Apocrypha novels in 2012. The series spans five volumes, with the final book hitting retailers on December 30, 2014. Higashide kicked off a manga adaptation with illustrator Akira Ishida on April 15, in the pages of Kadokawa Shoten's Comp Ace magazine. The first collected volume was officially released in August. The Volume 2 is slated for a January 26 release.
Source: Twitter (FateApocryphaTV)