It may not be as beefy as NoitaminA's 14-minute promo, but it's a decent preview, nonetheless.
Yesterday, Funimation started streaming an English dubbed teaser trailer for Genocidal Organ. The two-minute clip features a tense breakdown of communications, as Clavis questions a foreign leader.
The English dub will be helmed by Clifford Chapin, with a script by Deborah Crane. The English cast includes:
Clavis Shepherd: Josh Grelle
John Paul: Ricco Fajardo
Lucie: Jeannie Tirado
Williams: Ian Sinclair
Rockwell: Christopher R. Sabat
Alex: Clifford Chapin
Lucius: David Wald
Leland: Joel McDonald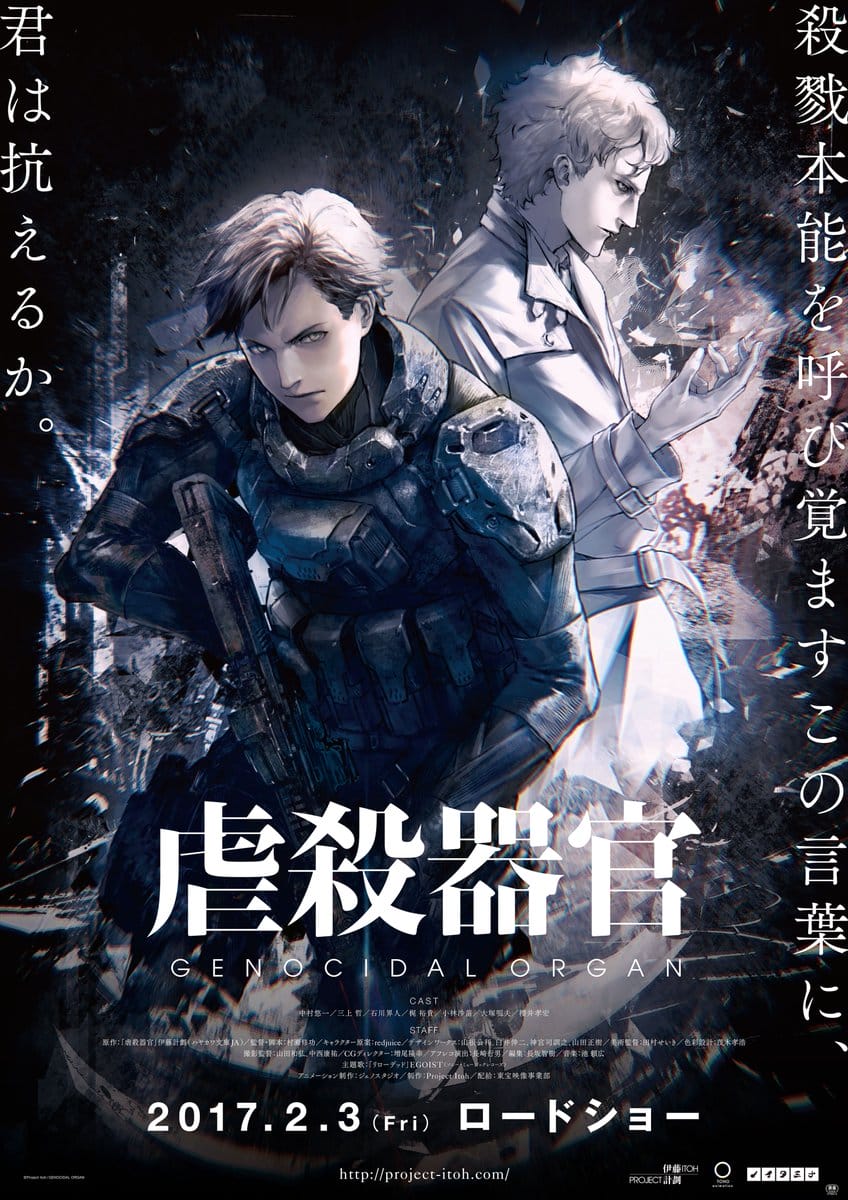 Funimation will release Genocidal Organ on home video on November 7. The feature will hit Japanese home video on October 25.
The film opened in North American theaters on July 12 and 13. The movie made its global début on October 31, at the Tokyo International Film Festival. It saw a wider Japanese release on February 3.
Genocidal Organ is the third entry in a trilogy of films based on the late Satoshi Ito's Project Itoh novels. The feature was originally announced as the first film in the series, with a planned October 2015 début. Manglobe was slated to produce the movie, which was to be written and directed by Shukou Murase (Ergo Proxy, Gangsta.).
Genocidal Organ was delayed, though, when Manglobe closed its doors in November 2015. Shortly after the news broke, the Project Itoh website updated with news that new studio "Geno Studio" would produce the film. The studio is a subsidiary of production company Twin Engine, which was founded by Eden of the East director Koji Yamamoto. Murase, as well as numerous key staff members would continue their work at the new company.
Funimation currently holds the domestic rights to all three Project Itoh films in North America. Viz Media releases the novels in North America under their Haikasoru imprint.
Funimation describes the feature as:
Based on the captivating sci-fi novel by Project Itoh, Genocidal Organ takes an introspective look at a post-9/11 future, exploring freedom, security, and a bizarre shift in terrorism throughout the world.

After a homemade bomb decimates Sarajevo, developed countries rely on advanced surveillance to free them from the threat of terrorism. But while the United States enjoys heightened security, the nations it once considered threatening are mysteriously plagued by genocide within their own borders. Strangely, these massacres all link back to one American by the name of John Paul. Special agent Clavis Shepherd is sent to capture the elusive target, but even with combat meds to numb the pain and a life rooted in the bliss of ignorance, nothing can prepare this soldier—or the world—for the truth behind humanity's darkness.
Source: YouTube (Funimation)