Whether you're coming in like a lion or going out like a lamb, you have to appreciate this drama.
Earlier today, Crunchyroll announced that they will stream March comes in like a lion's second season as part of their Fall 2017 simulcast lineup. The series kicks off on October 14 at 9:30AM Pacific (12:30PM Eastern) for users in the following regions:
North America
Central America
South America
Australia
New Zealand
United Kingdom
Ireland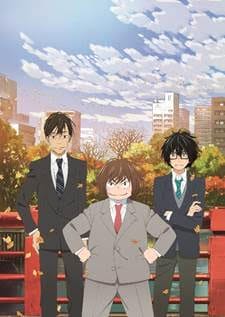 March comes in like a lion's second season will see several staffers returning at studio SHAFT. Akiyuki Shinbo (Puella Magi Madoka Magica, Monogatari series) will return to the director's chair, while Nobuhiro Sugiyama (Nisekoi, Arakawa Under the Bridge) reprises his role as character designer.
Other confirmed crew members include:
Art Director: Seiki Tamura
Art Setting Designer: Yasuhiro Nakura
Sound Director: Toshiki Kameyama
Composer: Yukari Hashimoto
Crunchyroll describes the new season as:
Rei Kiriyama lost his family in an accident during his childhood, and is now a seventeen-year-old professional shogi player, still burdened by a profound sense of loneliness. One day, Rei, who lives alone in downtown Tokyo, meets three sisters named Akari, Hinata, and Momo, and little by little, he starts to change… This is a gentle tale about various people recovering that "something" that they've lost, and it's also about battle.
The first season of March comes in like a lion aired during the Fall 2016 broadcast season, and ran for 22 episodes. Both titles are based on Chika Umino's manga of the same name.
Aniplex of America currently holds the domestic rights to March Come in Like a Lion's first season. Crunchyroll streamed the show as it aired in Japan. They describe it as:
This is a gentle tale about people trying to regain something.

And it is a tale of battle.

The main character, Rei Kiriyama, lost his family in an accident when he was young. Now he is a 17-year-old pro shogi player who is burdened with deep loneliness. Rei lives alone in an old town in Tokyo, but after becoming acquainted with three sisters, Akari, Hinata and Momo, he begins to change little by little…
Source: Crunchyroll