Six chilling tales will bring chills and thrills to anime fans in January.
Earlier today, the official Junji Ito Collection anime website updated with a new visual, along with details on the show's staff and premiere window. We break the details down below:
Key Visual
The visual features characters from six of Ito's works. From left to right, the characters are as follows:
Fuchi (Fashion Model)
Tohru Oshikiri (Oshikiri Idan)
Tomie (Tomie)
Sōichi (Sōichi)
The Handsome Man at the Crossroads (Shibito no Koiwazurai)
Yūko (Namekuji Shōjo)
Director and character designer Shinobu Tagashira produced the illustration.
Staff
Shinobu Tagashira (Diabolik Lovers) is directing the project and producing the character designs at Studio Deen, with Kaoru Sawada taking charge of series composition. Hozumi Gōda (Akame ga KILL!, Higurashi no Naku Koro ni) will serve as sound director, while Yuuki Hayashi scores the soundtrack.
Tagashira was confirmed as director and character designer when the series was revealed in August.
Junji Ito Collection is currently slated for a January 2018 premiere.
The show will adapt tales from the Junji Ito Masterpiece Collection, as well as Fragments of Horror. In August, the site noted that the characters in key visuals may or may not appear in the anime. The staff will not reveal story information prior to the show's broadcast so that viewers will be surprised.
Junji Ito's been active in the manga industry since 1987. The artist, whose works include Tomie, Uzumaki, and Gyo, has become an icon in the world of Japanese horror, as well as the greater body horror genre. Several of his works have received live-action adaptations, or one-off anime projects.
Ito was also originally attached to Konami and Hideo Kojima's now-defunct Silent Hills video game project.
A teaser visual for Junji Ito Collection was released in August, which features scenes from 02::22 (Ushimitsudoki).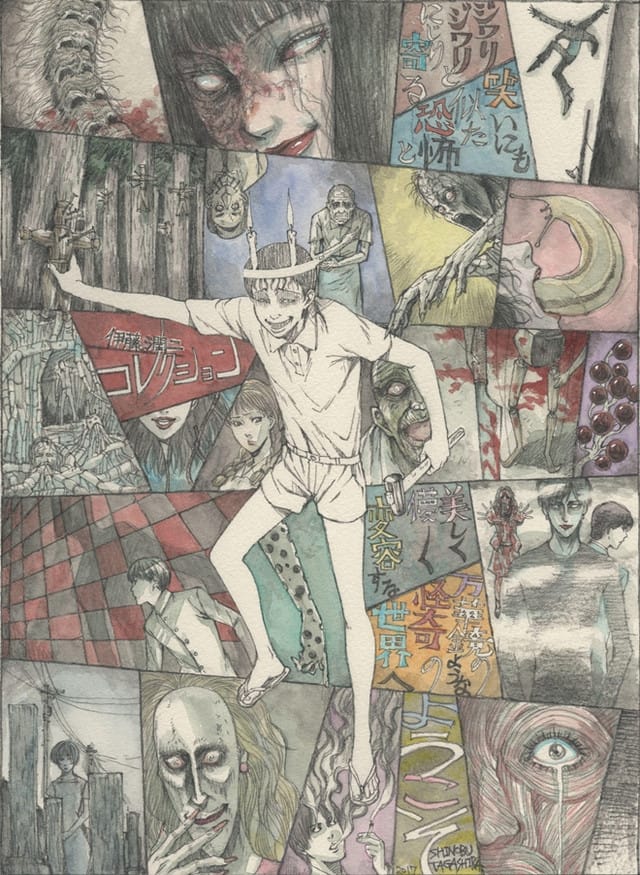 Source: Twitter (pKjd) Thanks to L.B. Bryant for the tip!