There is a bit of a spoiler warning below. Stop reading if you would like to remain unspoiled about the character.
Soon, this sinister figure will arise from the depths of culinary Hell.
The latest issue of Weekly Shonen Jump (Issue 46) reports that Food Wars! The Third Plate will cast Sho Hayami as Azami Nakiri. Azami Nakiri is Erina's father, a Tōtsuki alumnus, and a former Elite Ten member. He is one of the main antagonists of the ongoing Food Wars! manga, whose cruel actions led to a banishment from the culinary world in Japan.
A visual for the character was released, which you can check out below.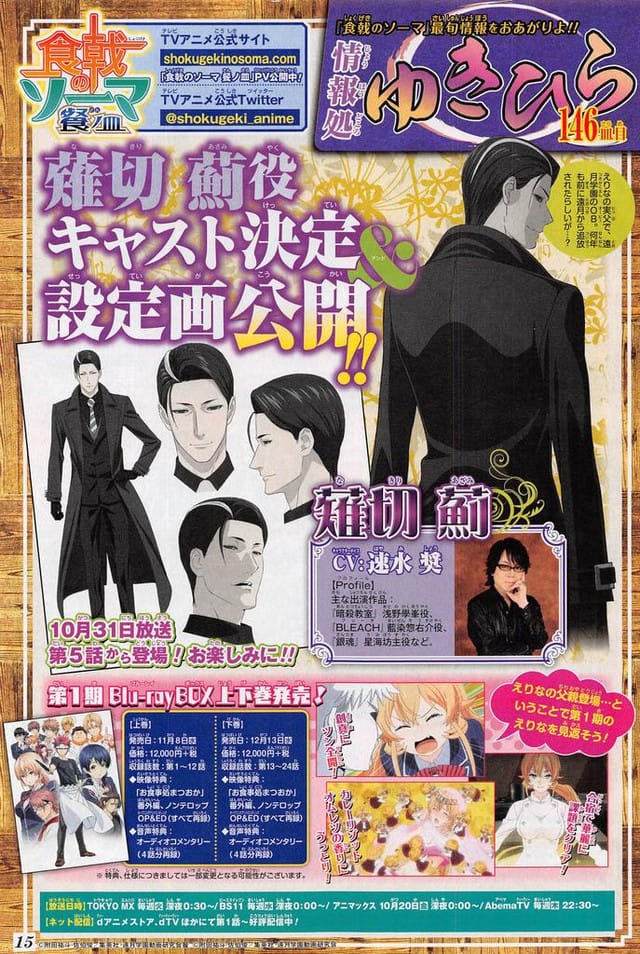 Food Wars! The Third Plate began airing earlier this month. Crunchyroll is currently streaming the show as an exclusive.
The Food Wars! anime adapts Yūto Tsukuda and Shun Saeki's manga of the same name. The series kicked off in April 2015, and ran for 24 episodes. Yoshitomo Yonetani (Nurse Witch Komugi, Tiger & Bunny The Movie -The Rising-) directed the series at J.C. Staff, while Tomoyuki Shitaya (Bakuman, Kiss×sis) provided character designs. Scripts were provided by Shinichi Inotsume and Shogo Yasukawa.
The confirmed voice cast for the new season includes:
Sōma Yukihira: Yoshitsugu Matsuoka
Eishi Tsukasa: Akira Ishida
Rindō Kobayashi: Shizuka Ito
Momo Akanegakubo: Rie Kugimiya
Terunori Kuga: Yuuki Kaji
Nene Kinokuni: Kana Hanazawa
Erina Nakiri: Hisako Kanemoto
Crunchyroll describes Food Wars: The Third Plate as:
Yukihira Soma had been polishing his cooking skills while helping at his family's diner and one day, enters the elite cooking school, Totsuki Teahouse Culinary Academy. Soma met various other chefs at the academy and as he grew, he started searching for his own way of cooking.

With the curriculums that required the students to go help out at actual restaurants, Soma gained even more experience. With that, he was able to break through his old self and break through to a whole new taste for his dishes. He successfully completes his curriculum and grew even more.

After his training in the actual restaurant, Soma finally sees the top of Totsuki Academy, the Totsuki Elite Ten at the Momiji Meet and Greet and challenges them.

The venue that was decided for Soma and the Elite Ten to battle was the Totsuki school festival, the Moon Festival. What will Soma make happen at this monster event that brings in 500,000 ever year?

Meanwhile, someone's plan is coming together in the shadows. Soma's new battle was about to begin!
Source: Twitter (YonkouProd)