Soon, people will remember the fear that was wrought on that one faithful day.
Earlier today, Attack on Titan fans gathered in Tokyo for the 'Shingeki no Kyojin' Reading & Live Event Orchestra 'Attack Oto Taikan 2' fan event. At the show, it was revealed that Attack on Titan will return to Japanese TV in July 2018. A visual for the season was released, which features Kenny, Levi, and Eren. You can check it out below:
The Attack on Titan website updated with new details, noting that most of the staff from the second season will return to return on the third. Notably missing, though, is animation director Ayumi Yamada.
Attack on Titan's third season première was originally (tentatively) scheduled for Spring, according to a reveal by Funimation.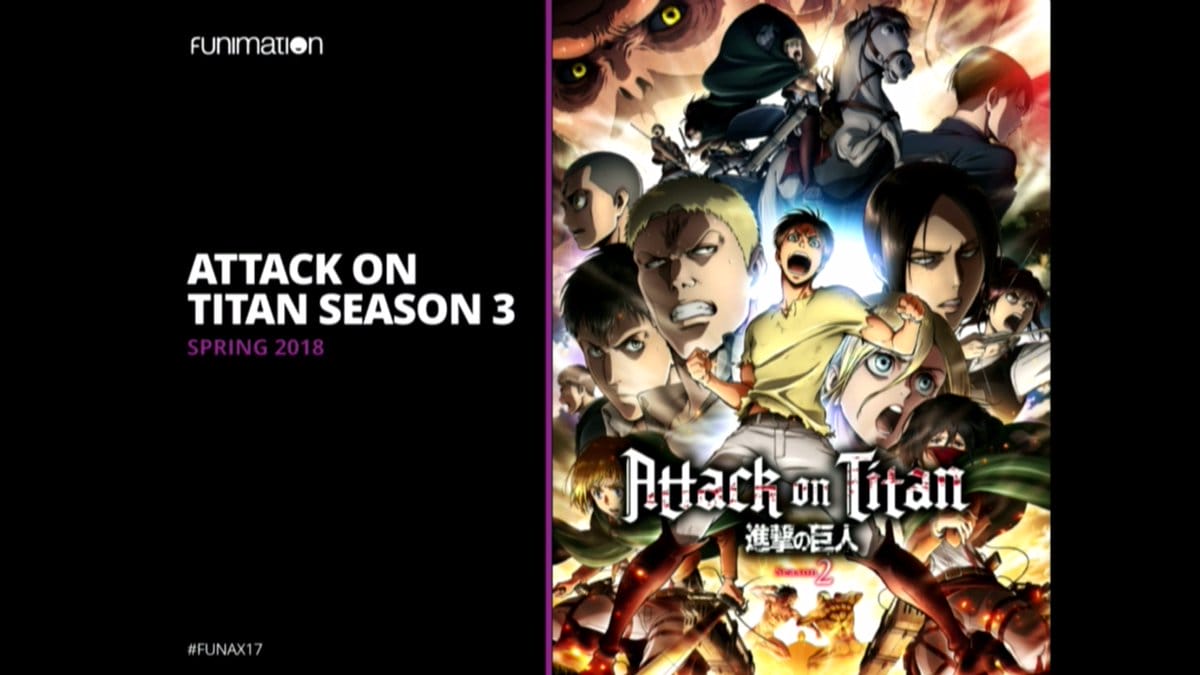 Attack on Titan's second season concluded on June 17. The finale ended with a short teaser, which confirms that a third season of Attack on Titan is in the works for 2018.
The 15-second teaser trailer features a short slideshow of manga covers through volume 22. The final text before the logo cut reads "Behold, the sea."
Attack on Titan's second season began airing on April 1. The episodes premiered on Adult Swim's Toonami block on April 29.
Tetsuro Araki (Death Note, High School of the Dead), who directed the show's first season, served as Chief Director on the project while Masashi Koizuka took the director's chair at Wit Studio. Kyoji Asano (Psycho-Pass) returned as character designer, while Yasuko Kobayashi (JoJo's Bizarre Adventure, Shakugan no Shana) reprised her duty in series composition. Hiroyuki Sawano scored the show's soundtrack.
Funimation describes the second season as:
Eren Jaeger swore to wipe out every last Titan, but in a battle for his life he wound up becoming the thing he hates most. With his new powers, he fights for humanity's freedom facing the monsters that threaten his home. After a bittersweet victory against the Female Titan, Eren finds no time to rest—a horde of Titans is approaching Wall Rose and the battle for humanity continues!
Attack on Titan is based on Hajime Isayama's manga series of the same name. The show's first season aired in the spring 2013 anime season, and spanned 25 episodes. Five OVAs, spinoff anime series Attack on Titan Junior High, two live-action films, and nine video games were produced following the show's run.
Source: Yaraon!