Get ready for a whole lot of Darling… and a few FRANXXs.
Earlier today, the official DARLING in the FRANXX anime website updated with a new trailer, as well as the show's main cast and several new staffers. We break the details down below.
Promo Videos
The three-and-a-half minute promo opens with shots of a landscape, cut with narration by Yūto Uemura. A heavy string melody plays in the background. At the 1:25 point, the music cuts to a vocal theme, as the trailer starts to focus on character introductions and cuts from the show.
In addition to the trailer, Aniplex started streaming a 15-second and 30-second version of the show's fourth TV spot.
Staff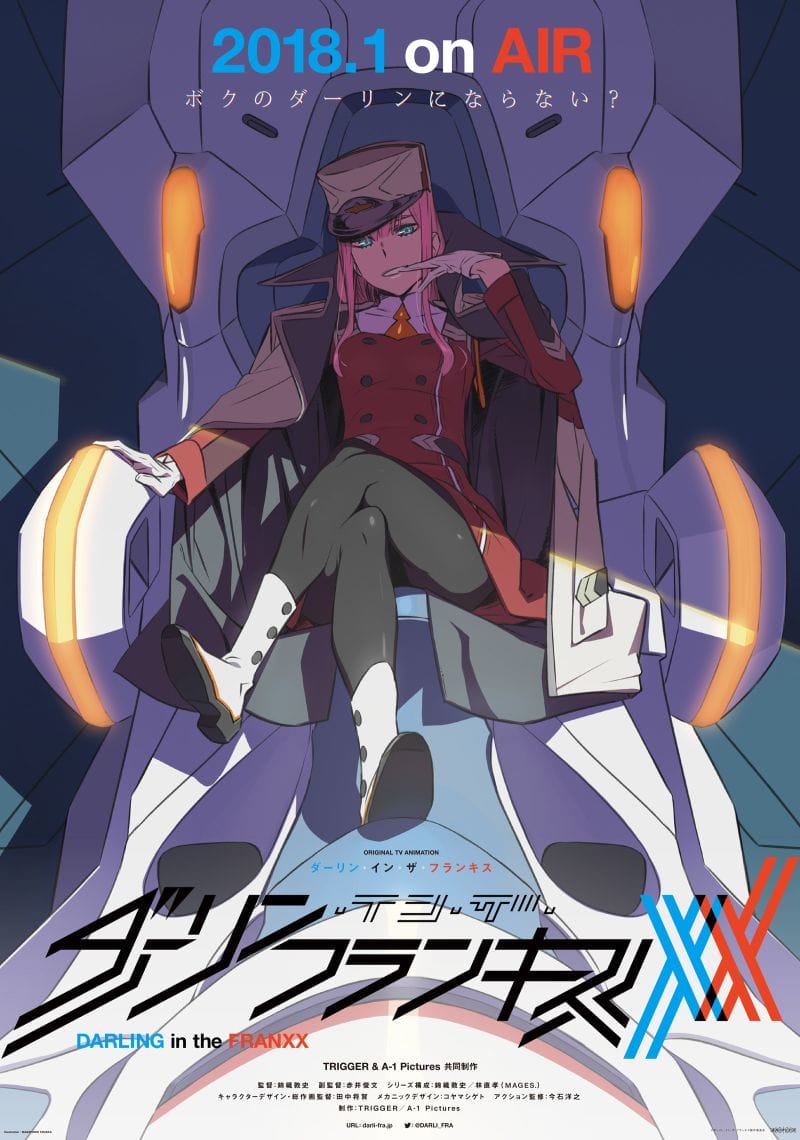 Atsushi Nishigori (THE [email protected]) is directing the project, with Masayoshi Tanaka (anohana: The Flower We Saw That Day, High School of the Dead) providing character designs. The team of Atsushi Nishigori and Naotaka Hayashi will collaborate on series composition.
Other confirmed staff members include:
Assistant Director: Toshifumi Akai
Action Supervisor: Masayoshi Tanaka
Chief Animation Director: Masayoshi Tanaka
Mechanical Design: Shigeto Koyama
Mistilteinn Design: Shouko Nakamura
Kyōryū Design: Shōta Iwasaki
Art Setting: Yoshinori Shiozawa
Art Director: Satoru Hirayanagi
Color Desgin: Kazuko Nakashima
3D Directors: Shogo Tsurii, Ryuta Undo
3DCG: Studio Khara, A-1 Pictures
Monitor Graphics: Kayoko Zama
Director of Photography: Yūya Sakuma
Music: Asami Tachibana
Sound Director: Shoji Hata
Editing: Akinori Mishima
Cast
The series will star the following:
Zero Two: Haruka Tomatsu
Hiro: Yūto Uemura
Mitsuru: Aoi Ichikawa
Futoshi: Hiroshi Gotō
Ichigo: Kana Ichinose
Zorome: Mutsumi Tamura
Miku: Nanami Yamashita
Kokoro: Saori Hayami
Ikuno: Shizuka Ishikawa
Goro: Yuichiro Umehara
DARLING in the FRANKXX is a co-production between Trigger and A-1 Pictures. The series is slated to hit Japanese TV in January 2018.
Trigger showed off a short reveal trailer for the project at Anime Expo. You can check it out below:
Several character visuals have also been released since the show's initial announcement:
Source: Ota-suke