You are already a success.
Earlier today, Progress Technologies' Kickstarter campaign to produce an eBook version of the Fist of the North Star (Hokuto no Ken) manga closed with 22,936,350 yen ($202,037.88 USD) in total funding. 820 backers contributed to the project, with an average contribution of 27,971.16 yen ($246.39 USD) per backer.
The series will be available for use on the company's proprietary "eOneBook" readers. These devices feature an eInk display, nestled between physical paper pages and an interchangeable dust jacket. The end goal is to mimic the look and feel of a real paper book.
Languages can be switched on the fly while reading.
Progress Technologies intends to start mass production January, with an estimated February 2018 shipping period.
Fist of the North Star is a post-apocalyptic action series from Buronson and illustrator Tetsuo Hara. The series ran in the pages of Weekly Shonen Jump from 1983 – 1988, and spans twenty-seven collected volumes.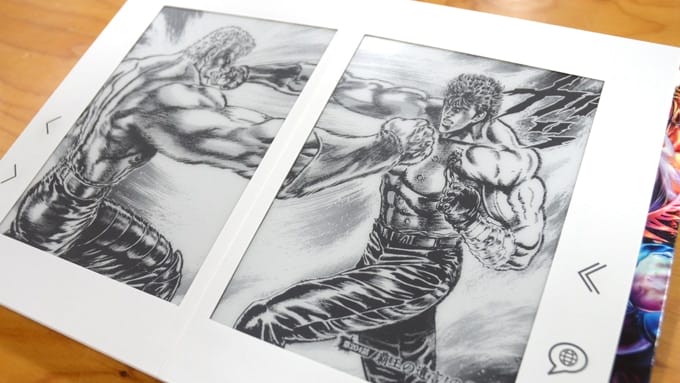 The series spawned numerous anime adaptations since its launch, including a 152-episode TV series, several films, 1996 OVA New Fist of the North Star, and 2011 comedy DD Fist of the North Star. Numerous video game adaptations have been made over the past thirty years, with the most recent being the Fist of the North Star: Ken's Rage series by Koei Tecmo. Last month, Sega announced that their Yakuza Studio are making their own game based on the franchise.
Source: Kickstarter