I assure you, nobody's going to be crying when this one makes its debut.
Earlier today, the official Devilman Crybaby anime website updated with a new key visual, a trailer, additional cast members, theme song details, and information on the show's premiere.
We break the details down below:
Key Visual
The new visual features headshots of Akira Fudo and Ryo Asuka, flanked by numerous denizens of the night. The titular Devilman stands at the center, just below the logo.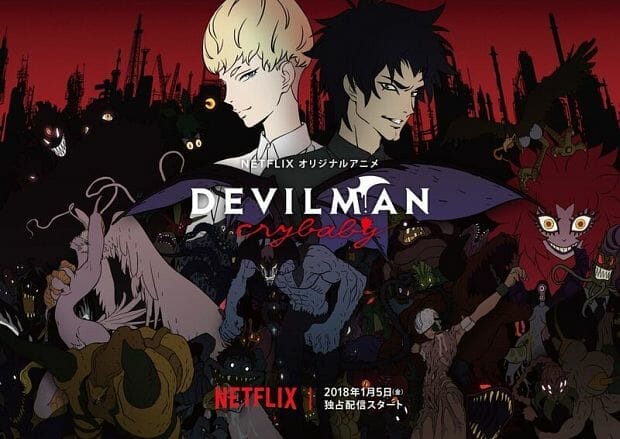 Promo Video
The 90-second trailer features theme song MAN HUMAN by Denki Groove as a background track.
Casting
The new cast members include:
Miki Makimura: Megumi Han
Miko: Ami Koshimizu
Sirene: Atsuko Tanaka
Kaim: Rikiya Koyama
Nagasaki: Kenjiro Tsuda
Kukun: Young Dais
Theme Songs
Denki Groove will perform series theme song MAN HUMAN. Takkyū no Tabibito, meanwhile, will perform Konya Dake as a special ending theme for the show's ninth episode.
Broadcasting
Devilman Crybaby will be released in all territories on January 5, 2018.
Devilman Crybaby is a co-production between Aniplex and Dynamic Planning. Masaaki Yuasa (Ping Pong the Animation, Mind Game) will direct the title at Science SARU studio, with Ichiro Okouchi (Code Geass: Lelouch of the Rebellion, Berserk: The Golden Age films) writing the screenplay. The Eunyoung Choi will serve as animation producer on the project. Kensuke Ushio will score the soundtrack.
The confirmed voice cast includes:
Akira Fudo: Kouki Uchiyama
Ryo Asuka: Ayumu Murase
The show is being produced to celebrate Go Nagai's 50th anniversary as a creative force in the industry.
Netflix describes Devilman Crybaby as:
The protagonist Akira Fudo (Koki Uchiyama) learns from his best friend, Ryo Asuka (Ayumu Murase), that an ancient race of demons has returned to take back the world from humans. Ryo tells Akira that the only way to defeat the demons is to incorporate their supernatural powers, and suggests that he unite with a demon himself. Akira succeeds in transforming into Devilman, who possesses both the powers of a demon and the soul of a human. The battle of Devilman and Akira Fudo begins. The series, comprised of 10 episodes, is a Science SARU production and will launch on Netflix globally in Spring 2018.
The publisher previously streamed two teaser trailers for the project, which you can check out below:
Source: MoCa News