Hello, boys and ghouls! Get ready to meet more masters of scare-imonies as we prepare for this screamfest!
Earlier today, the official Junji Ito Collection anime website updated with three new cast members. The series will add the following:
Handsome Man at the Crossroads ("Shibito no Koiwazurai"): Hikaru Midorikawa
Fuchi ("Fashion Model"): Mami Koyama
Tomie ("Tomie": Rie Suegara
Junji Ito Collection will début on Tokyo MX on January 7 at 22:00 (1/7/2017 at 10:00PM).
Shinobu Tagashira (Diabolik Lovers) is directing the project and producing the character designs at Studio Deen, with Kaoru Sawada taking charge of series composition. Hozumi Gōda (Akame ga KILL!, Higurashi no Naku Koro ni) will serve as sound director, while Yuuki Hayashi scores the soundtrack.
Tagashira was confirmed as director and character designer when the series was revealed in August.
The previously confirmed voice cast includes:
Sōichi ("Sōichi"): Yuji Mitsuya
Oshikiri ("Oshikiri Idan"): Hiro Shimono
Yūko ("Namekuji Shōjo"): Kaori Nazuka
The show will adapt tales from the Junji Ito Masterpiece Collection, as well as Fragments of Horror. A visual for the project was revealed, which features characters from six of Ito's works. From left to right, the characters are as follows:
Fuchi (Fashion Model)
Tohru Oshikiri (Oshikiri Idan)
Tomie (Tomie)
Sōichi (Sōichi)
The Handsome Man at the Crossroads (Shibito no Koiwazurai)
Yūko (Namekuji Shōjo)
Junji Ito's been active in the manga industry since 1987. The artist, whose works include Tomie, Uzumaki, and Gyo, has become an icon in the world of Japanese horror, as well as the greater body horror genre. Several of his works have received live-action adaptations, or one-off anime projects.
Ito was also originally attached to Konami and Hideo Kojima's now-defunct Silent Hills video game project.
A teaser visual for Junji Ito Collection was released in August, which features scenes from 02::22 (Ushimitsudoki).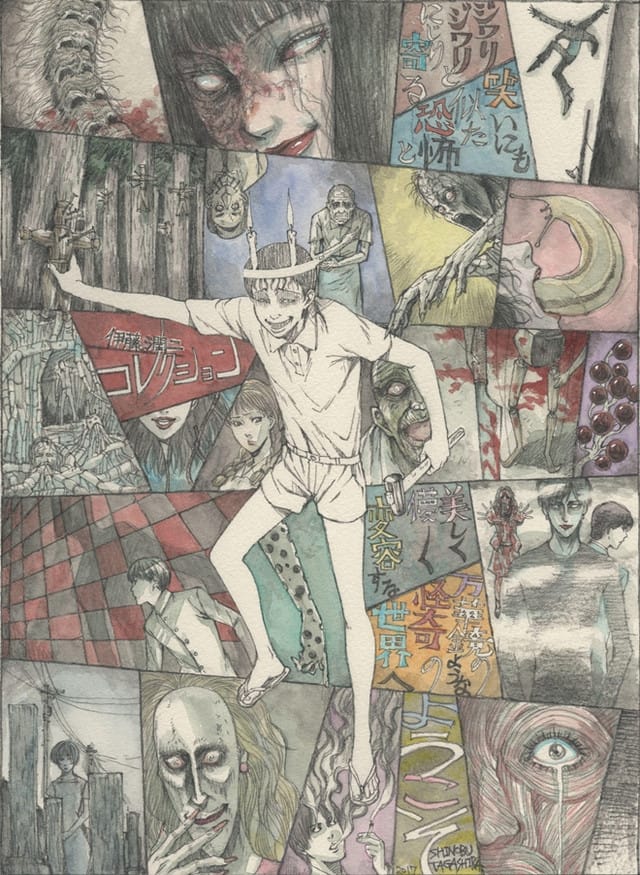 Source: Ota-suke