The Living Club is getting ready to meet in a whole new location.
The latest issue of Houbunsha's Manga Time Kirara Forward magazine reports that Norimitsu Kaihō and Sadoru Chiba's School-Live! manga will receive a live-action adaptation. A feature film is currently planned, though no concrete details have been announced.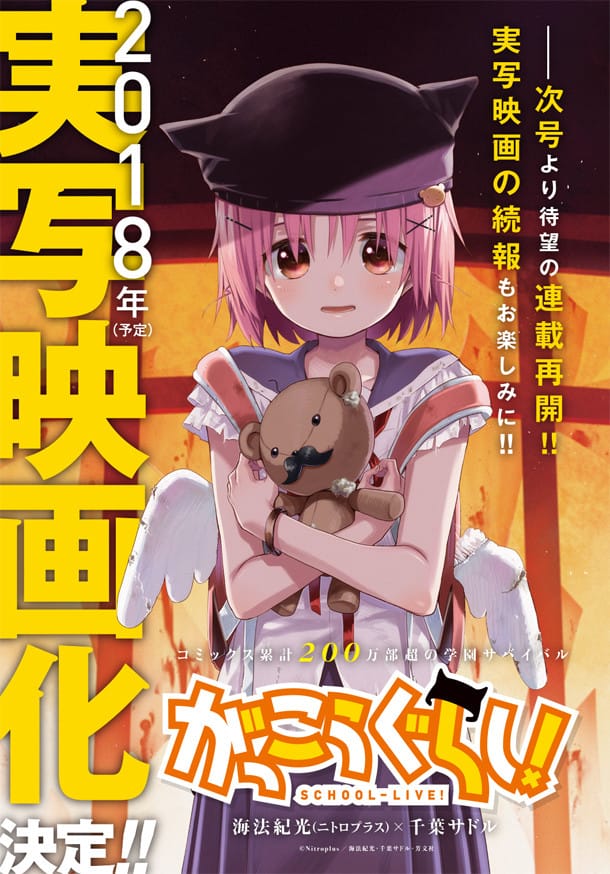 the School-Live! manga launched in the pages of Manga Time Kirara Forward in July 2012. The series currently spans nine compiled volumes, with the most recent hitting stores on March 11. Yen Press currently holds the rights to the series in North America.
The title spawned an anime series, which aired during the Summer 2015 broadcast season. Masaomi Ando (Scum's Wish, Muv-Luv Alternative: Total Eclipse) directed the project at Lerche, with Haruko Iizuka (Little Busters!, Tamayura) providing character designs. Co-creator Norimitsu Kaiho (Danganronpa 3: The End of Hope's Peak High School: Despair Arc, Gunslinger Stratos: The Animation) was in charge of series composition.
Sentai Filmworks holds the domestic rights for the School-Live! anime, which they describe as:
Why would anyone form a School Living Club? Could four girls, their advisor, and a puppy really love their school so much that they'd want to live in it? Or is there another reason, something that lurks behind the façade of their comfortable existence? Something that waits outside their school's doors. Something that has already robbed one girl of her sanity? While the others try to come to grips with a dark new reality, the rest of the world falls to ruin at the hands of a ravenous force, and insanity may be the last hope for survival. Shocks, heartbreak and stunning revelations await as the as the twisted tale unfolds in SCHOOL-LIVE!
Source: Comic Natalie