For many, Anime NYC was a new frontier for New York's anime fan community. As the first convention to hit the Big Apple in over a decade, the entire event felt like a playground for bold new developments.
The convention's Anime Diva Night event, which was hosted by the Anisong World Matsuri, was the very embodiment of the refreshingly brash energy that coursed through the convention. The event was the first of its kind, bringing AniSong icons TRUE (Miho Karasawa), Yoko Ishida, and Chihiro Yonekura together on-stage for a live concert.
On the afternoon of the concert, the three idols took the stage in a live stage show, hosted by geek icon Danny Choo. Choo served as the emcee of the event, asking questions to the idols, who would take turns answering. A person known only as "Ann" served as the translator for the day.
The first question was a simple one: "Is this your first time in New York?"
Yonekura spoke first, stating it was her first time in the city. She added "I love movies, and was obsessed with Miracle on 34th Street. There are so many movies set in New York."
Yoko Ishida answered that it was her second time. The first time, she revealed, was for the Anime Fusion Tour in 2006 to help promote Para Para dancing. On her first visit, Ishida spent a month in the city. "It feels like I've returned," she noted, "It's a very nostalgic and nice feeling."
TRUE revealed that it was her first time in New York. "I got to experience New York cheesecake for the first time!" she exclaimed, beaming with excitement, "New York cheesecake is fantastic! New York cheesecake is amazing!" She marveled at the portion sizes in North America, explaining that the "cakes and meats" are big on this side of the pond, and joked that "no Japanese person can eat that much!"
The second question was another ice-breakers: "How much English do you know?" Chihiro Yonekura answered first, with "Would you clean my room?" The room erupted in chuckles, as she commented that it's crucial to know that phrase as a seasoned traveler.
Ishida was next, and stated "This one, please!" TRUE, laughed and exclaimed "I cannot speak English!"
Choo moved on to the next inquiry, asking how the three came to work together as the Anime Divas. Yonekura fielded this one:
We're each known mostly as solo performers, but we're all part of the same record label and got along really well. This isn't the first time we're performing together in New York, it's the first time we're performing together, period! It's an exciting experience all-around.
Of course, with the "how" out of the way, Choo decided to cut to the heart of why the three got together. Ishida fielded the question:
We're principally collaborating because we get along. Tonight, we're going to try some new collaborative works. Each represents a slightly different genre, though we're also from slightly different genres. You know, robots, magical girls, and the like, so it's going to be fun when we meld these different genres.
Though a collaboration is a great idea on paper, there's always that issue of conflicting schedules, solo duties, and other tasks that can easily derails an effort of this magnitude. Choo probed this possibility, asking where they rehearse, considering the tight scheduling? Do they have meet-ups in their hotel rooms? Sing solo in the shower?
Yonekura led off, noting that they actually rehearsed together for the first time that day. "This is something special," she notes, "something completely new. We did get to rehearse onstage, and we're practicing on our own no doubt, whether we're in the bathroom or our other private spaces."
Ishida added that they've been discussing how to handle the show up to their arrival in New York. "We've had conversations in the taxi on how we should handle the harmonies."
TRUE took a moment to offer her appreciation to her seniors, adding "that's because, for so many years, I've been listening to my senpai. I've been thinking about how we should handle it."
The three enjoy a truly magical body of work, with theme songs from beloved shows like Sailor Moon R, Mobile Suit Gundam: The 08th MS Team, and Sound! Euphonium dotting each of their careers. On their own, the three stand as heavyweights in the medium. Together, though, the trio's body of work reads like a chronology of the anime world that starts with the early '90s. Choo probed in this direction, asking how the three feel about having so many prominent pieces under their belt.
TRUE took the mic, responding with "I've been listening to them since I was in elementary school, maybe younger. So to share the stage is so beyond, beyond… I mean I've admired their work for so long."
the discussion quickly turned to the coming concert. "What can we expect from you tonight," asked Choo.
Ishida was first to answer, stating "You know, obviously, we're going to sing some of our biggest hits, and we're going to collaborate. But it's going to be familiar songs, so we hope you join in! The music is just as much yours as it is ours."
Yonekura chimed in with "And we're listening, so be sure to be good!"
For his final question, Choo took a more personal note. He explained that, while he was learning Japanese, he picked up a lot from anime songs. "They give people across the world a lot of dreams," he added, before asking what each of the divas' goals were going forward.
Yonekura was first to answer. She smiled warmly as she began to speak:
Last year marked my twentieth anniversary, so my goal in my career is to have my age and my career coincide. So as I age, mindful of my physical abilities, I want to sing for as long as my voice works. It's through song that I've been able to get over certain anxieties about meeting new people and talking to strangers, so having that line of communication has helped to bring me closer to the world. And I'd like to keep using that mode of communication for as long as I can.
Ishida, as the second most experienced of the three, was next to take the spotlight:
I'm marking my fifteenth anniversary as an anime singer. I want my voice to remain as you remember through the years. Any songs that I sing, I want my voice to stay true and something you find familiar and enjoyable. And to talk about a big dream, if I may be so bold, I think it'd be cool to sing a Disney theme song!
Choo asked for a hint on the film she was envisioning, but she declined to name a specific film.
Finally, it was TRUE's turn. "TRUE, let's year your dream!" Choo exclaimed, as the crowd erupted. "This is my first year touring," she began, "and I have to say I'm seeing how beloved Japanese animation is globally. I'm seeing how this is no longer a product that's just beloved in Japan, but all over the world. I'd love to be able to tour and perform across the globe, just so I can show how thankful I am to be able to sing. And I'd love to reach the level of my senpai one day!"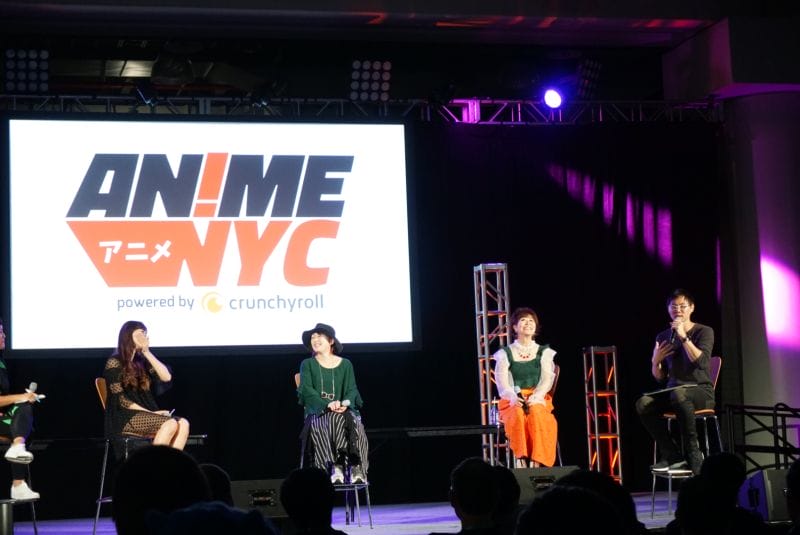 At this point, the floor was opened to audience questions.
The first inquiry was directed toward TRUE: "I know you write all your song lyrics, and – Can you explain how you go about writing your lyrics?"
TRUE thought for a moment, before she answered:
I've been thinking for a while now, I've been writing lyrics since before that. And in the case of Macross, I'll spend a lot of time reading the screenplay, talking to the director, and collaborating. In a story like Buddy Complex, the team's actually been able to derive plot elements from my elements, so that's really exciting!
The next question was for Yonekura. "Are there any songs, given your long career, that you're really proud of and feel that they've stood the test of time?"
Yonekura gave a small smile as she discussed two themes that really stuck with her. :
I did Gundam 08th MS Team [theme song Eien no Tobira ]. The thing about that song is that it really set the stage for my career, because the song is about overcoming obstacles and persevering in hardship. And in the entertainment world, you always had to have the desire to fight, so that's always been important to me as a sort of life motto.

The other is Soul Hunter [theme song WILL]. I did the lyrics and sang it. At the studio, we didn't realize the anime was going to be popular until we got the ratings. We were shocked at how popular it was! With Gundam, fans were mostly boys. But Soul Hunter's fans were mostly girls, so I wound up with a lot of girl fans! I think both songs are emblematic of today.
The third question, as one could surmise, was for Ishida, specifically asking if she'd like to return to para para. Ishida perked up, exclaiming "I totally want to do a para para album! A parapara album would be so cool." She elaborated on this, explaining that "The thing that would be so cool is the dance element. There's the singing and the dancing, where everyone can dance along. I'd love my next album to have a dance element so that everybody can dance along."
The final question of the day was for all three divas: "From your past works, is there any particular work that's greatly moved or changed you after creating a new song or working with a particular anime?"
TRUE was the first to answer:
Yes! Definitely the song from Sound! Euphonium. It introduced me to Kyoto Animation, which was a huge honor, but the song was about people who were working tirelessly, working half to death for one performance. That's how I feel before every performance, working tirelessly to ensure that the performance is perfect, so it means a lot to me.
Ishida responded next, stating:
I think, for me, it's definitely my début song from Sailor Moon, Otome no Policy (Maiden's Policy). As a song it's so important to me, because it's abou tperseverence,a nd I have to say that there have been some dark moments in my life, and I've been able to lean on those lyrics and sing them to myself, and get that extra push when I need some extra motivation.
Yonekura took a more sentimental tone with her final comments, talking about her times with Fairy Tail creator Hiro Mashima.
I'm not sure how familiar you are with Mashima-sensei, author of Fairy Tail and Rave Master, but in both cases he's granted me the opportunity to write the theme songs for the shows. It's a great honor to have such a popular creator want to work with you. It's special. And to be able to write the music, sing, and compose the theme songs for Fairy Tail, that was very special.
After Yonekura's answer, this hour with the divas was officially up. Still, as attendees filed into the main hall of the Javits center, there was a very real buzz in the air, and genuine excitement for the upcoming concert. Fans were able to see a new side of their favorite singers today, their hopes, dreams, and very inspirations lain bare for the crowd. It served as a perfect appetizer for the excitement that would await when the divas returned to the stage.