Honestly, my biggest worry is that he'll attract the Wolfman.
Earlier today, the official How to Keep a Mummy (Miira no Kaikata) anime website updated with a new key visual. The image features the core characters sitting on a grassy field with their miniature monster pals. Sora Kashiwagi sits with the mummy in the center.
The site also updated with the show's première schedule. How to Keep a Mummy will air on the following networks:
TBS: 1/11/2018 at 25:58 (1/12/2018 at 1:58AM)
BS-TBS: 1/13/2018 at 25:00 (1/14/2018 at 1:00AM)
i-TV: 1/25/2018 at 24:56 (1/26/2018 at 12:56AM)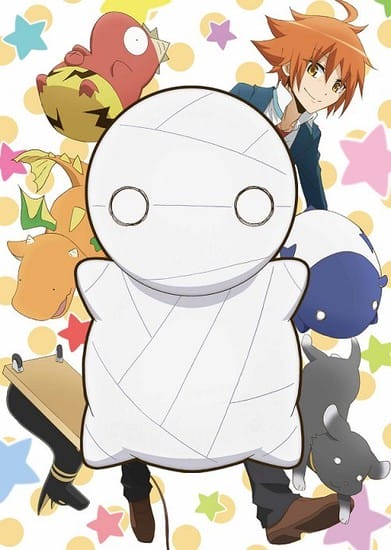 How to Keep a Mummy is based on Kakeru Utsugi's manga of the same name. The series will be directed by Kaori (Yuyushiki, Bottom Biting Bug) at studio 8-Bit, with Takahiro Kishida (Baccano!, Durarara!!) providing character designs. Deko Akao (Anonymous Noise, Flying Witch) is in charge of series composition, while Atsushi Nasuda is attached as producer.
The confirmed voice cast includes:
Sora Kashiwagi: Mutsumi Tamura
Kaede Kashiwagi: Ai Kayano
Asa Motegi: Himika Akaneya
Tazuki Kamiya: Keisuke Koumoto
Taichi Tatsuaki: Seiichirō Yamashita
Kakeru Utsugi launched the How to Keep a Mummy manga on the Comico app in 2014. Futabasha shipped the first book to retailers in February 2016. The fifth book hit bookstores on October 12.Crunchyroll currently distributes the title on their digital platform. They describe the series as:
When high school student Sora Kashiwagi finds himself staring down a mysterious oversized package sent to him by his self-proclaimed "adventurer" father, the last thing he expects is for it to be opened from the inside… by a little mummy so small it can fit in the palm of his hand!
A teaser trailer for the How to Keep a Mummy anime hit the web in November. You can check it out below:
Source: Ota-suke