Happy Sunday, readers, and welcome to an all-new AniWeekly! We're officially closing in on winter as the mercury drops and the sun seems to hide ever-so-slightly sooner with each passing day. Still, there's no need to fret, as we're here to talk nerdy to you about the hottest happenings in the anime world.
This week was a surprisingly big one, as we finally got our first glimpse at James Cameron's Alita: Battle Angel movie. And, well, it's… something to see.
But we'll get to that shortly. For now, just kick back and relax, because we're gonna say all kinds of nerdy things to you.
A Bit of Shameless Self-Promotion First…
Yes, this is twice in a row, but we're doing something awesome. Our friends at Hulu gifted us with a few nifty cat-ear hats. I know, right? Anyway, rather than keep them to ourselves, we put together four prize packs, which include one of the hats, as well as a $25 gift card for Hulu. The contest runs until December 23, so get your entries in today!
We now return you to your regular anime-fueled fun.
In the News
MY BRAND!! The official Alita: Battle Angel live-action film's Twitter account updated with the first full trailer for the movie. The two-minute trailer introduces Alita and her world to viewers, before showing off a few of the movie's action sequences.
This huntress is taking a rest. Right Stuf announced that NIS America's release of Fusé: Memoirs of a Huntress is going out of print. NIS America first brought the title to market in May 2014 as a Premium Edition.
Happy NYAA year, everyone! Neko Works took to Twitter to announce that their Nekopara OVA will hit Japanese theaters. The feature will receive three screenings on January 3 at Tokyo's Akihabara UDX Theater.
A very different Magical Girl story. Several years ago, a Magical Girl Ore anime adaptation was chattered about in a number of circles, but it never seemed to materialize. Last week, we received news that the project was not only alive, but that Pierrot+ is working on it. A visual and the first cast & crew for the project were announced, which still doesn't have a premiere date.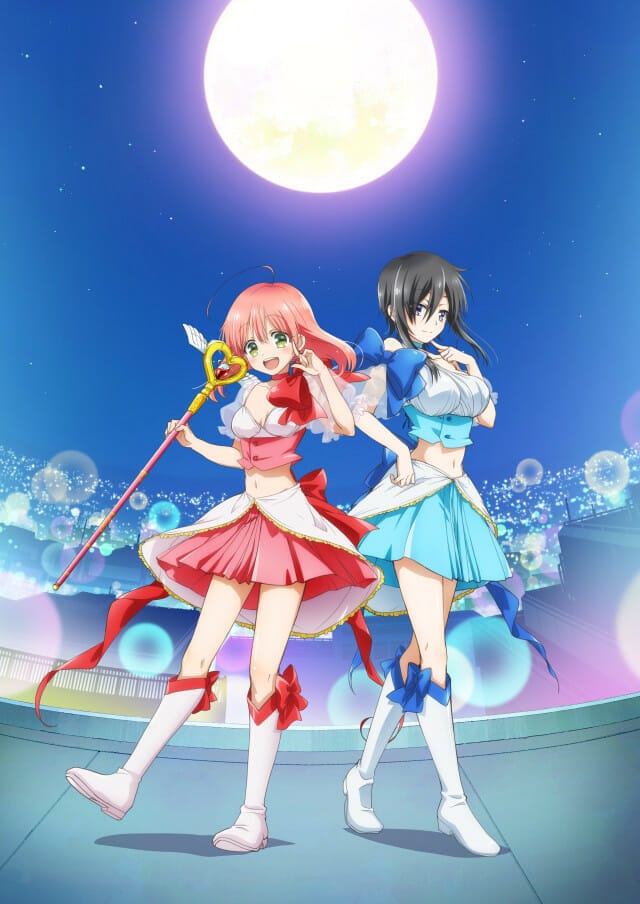 An adorable, death metal-loving red panda who's also a cubicle dweller? Yes, please! Sanrio announced that their Aggretsuko character will receive an original anime series. The show is slated to get a global run in Spring 2018 as a Netflix Original.
So can we call this a Christmas Jive? Toonami announced that they'll host a Cowboy Bebop marathon on December 23. The first eleven episodes will be shown, starting at 10:30PM.
We are on a much bigger cruise! Weekly Shonen Jump reports that One Piece will receive a new PlayStation 4 game. he title will be an open-world action game titled One Piece: World Seeker.
U.A. Academy heads toward the big screen! A My Hero Academia anime film is in the works, and on track for a Summer 2018 première.
The Matsuno Brothers return! Docomo's dTV service announced that they will be the exclusive providers for a series of Mr. Osomatsu anime shorts. The new series, which carries the tentative title of dMatsu-san, will launch on January 9, at noon local time.
So, this is a collection of fun-sized sweet treats. Dagashi Kashi 2 will apparently be a bit different than its predecessor. The series will be presented as a series of 15-minute episodes, and will share a block with Takunomi.
The rhythm never ends! The official PriPara Twitter account announced that a new entry in the Pretty Rhythm franchise is in the works. The project, titled Pretty All Friends, doesn't have a specific release date (or even a format) as of press time.
From the AniBlogging Community
Those Oizumi vibes. kVin at Sakuga Blog put together an incredible write-up on Toei Animation, who moved into their new studio after a massive three-year migration. They discuss the the old location, and what this move to a new building means in regards to Toei's output and business going forward.
Some words deserve to be forgotten. This is one of them. Andrea Ritsu wrote an insightful, well-reasoned article that discusses why the term "trap" shouldn't have such a common place in the average anime fan's vernacular.
Weekly Fun Stuff!
Yeah, I had to go there this week. The folks at IGN's "Up at Noon" web show had Disaster Artist star James Franco on the air yesterday. While he was on, Franco read off a series of popular lines from various video games in-character as Tommy Wiseau. It's a short bit, but the result is both eerie and hilarious at the same time.