Farewell? But… we've only just met.
Earlier today, the Sayonara no Asa ni Yakusoku no Hana o Kazarou anime film's official website updated with a new trailer, as well as a key visual, cast details, theme song information, and a brief plot synopsis.
We break everything down below:
Promo Video
The 90-second trailer offers a look at the film in action, with a particular emphasis on Maquia. Character dialogue provides a brief overview of the major story beats as a piano-heavy vocal melody plays in the background.
Key Visual
The visual features Maquia kneeling on the ground, as Erial rests his head in her lap. The two are set against a white background, though their reflections can be seen below.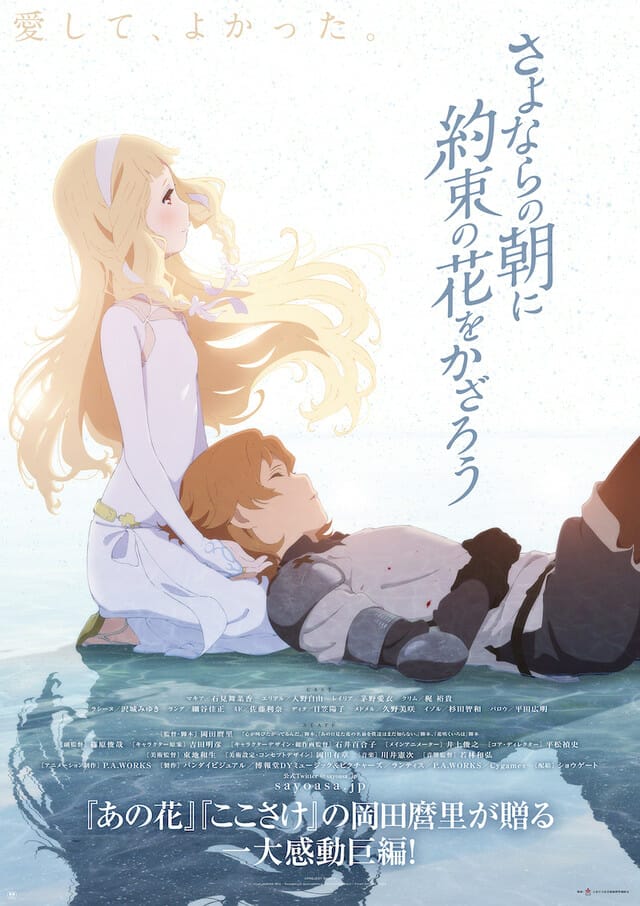 Cast
The film will star the following:
Maquia: Manaka Iwami
Erial: Miyu Irino
Leilia: Ai Kayano
Clear: Yuuki Kaji
Rashine: Miyuki Sawashiro
Lang: Yoshimasa Hosoya
Mido: Rina Satou
Tita: Yōko Hikasa
Medmel: Misaki Kuno
Isol: Tomokazu Sugita
Baro: Hiroaki Hirata
Theme Songs
Rionos will perform the film's ending theme song, Viātor.
Plot
Sayonara no Asa ni Yakusoku no Hana o Kazarou (Let Us Decorate the Morning of Farewells With Promised Flowers) revolves around Maquia, an orphaned girl from a special family, whose members all cease to age in their mid-teens. Though Maquia's days are peaceful, she can't help but feel lonely, all the same.
The quiet times are brought to an abrupt end one day, when the army descends upon Maquia's family in hopes of obtaining the secret to their longevity. They take Leilia, the most beautiful of the tribe, away, as the boy Maquia secretly fancied vanishes. Though Maquia escapes, she finds that she's lost everything. Her friends are gone, and she can no longer return home.
With nobody to turn to, she begins to wander the forest. There, she finds Erial, a baby boy who, like Maquia, lost his parents. Their lives are forever entwined, though their relationships may change as Erial grows into a man, and Maquia remains but a teenager.
Sayonara no Asa ni Yakusoku no Hana o Kazarou hits Japanese theaters on February 24, 2018.
Mari Okada (Anohana, Anthem of the Heart) is making her directorial début with the feature. She'll helm the film and write the script at P.A. Works. Yuriko Ishii (Kuromukuro, Persona -trinity soul-) will provide character designs for the project, while Toshiya Shinohara (Black Butler, A Lull in the Sea) serves as chief director.
Other confirmed crew members include:
Music: Kenji Kawai
Original Character Design: Akihiko Yoshida
Art Director: Kazuki Higashiji
Art design: Tomoaki Okada
Sound Director: Kazuhiro Wakabayashi
Chief Animation Direcor: Yuriko Ishii
Conceptual Design: Tomoaki Okada
Source: Comic Natalie