I swear, those darlings at Trigger love their trailers!
Yesterday, the official DARLING in the FRANXX anime website updated with a new teaser trailer,a s well as details on the show's theme song and premiere date.
We break the details down below:
Trailer
The 45-second promo announces the show's theme song, Kiss of Death. by Mika Nakashima and HYDE. The song plays as a background track.
【OP主題歌決定!】
2018年1月より放送となるTVアニメ「ダーリン・イン・ザ・フランキス」のオープニング主題歌が、中島美嘉×HYDEによる「KISS OF DEATH(Produced by HYDE)」に決定しました!
実に13年ぶりのタッグが実現!お二人からのコメントも到着しました! #ダリフラhttps://t.co/fePHEqX0PQ pic.twitter.com/SYUlLGve69

— ダーリン・イン・ザ・フランキス (@DARLI_FRA) December 13, 2017
Broadcast
DARLING in the FRANXX will hit Japanese TV on January 13. The full broadcast schedule is below:
Tokyo MX: 1/13/2018 at 23:30 (1/13/2018 at 11:30PM)
Tochigi TV: 1/13/2018 at 23:30 (1/13/2018 at 11:30PM)
Gunma TV: 1/13/2018 at 23:30 (1/13/2018 at 11:30PM)
BS11: 1/13/2018 at 23:30 (1/13/2018 at 11:30PM)
ABC: 1/13/2018 at 26:29 (1/14/2018 at 2:29AM)
Mētele: 1/13/2018 at 26:29 (1/14/2018 at 2:29AM)
Hiroshima Home TV: 1/18/2018 at 27:00 (1/19/2018 at 3:00AM)
BSS: 1/19/2018 at 26:18 (1/20/2018 at 2:18AM)
BBC (Biwako Broadcasting Company): 1/22/2018 at 26:45 (1/23/2018 at 2:45AM)
Theme Song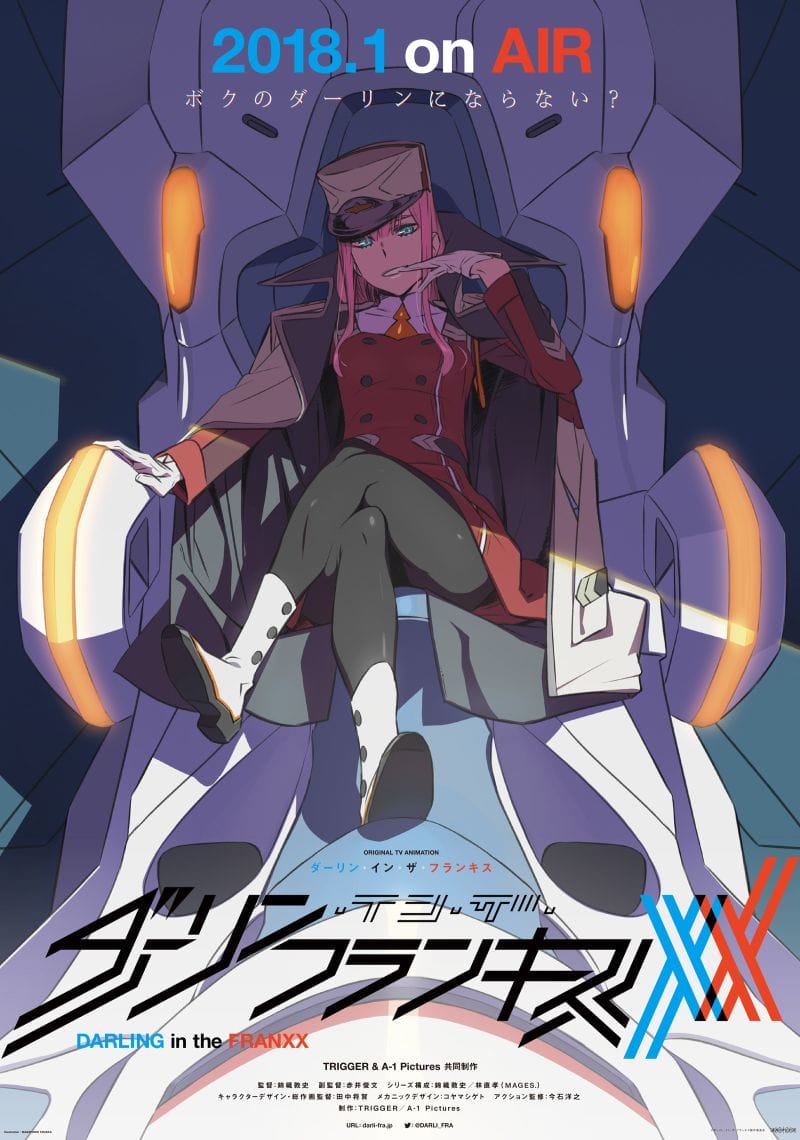 Mika Nakashima and HYDE are working together for the show's theme song, Kiss of Death. Nakashima wrote and performed the vocals, while HYDE scored and composed the musical track.
DARLING in the FRANXX is a co-production between Trigger and A-1 Pictures. The series is slated to hit Japanese TV in January 2018.
Atsushi Nishigori (THE [email protected]) is directing the project, with Masayoshi Tanaka (anohana: The Flower We Saw That Day, High School of the Dead) providing character designs. The team of Atsushi Nishigori and Naotaka Hayashi will collaborate on series composition.
The confirmed voice cast includes:
Zero Two: Haruka Tomatsu
Hiro: Yūto Uemura
Mitsuru: Aoi Ichikawa
Futoshi: Hiroshi Gotō
Ichigo: Kana Ichinose
Zorome: Mutsumi Tamura
Miku: Nanami Yamashita
Kokoro: Saori Hayami
Ikuno: Shizuka Ishikawa
Goro: Yuichiro Umehara
Several character visuals have been released since the show's initial announcement:
The series will be set in a distant, dystopian future. The land has been devastated, to the point that humanity has found sancturary in a mobile fortress city known as Plantation. Inside of Plantation, pilots are raised in a place known as Mistilteinn, or "the birdcage" for short. The children of the birdcage live oblivious to the outside world. They're raised only to battle or carry out missions against mysterious life forms known as the Kyōryū. To battle these beings, the young pilots must take command of robots called Franxx.
For these kids, piloting a Franxx means to validate their own existence.
A young man named Hiro goes by the code name Code:016. Once, he was seen as a prodigy. Lately, though, he's fallen behind the others, and his very existence seems moot. One day, a mysterious girl known as Zero Two appears before him. And, for some reason, a pair of horns grows from her head.
Source: Ota-suke