So, I must ask… to whom does the bluebird sing on this day?
Earlier today, the official Liz to Aoitori (Liz und ein Blauer Vogel / Liz and the Bluebird) website updated with a new trailer and visual, plus several core staff members. We break the details down below:
Promo Video
The 30-second promo focuses on Nozomi Kasaki and Mizore Yoroizuka, the film's leads. A piano melody plays in the background of the teaser, which ends with a confirmation of an April 21, 2018 premiere.
Key Visual
The new visual features Nozomi and Mizore on the roof of Kitauji High. A few music sheets are scattered on the ground, and a bluebird's feather can be seen in the foreground.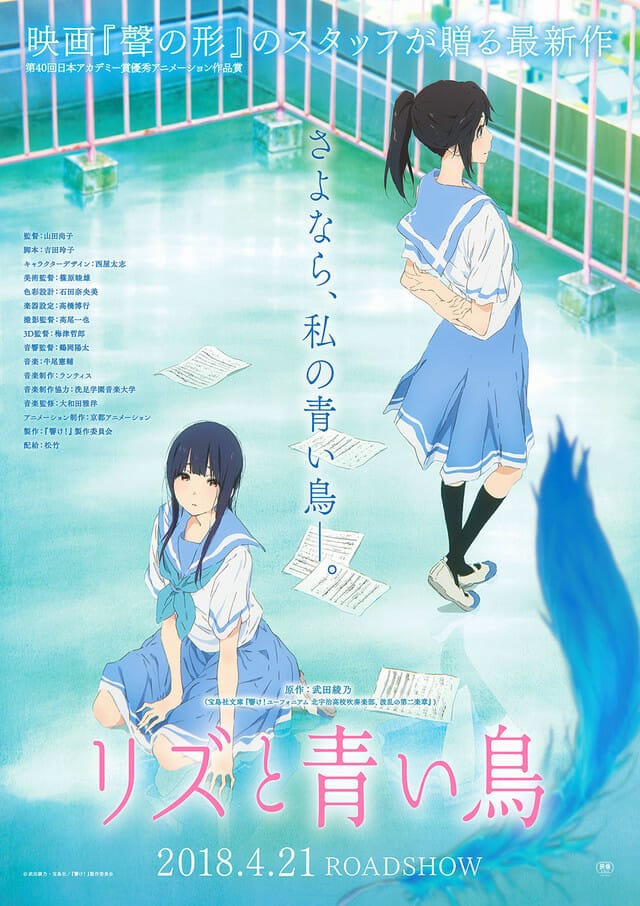 Staff
Naoko Yamada (K-On!, A Silent Voice) was tapped to direct Liz to Aoitori at Kyoto Animation, with Futoshi Nishiya (Free! – Iwatobi Swim Club, Nichijou – My Ordinary Life) providing character designs. Reiko Yoshida (The Cat Returns, Girls und Panzer) is writing the feature's script.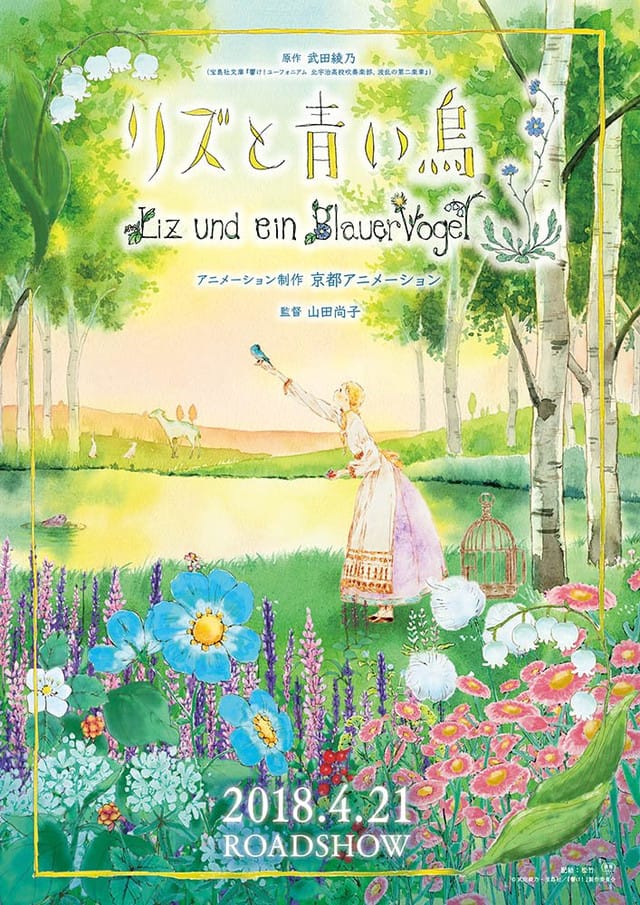 Addiitonal staff includes:
Art Director: Mutsuo Shinohara
Music: Kensuke Ushio
Color Design: Naomi Ishida
Instrument Setting: Hiroyuki Takahashi
Director of Photography: Kazuya Takao
3D Director: Tetsuo Umetsu
Sound Director: Yota Tsuruoka
Music Production: Lantis
Music Production Cooperation: Senzoku Gakuen College of Music
Music Supervision: Masahiro Ōwada
Liz to Aoitori is a spinoff from Sound! Euphonium, which will focus on third-year students Nozomi Kasaki and Mizore Yoroizuka. The feature was originally unveiled in October 2017.
Source: Comic Natalie