Happy Sunday everyone, and welcome to an all-new AniWeekly! This week, I'd like to take a moment to state that, as of December 15, AOL Instant Messenger is officially dead. After twenty years of operation, the software that defined a generation of online communication has officially shut down. Sure, most people have moved on to services like Facebook Messenger, GChat, and even social chats like Slack, Discord, or Hipchat. Still, it's kind of sad to see it go, nonetheless.
With our gloom out of the way, this has been an exciting week in the world of anime. Funimation and Crunchyroll shared their simulcast lineups, Steins;Gate 0 got a few big reveals, and then there's that little event called Jump Festa that took place over the weekend. So, that said, let's jump into the latest!
Oh! Before I forget, there will not be an AniWeekly next week, due to the holiday weekend. As is our tradition, we're taking a short break and will be back in 2018!
A Bit of Shameless Self-Promotion First…
We're in our last week of our big Hulu prize pack give-away! Four lucky fans will win a $25 Hulu gift card, as well as a sweet cat-ear hat. The contest runs through Saturday, so get your entries in!
In the News
Sudden goodbyes are the most painful. Last week, news outlets reported that anime scriptwriter Michiru Shimada passed away. She was 58. According to her daughter, Shimada succumbed to an illness that she had apparently been suffering through for over a year.
So long, and thanks for all the fish! After more than a decade at Funimation, Justin Rojas is setting out toward new horizons. Rojas is moving on to a new position with eSports team Team Envy, and released a short video to explain what's going on.
That Winter simulcast feeling. Funimation and Crunchyroll both unveiled their simulcast lineups for the upcoming Winter 2018 season. Both publishers showed off seven new titles, which include DARLING in the FRANXX, Citrus, and Hakata Tonkotsu Ramens. As has become the norm, Crunchyroll will stream the subbed streams, while Funimation will handle the SimulDubs.
Tu tu ru~! We got a heaping helping of Steins;Gate 0 details last week. A new trailer, plus several cast and crew reveals surfaced for the show, which is slated to air in April. Rest assured, the voice cast is returning from the original series.
Farewell? But… we've only just met. We received several new cast, crew, and plot details for Sayonara no Asa ni Yakusoku no Hana o Kazarou. The feature, which is screenwriter Mari Okada's directorial début work, will be written by Okada at P.A. Works. The cast includes a number of veritable heavyweights, including Yuuki Kaji, Miyuki Sawashiro, and Yōko Hikasa.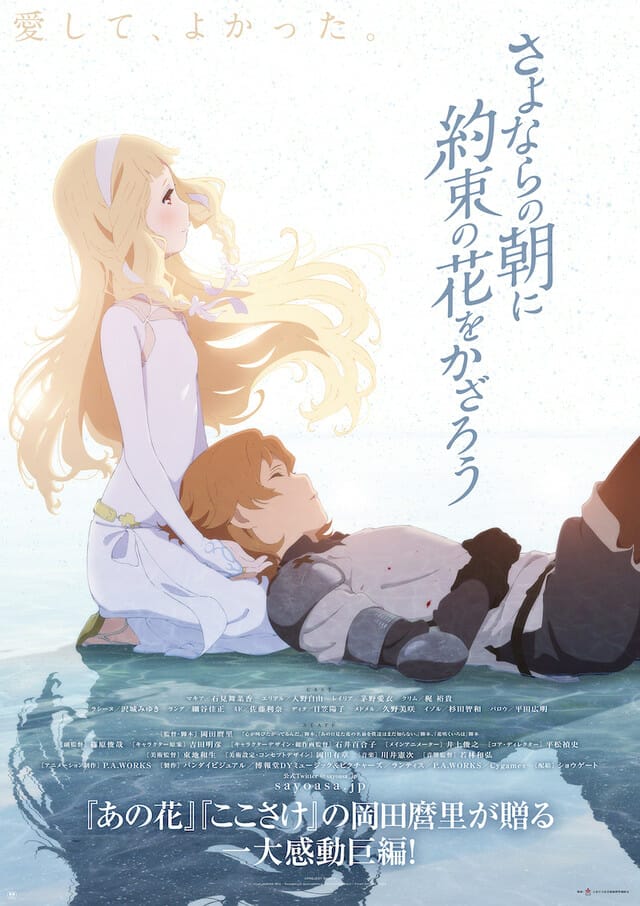 Before you ask, New Jersey isn't further than the universe. Six new cast members were revealed for A Place Further Than the Universe, including Yōko Hikasa, Lynn, and Hisako Kanemoto.
There's love and lies, so what's the angle? An official website opened to announce that merryhachi's Love to Lie Angle is getting an anime adaptation. The yuri series will star Minami Tsuda as Hanabi Natsuno.
It's the future, zura! Oh, come on, I had to say it! An official website for Mamoru Hosoda's newest film, Mirai in the Future, opened its doors. The trailer and visual, as well as core staffers, were unveiled. Natch, Hosoda is working as the writer and director on the project at his Studio Chizu.
Let's hit the pitch once again! Iconic sports anime Captain Tsubasa is getting a remake. A new series will air in April 2018, which takes the franchise back to the very earliest days.
Look, this just needs to be seen. A new trailer for Pop Team Epic hit the web! And, well… it apparently features an interview with a Russian tourist as Popuko and Pipimi loom in the background.
Candy at Home. Only not, 'cause it's a fan event. Dagashi Kashi and Takunomi. anime websites announced that the two shows will host a joint screening event on December 27.
Go with the FLOW! Anime Boston announced that J-Rock group FLOW will attend their 2018 event as guests of honor. The group will host a live concert at the event, though specific details have yet to be announced.
Shiny days are coming to Boston next year. Anime Boston announced that singer-songwriter Asaka will attend their 2018 convention as a guest of honor. She will host a live concert at the event, though specific details have yet to be announced.
OMG OMG OMG! At this year's Jump Festa, a display was set up, which confirms that Yu Yu Hakusho is getting a new anime project.
This isn't their final forms! Bandai Namco revealed that Dragon Ball will receive a new anime film in December 2018. According to studio Toei, "This new story will focus on the origin of the Saiyans' strength and what it means to be Saiyan."
Passing the Poke-torch… kind of. A new Pokémon anime movie is in the works for 2018, which features a new female character. The feature's trailer credits both Wit Studio and Oriental Light and Magic as core production houses. This is a first, as OLM has historically been the go-to for core production.
We are on the cruise to the west! Bandai Namco Entertainment America and Bandai Namco Entertainment Europe announced that One Piece: World Seeker is heading westward. The title will be released in the Americas and Europe next year, on the PlayStation 4, XBox One, and Steam.
Gum-gum live action! This year's event hosted a One Piece stage show, called the "One Piece Super Stage." At the panel, a video from live-action One Piece TV producer Marty Adelstein played. Adelstein confirmed that the upcoming Hollywood One Piece show is not a joke, and will retell the story from the East Blue arc.
'Cause Tomoyo. That's why. A new teaser trailer for Cardcaptor Sakura: Clear Card hit the web, which revolves around Sakura's bestest bestie ever, Tomoyo Daidouji.
A first look at U.A. Academy's latest adventure. A new visual for My Hero Academia: The Movie hit the web. The image features the major cast members walking into the distance, with Izuku standing beside a new mysterious blonde girl.
I wonder if the caged blue bird sings… The first staffers, along with a new visual and trailer were released for Sound! Euphonium spinoff flick Liz to Aoitori. A Silent Voice director Naoko Yamada is taking the director's chair for the project at KyoAni, while Girls und Panzer's Reiko Yoshida writes the script.
A farewell to a rising star. Yurika Endo announced that she will retire from the entertainment industry in May 2018, citing health concerns.
From the AniBlogging Community
You know, this is — excuse me — a damn fine cup of coffee! Atelier Emily takes a look at Penguindrum, the surrealist, often divisive 2011 series from Kunihiko Ikuhara. This time, though, she dives straight into the realm of David Lynch, comparing the show's tenth episode to Lynch's cult classic Twin Peaks.
Writing a novel is hard, yo. Lauren at Otaku Journalist relays her experiences in writing a novel for NaNoWriMo. It's a fantastic read, and as someone who also took that challenge this year, 100% spot-on, from the crazy physical taxation (seriously – sleepless nights are a running gag for a reason), to the sheer catharsis such a task can bring.
Pacing problems aplenty! Chris Siebenmann takes a look at the anime and manga worlds, and how the inherent pacing differences between both media can bring about very different experiences for the same base content.
A trope as old as time itself… or 1993. Eric Grundhauser from Atlas Obscura takes a look at the long-standing obsession with power lines in anime, delving into the history of the trope and its inherent meaning within anime, and Japan as a whole.
Weekly Fun Stuff!
OK, I'm cheating a bit, here. In March, NHK hosted a short segment on mega-hit Your Name.. The film struck a chord with viewers of all ages, though the middle-aged set definitely felt the blows from the narrative punches the hardest. In a four-minute segment, the hosts dive into the film, interviewing thirty-six people to find what managed to move the hearts and minds of this specific segment of the film's fanbase.