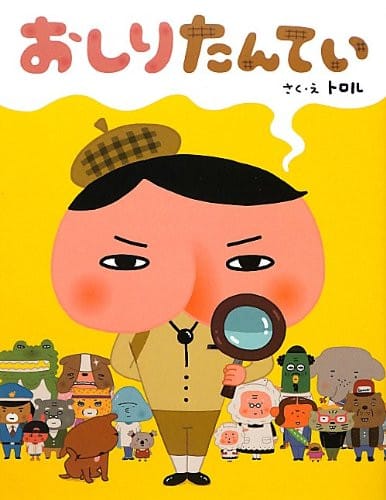 This case cheeks out… no butts about it.
Butts.
Earlier today, the official Butt Detective (Oshiri Tantei) anime website updated with the show's broadcast details. The series will air on NHK's "E Tele" network (NHK's Educational TV station) in May 2018.
Butt Detective is based on Poplar Publishing's popular children's book of the same name. Hiroki Shibata (Getter Robo Go, Bobobo-bo Bo-bobo) was tapped to direct the project at Toei Animation, with Natsuko Takahashi (Monster Hunter Stories RIDE ON, Urahara) taking charge of series composition.
The series will star the following:
Oshiri Tantei: Yūko Sanpei
Brown: Ayaka Saitō
Ikkei Watanabe: Narrator/Chief Maltese
Kaitō U (Phantom Thief U): Takahiro Sakurai
Suzu-san: Reika Uyama
Būtarō: Gaku Kudō
The cast members are reprising their roles from the Butt Detective web shorts, which began streaming in May.
Toei Animation currently streams Butt Detective in English on YouTube and the YouTube KIDS App. Toei describes the series as:
He's chivalrous, cunning, and his looks are anything "butt"…

Meet "Butt Detective", a gentleman whose catch phrase is, "Hmm…I smell a case."

Every day, he poots the big city's cases to rest.
Poplar Publishing released the first Oshiri Tantei book in 2012. To date, six picture books and four early-reader books have been released. Combined, the ten books have over 1.5 million copies in print.
Source: Ota-suke