I hope you like Violet Snow, because you're going to hear a lot of it.
Earlier today, Kyoto Animation started streaming multiple trailers for Violet Evergarden. Well, just one trailer, albeit in several languages. The promos are identical to the fourth trailer that hit on December 11, though each features a localized version of theme song Violet Snow as its background track.
English
The English version of the trailer features an English version of Violet Snow, as performed by Michell Michina.
Korean
The Korean trailer features a Korean version of the song, as performed by Kang Min-joo.
Chinese (Mandarin)
The Korean promo uses a Mandarin adaptation of the song, as performed by Freda Li.
French
The French version of the trailer features a French version of Violet Snow, as performed by Michell Michina.
For reference, the Japanese trailer is below:
Violet Evergarden will air on ABC Asahi, BS11, Tokyo MX1, TV Aichi, and HTB Hokkaido TV starting in January. Netflix holds the global digital rights to the show. They'll stream the series in Japan as the show airs, and outside of Japan starting in Spring 2018.
The series made its global début on July 2, at Anime Expo.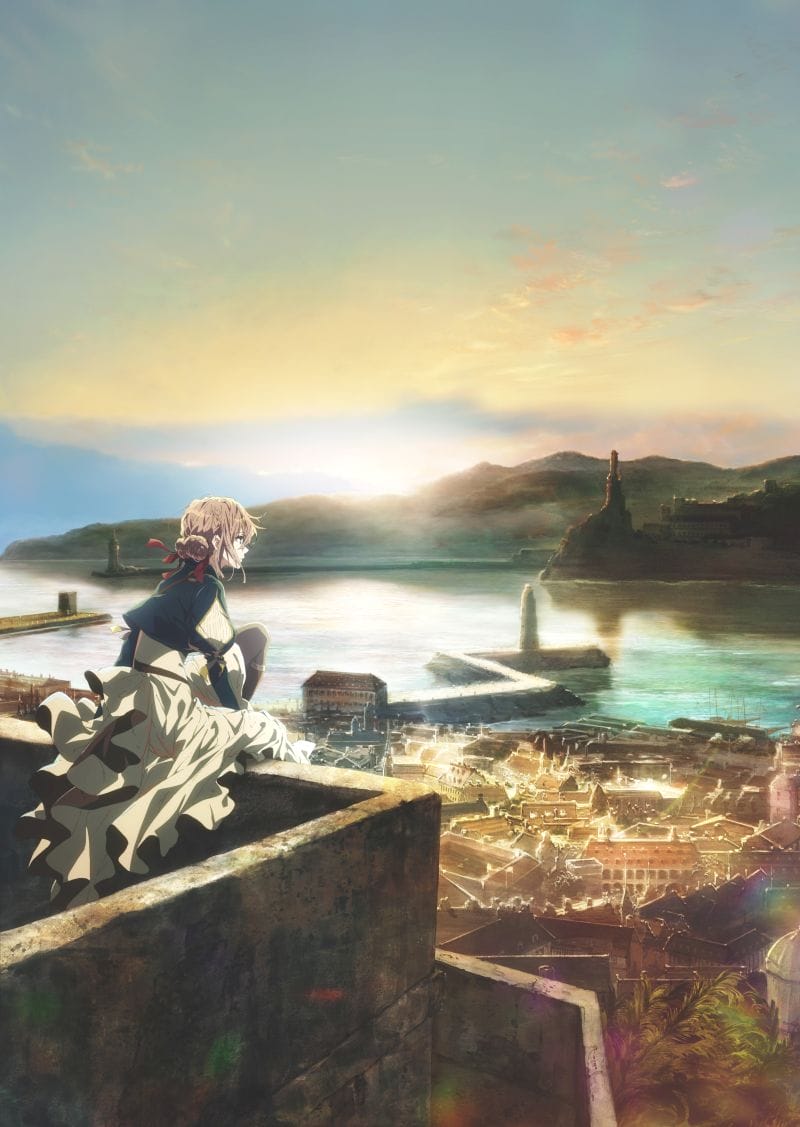 Taichi Ishidate (Beyond the Boundary) is directing the project at Kyoto Animation, with Akiko Takase providing character designs. Reiko Yoshida (K-On!! franchise, Girls und Panzer) is in charge of series composition.
TRUE was tapped to perform the show's opening theme.
Other confirmed crew members include:
Sound Director: Yota Tsuruoka
Opening Theme: TRUE
Music: Evan Call
3D Director: Rin Yamamoto
Art Director: Mikiko Watanabe
Color Design: Yūka Yoneda
Director of Photography: Kōhei Funamoto
Editing: Kengo Shigemura
Music Producer: Shigeru Saitō
Prop Design: Hiroyuki Takahashi, Minoru Ōta
World Setting: Takaaki Suzuki
The confirmed voice cast includes:
Violet Evergarden: Yui Ishikawa
Claudia Hodgins: Takehito Koyasu
Gilbert Bougainvillea: Daisuke Namikawa
Cattleya Baudelaire: Aya Endo
Benedict Blue: Kōki Uchiyama
Erica Brown: Minori Chihara
Iris Cannary: Haruka Tomatsu
Violet Evergarden is based on Kana Akatsuki's and illustrator Akiko Takase's novel series of the same name. The book hit Japanese bookstores in December. title, which was published under KA Esuma Bunko's imprint, won the grand prize in the fifth Kyoto Animation Award program's novel category in 2014. The win was significant, as it was the first time that any work took top honors at the Kyoto Animation Awards.
Anime Expo describes the project as:
There are words Violet heard on the battlefield, which she cannot forget. These words were given to her by someone she holds dear, more than anyone else. She does not yet know their meaning.
A certain point in time, in the continent of Telesis. The great war which divided the continent into North and South has ended after four years, and the people are welcoming a new generation.

Violet Evergarden, a young girl formerly known as "the weapon", has left the battlefield to start a new life at CH Postal Service. There, she is deeply moved by the work of "Auto Memories Dolls", who carry people's thoughts and convert them into words.

Violet begins her journey as an Auto Memories Doll, and comes face to face with various people's emotions and differing shapes of love. All the while searching for the meaning of those words.
Source: YouTube (KyoaniChannel)