I guess "Spring" is short for "February" nowadays.
Earlier today, the official Hugtto! Precure anime website updated with a new key visual, character details, and a première date. We break the details down below.
Key Visual
The visual features the major members of the Precure team, set against a sparkly pink background.
A second visual, which features Hana, Saaya, and Homare with Hug-tan was also released, which you can check out below.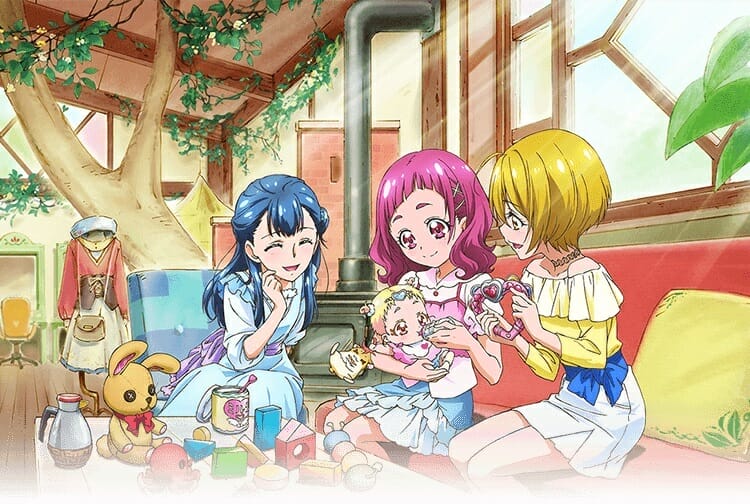 Characters
The characters are as follows:
Hana Nono/Cure Yell: A second-year middle school student, who's transferring to a new school. She's fairly short in comparison to other girls her age, but she still wants to be a cool, adult big sister. She'll try anything that draws her interst, though she's prone to mistakes. Case in point, on her first day at her new school, Hana tries cutting her bangs, but messes up, and winds up late.
Hana transforms into Cure Yell due to a desire to protect mysterious baby "Hug-tan". Her catch phrase is "Cheering everybody on! Energetic Precure! Cure Yell!"
Saaya Yakushiji (Cure Ange): Saaya's the class rep in Hana's classroom, and a girl who everyone says has the "kindness of an angel." Her mother is an actress, and Saaya herself played several roles from a young age. Still, she wonders what she wants to do.
Saaya transforms into Cure Ange out of a desire to aid Cure Yell. Her catch phrase is "Healing everyone! Wise Precure! Cure Ange!"
Homare Kagayaki (Cure Étoile): Homare is a mature, stylish girl in Hana and Saaya's class. She was a figure skater in a previous life, but distanced herself from the sport after failing a jump. Of course, this is Precure, so Homare reignites her passion after meeting Hana.
Because of her desire to conquer that weakness, Homare transforms into Cure Étoile. Her catch phrase is "Everybody shine! Strength Precure! Cure Étoile!"
Hug-tan: Hug-tan is a mysterious sky baby. Literally. That's not a metaphor. Anyway, Hug-tan, along with her nanny/manager Hari, flees the evil Clias Company. Hug-tan is the bearer of the Future Crystal, which is the very essence of the power that brings tomorrow. So, that said, if it's captured, the future of all life will be destroyed, and Hug-tan will disappear.
Hariham Hari: A hamster that speaks the language of humans… in a kansai dialect. Because why not? Anyway, Hari is supposed to be the guide for the Precure team, though he's not particularly willing to do so. Hari's able to transform into a "good-looking guy."
Visuals for the main characters were also released, which you can check out below:
Premiere
Hugtto! Precure will hit Japanese TV on February 4, at 8:30AM. The series will replace Kirakira ☆ Precure a la Mode, which is currently airing.
Kirakira ☆ Precure a la Mode is the fourteenth Precure anime series to date. Kōhei Kureta (Saint Seiya Omega) and Yukio Kaizawa (Digimon Frontier, One Piece: Take Aim! The Pirate Baseball King ) are directing the show at Toei, with Marie Ino providing character designs. Jin Tanaka (Anne-Happy, Go! Princess Precure) is in charge of series composition.
Kirakira ☆ Precure a la Mode premiered on February 5. Episode 37, Salut! Ciel is Going Back to France!? will hit Japanese TV on October 22.
A film, titled Eiga Kirakira ☆ Precure a la Mode: Paris to! Omoide no Mille-Feuille! will hit Japanese theaters a week later, on October 28.
Source: Ota-suke