We're far beyond Infini-T at this point. May as well embrace it!
Earlier today, the official Infini-T Force website updated with a new trailer, visual, and several cast members for upcoming movie Gekijōban Infini-T Force: Gatchaman Saraba Tomo yo (Infini-T Force the Movie: Farewell Gatchaman, My Friend). We break the details down below.
Trailer
The minute-long trailer introduces the new characters, as character dialogue drives
Key Visual
The new visual features Ken the Eagle and Joe the Condor taking the prime spots at the top of the image. The rest of the Infini-T Force members take a lesser place at the bottom of the shot.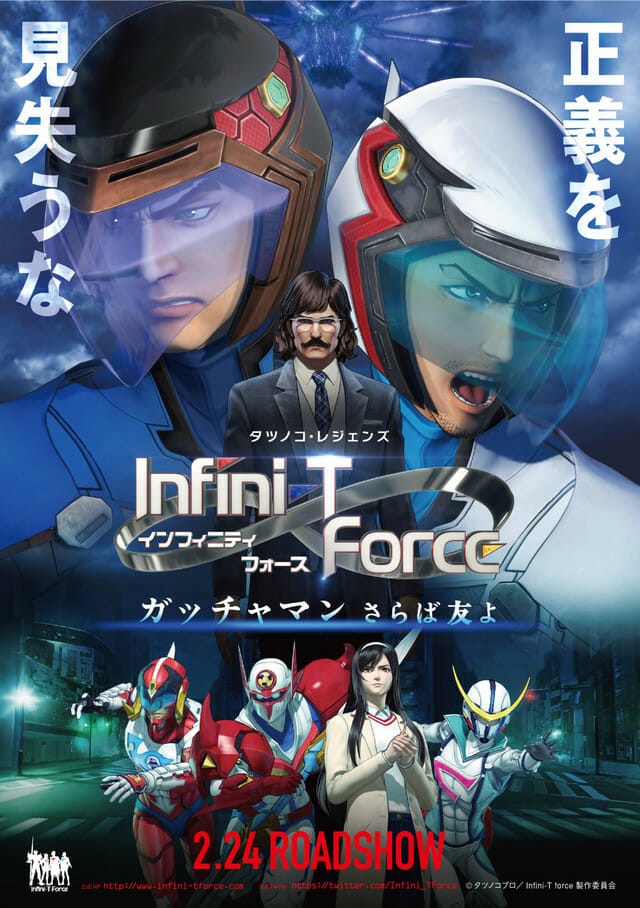 Cast
Three new cast members were confirmed:
Dr. Nambu: Eiichiro Funakoshi
Joe the Condor/George Asakura: Kazuma Suzuki
Sasaoka: Aya Endo
Visuals for all three characters were also released, which you can check out below.
Infini-T Force – Gatchaman Saraba Tomo yo hits Japanese theaters on February 24.
The Infini-T Force anime series is currently airing on Japanese TV. Psycho-Pass 2 director Kiyotaka Suzuki is helming the series at Digital Frontier, with manga author Oh! great (Air Gear, Tenjo Tenge) providing the original character designs. Keiichi Satou (The Big O, City Hunter: The Motion Picture) is providing the original Hero Concepts for the title, while Koji Nakakita (Gatchaman Crowds, Wandaba Style) provides mechanical and suit designs.
Infini-T Force is being produced to celebrate Tatsunoko's 55th anniversary. The title will feature an original story, which differs from Ukyo Kodachi's Infini-T Force ~Mirai no Byosen~ manga.
Viz Media currently holds the rights to the series in North America. They describe it as:
Living in Tokyo's trendy Shibuya district, Emi Kaido is the envy of almost every high schooler in Japan. She has startling wealth, a luxurious modern apartment, and no parents in sight. But beneath it all lies a tangle of apathy and loneliness. Emi is parentless and is looking for diversion in all the wrong—and dangerous—places. And it's the choices Emi makes that teaches her that life can change in an instant. Her penchant for peril drags her into yet another life-and-death situation, this time involving an enigmatic object known as the "Case" and four mysterious heroes. What ensues is an all-out battle between good and evil, and a story of self-realization. The future of humanity and the world lies in Emi's hands.
Source: Comic Natalie