Did last year's Anime Strike exclusive slate leave you in no hurry to shout? Well, HIDIVE has you covered.
Anime streaming service HIDIVE added US and Canadian streaming for four titles that were previously available as exclusives to Anime Strike in the region. The platform added the following:
Anonymous Noise
Grimoire of Zero
Hitorijime My Hero
Kabukibu!
Though Grimoire of Zero is exclusively available for paying subscribers as of press time, the other three shows can be watched by free and paid members alike.
Anonymous Noise
Anonymous Noise aired in the Spring 2017 broadcast season.
The show adapts Hideya Takahashi's manga of the same name. Hideya Takahashi (Fantasista Stella, Keijo!!!!!!!!) directed the project at Brains Base, with Mariko Ito (Log Horizon, ViVid Strike!) providing character designs. Deko Akao (Noragami, Flying Witch) was in charge of series composition.
Sentai describes Anonymous Noise as:
Blessed with a beautiful voice, Nino only sings for one reason: to be found. Nino finds herself looking for two boys who left her without reason, Momo and Yuzu. By chance, all three of them end up in the same high school, and Nino discovers that her singing isn't in vain. As they rediscover their bonds, the group realizes that time changes many things, and sometimes certain things can't be repaired.
Grimoire of Zero
Grimoire of Zero aired in the Spring 2017 broadcast season.
The series is based on Kakeru Kobashiri and illustrator Yoshinori Shizuma light novel series of the same name. Tetsuo Hirakawa (Hori-san to Miyamura-kun, Kawa no Hikari) directed the show at White Fox, with the team of Daisuke Mataga (Patema Inverted) and Ryosuke Kimiya providing character designs.
Sentai Filmworks describe the show as:
In Liturgical Year 526, sorcery has spread throughout the land, but few are aware of a rival practice called "magic." One day, a half-man, half-beast mercenary who has found himself on the run encounters a beautiful witch known only as "Zero." Zero makes him an offer: if he escorts her on the search for her stolen grimoire, she will help him gain a human form. Despite his hatred for witches, the nameless mercenary accompanies Zero and guards her as she sets out to reclaim a book that has the power to destroy the world.
Hitorijime My Hero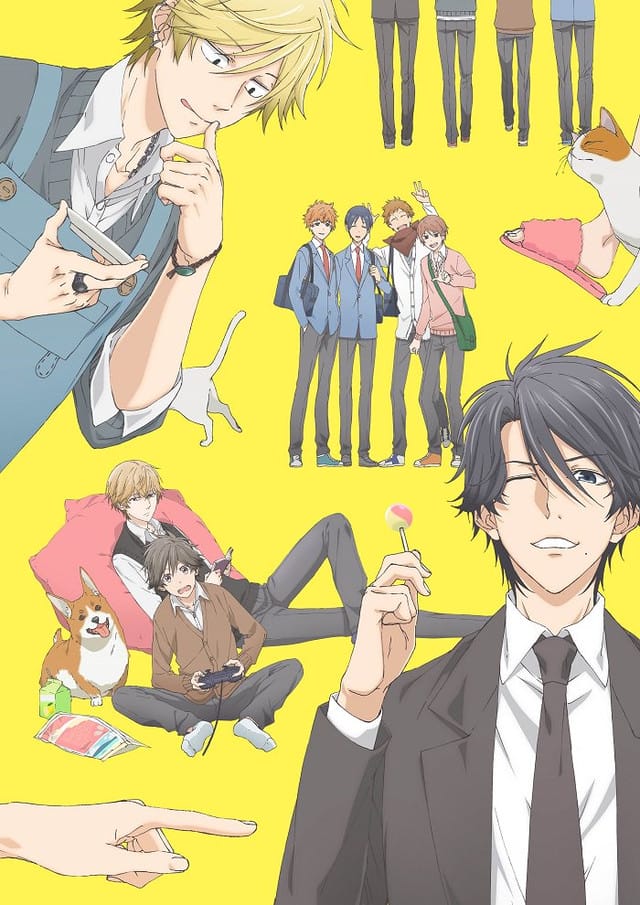 Hitorijime My Hero aired in the Summer 2017 broadcast season.
The series is based on Memeco Arii's manga of the same name. Yukina Hiiro (Gakuen Heaven, Chu-Bra!!) directed the project at Encourage Films, with Ayana Nishino providing character designs. Yūsei Naruse was in charge of series composition.
Sentai describes the title as:
High schooler Masahiro Setagawa is a fairly helpless delinquent, so much so that the neighborhood bullies use him to run their errands. His life changes when he meets high school teacher Kosuke Oshiba, a man whose fighting abilities have earned him a powerful reputation on the streets. Oshiba finds himself with a desire to protect Setagawa, and despite swearing that he's not interested in men, Setagawa finds himself getting more involved in Oshiba's affairs…
Kabukibu!
Kabukibu! aired in the Spring 2017 broadcast season.
The show is based on Yuuri Eda's manga of the same name. Kazuhiro Yoneda (Yona of the Dawn, Hōzuki no Reitetsu) directed Kabukibu! at Studio DEEN, with Majiro (Macross Delta, Barakamon) providing character designs. Yoshiko Nakamura (Monthly Girls' Nozaki-kun, Shonen Maid) was in charge of series composition for the title.
Sentai Filmworks describes Kabukibu! as:
Unlike other kids his age, freshman Kurogo Kurusu finds his true passion in kabuki, a form of classical Japanese dance theatre. When he finds out his school doesn't have a club dedicated to it, he enlists the help of his best friend Tonbo to make one. They'll need at least five members to get things started, however, and together they'll have to win over an unlikely roster that includes stage actors, martial artists, and band members who aren't into kabuki at all.
HIDIVE launched in June, shortly after acquiring the network streaming assets from The Anime Network. The publisher recently launched apps on iOS and Android.
Since its inception, HIDIVE has primarily streamed Sentai Filmworks' library of titles, and scooped up the exclusive streams to dubs of shows like Food Wars! and Haven't You Heard? I'm Sakamoto. In addition, though, the publisher has added numerous high-profile classes that include Legend of the Galactic Heroes, SPace Runaway Ideon, and Lone Wolf and Cub (live-action).
Sources: Fandom Post, Anime News Network
Update: 12/28/2017 – HIDIVE also added Himouto! Umaru-chan R to its digital lineup. The series also streamed as a simulcast on Anime Strike. Thanks to Boston Bastard Brigade's Evan Bourgault for the heads-up!