Well, we have two guys and a sword, so the story checks out.
Yesterday, the official Sword Gai: The Animation anime website updated with the show's main cast members, as well as a new key visual. We break the details down below.
Key Visual
The visual features Seiya and Gai posing against a black background. A Japanese character is painted in grey against the darkness, though it's obscured by the two characters.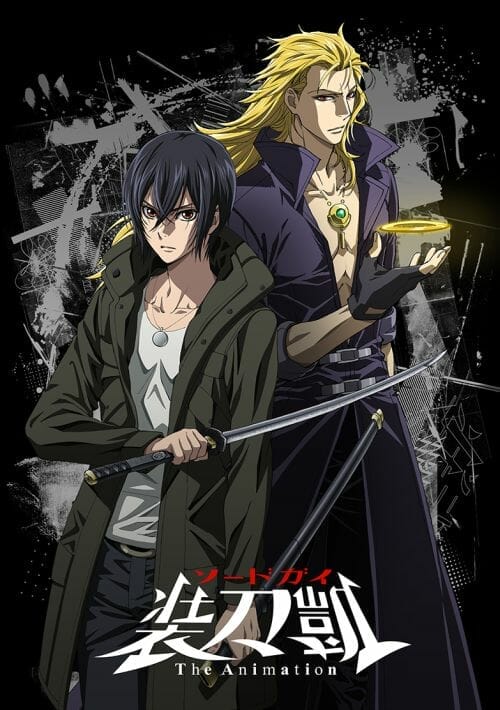 Cast
The series will star the following:
Seiya Ichijō: Yuichiro Umehara
Gai Ogata: Yūto Uemura
Sayaka Ogata: Yuka Aisaka
A visual featuring all three characters was also released, which you can check out below.
Netflix will stream Sword Gai the Animation across the globe in Spring 2018.
Takahiro Ikezoe (Show By Rock!!, PriPri Chii-chan!!) will serve as chief director on the project, with Tomohito Naka (New Theatrical Movie Initial D Legend 2: Racer) taking the director's chiar at LandQ Studios. Atsuko Nakajima (Haven't You Heard? I'm Sakamoto, Ranma ½) will serve as character designer, while series co-creator Toshiki Inoue will handle series composition.
Other confirmed crew members include:
Music: Kotaro Nakagawa
Sound Director: Toshiki Kameyama
Art Director: Seiko Akashi
3D Directors: Akihiko Kimura
3D Directors: Kenji Isobe
Color design: Masato Sasaki
In addition to LandQ Studios, DLE Inc. and Production I.G. are listed on animation production.
The show was first revealed in the pages of Monthly Hero's Magazine in 2014. At the time, the publication revealed that Sword Gai would be a co-production between entertainment company Fields and Flash anime studio DLE Inc.
The title will be based on Toshiki Inoue (Ranma ½, Ushio & Tora), Osamu Kine, and Keita Amamiya's manga of the same name. Inoue served as writer on the project, while Amemiya produced the original character designs. Kine provided final character designs for the title.
Netflix describes Sword Gai: The Animation Series as:
A weapon that has drawn the blood of countless victims becomes legend, and at times takes on a life of its own. When such a weapon's human host is filled with hate and murderous intent, he becomes a demonic combination of weapon and man that thirsts only for slaughter.

An organization has faced these dangerous beings over the centuries. A young man named Gai is destined to live as a weapon. As humans are enthralled by their weapons' power, epic battles unfold with the fate of humanity in the balance in this battle action fantasy. The series will debut globally on Netflix in Spring 2018.
Sword Gai made its début in the pages of Monthly Hero's in December 2012. The series went on to span six volumes. Sequel series Sword Gai Evolve, which brought the original creators back together, launched in Monthly Hero's November 2015. The ongoing title spans three compiled volumes, with the most recent hitting stores on June 5.
The title inspired a 3D CGI film in 2013, which you can check out below:
https://www.youtube.com/watch?v=4vFW6DexGKo
Sources: Ota-suke