The night is short, but that doesn't mean we can't stop for a moment to enjoy these reveals.
The Hollywood Reporter reports that film distributor GKIDS acquired the rights to Lu Over the Wall and Night Is Short, Walk on Girl. Both films were helmed by Masaaki Yuasa at his Science Saru studio.
The English dub for Lu Over the Wall is slated to appear at the Sundance Film Festival, which runs from January 19 – 28. In addition, GKIDS previously announced that they will give Yuasa's Mind Game a theatrical run in February.
Lu Over the Wall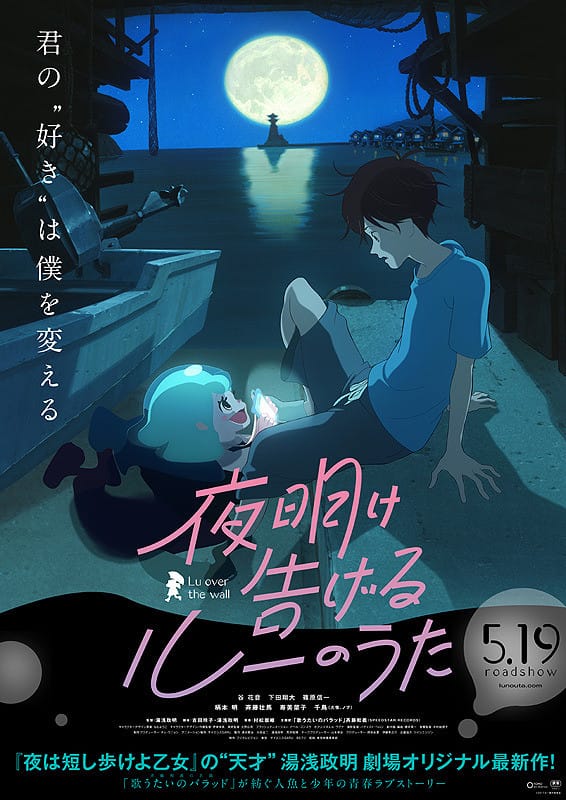 Lu over the wall is an original work from studio Science SARU. Masaaki Yuasa (The Tatami Galaxy, Ping Pong) directed the feature and co-wrote the script with Reiko Yoshida (The Cat Returns, Yowamushi Pedal). Nobutake Ito (The Tatami Galaxy, Ping Pong) provided character designs, while Takatsugu Muramatsu (When Marnie Was There, Mary and the Witch's Flower) scored the soundtrack.
Lu Over the Wall won the Cristal for Best Feature film at the 2017 Annecy International Animated Film Festival.
Night Is Short, Walk on Girl
Night is Short, Walk on Girl is based on Tomihiko Morimi's novel of the same name. Yuasa directed the feature at Science Saru, with Yusuke Nakamura (Tatami Galaxy) providing character designs. Makoto Ueda wrote the film's script. Asian Kung-Fu Generation performed the film's theme song.
The main staffers previously collaborated on 2010 series The Tatami Galaxy. Yusuke Nakamura also designed the cover for the Night is Short, Walk on Girl novel.
Night Is Short, Walk on Girl won Best Animated Feature at the 41st Ottawa International Animation Festival (2017).
Source: The Hollywood Reporter